BY SUSAN ROSE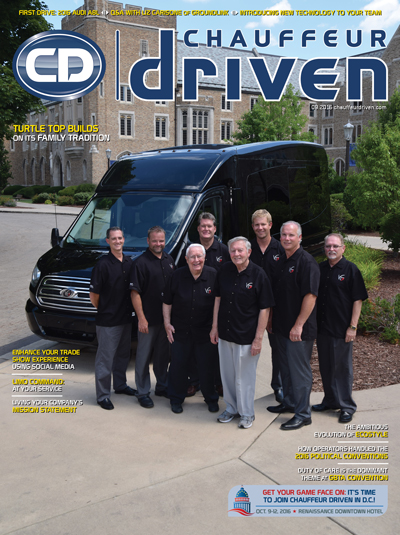 Cover Art: The Turtle Top management team, family, and ownership on the University of Notre Dame campus in South Bend, Ind. (L to R): Tom Craig, Matt Sausaman, Bob Cripe, Rob Cripe, Dick Cripe, Shane Tom, Phil Tom, and Timm Bledsoe. Photography by Chris Weiss. Back in 1934, Henry Cripe founded Independent Protection Company (IPC), a lightning protection manufacturer, in Goshen, Ind. His son Ernest eventually took over the reins and was joined by his nephews Robert and Richard Cripe in the 1950s. In 1962, nearly four decades after founding IPC, the family established an automotive division of the company that they named Turtle Top that produced liftable truck caps, van tops, camper vans, and later, RVs and luxury conversion vans throughout the '60s and '70s. The next chapter of Turtle Top began in 1978 when the Terra Transit Bus was designed and distribution marketing was set up by Richard. The Terra Transit went on to become one of the company's most popular vehicles and set the stage for Turtle Top in the commercial bus industry.

Twenty years and several versions later, the midsize bus was followed by the release of the Van Terra, a smaller bus for up to 18 passengers that handled like a van and found its way into transportation fleets across the country. Earlier this year, the Indiana-based custom builder unveiled the VT3, its third generation Van Terra, at the company's National Distributors' Meeting in Florida and featured it at the Chauffeur Driven Executive Retreat in New Orleans in May, where the company was a sponsor of the event.

"It was an immediate hit," says Vice President Phil Tom about the debut of the VT3. "It's quickly becoming one of our most popular products."

The Van Terra has been, and continues to be, one of the company's best-selling vehicles for several markets including the chauffeured ground transportation industry. Traditionally built on a Ford E-350 or GM 3500 platform, it was a new chassis—the Ford Transit—that caught the company's eye and inspired the development of the VT3.

"When the Ford Transit chassis was made available, we felt like it was going to be a well-supported chassis in this industry—one that can be serviced at Ford's 4,000-plus dealers nationwide—so we knew we wanted to do something special with it, to be the next phase of Turtle Top," says Tom. "We had to start from scratch when it came to engineering a body that would fit on this chassis and support a full realm of possibilities. It's probably the most in-depth project that we've ever done."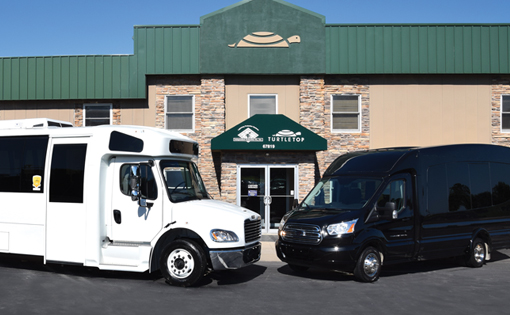 Turtle Top is located in Goshen, Ind., in the heart of the bus and RV manufacturing capital Their goal: to make the VT3 the most user-friendly, comfortable, and fuel-efficient bus they've ever produced. With a blank slate, they were able to experiment with composite materials and aircraft-grade aluminum, as well as the placement of components like the HVAC system, which is on the vehicle's rooftop but not visible. The lighter build also made it possible to achieve a lower GVWR at under 10,350 pounds.

"Aesthetically, it's very beautiful inside and out," says Tom. "One of the things we focused on was the passenger experience. We wanted to build something that had the characteristics of the Van Terra but on a new chassis because the industry needed a good 15-passenger vehicle."

To achieve maximum comfort, they took into consideration the hip-to-knee ratios as well as head height and seat width so that passengers didn't feel cramped or claustrophobic. They also considered the viewing area by including large windows on the sides and front of the bus to allow for an airier feel free from obstructions—especially important for those operators using the VT3 for tours.


Senior Electrical Engineer Adam Polhemus and Project Manager Shannon Sausaman work on designs for a VT3 On the larger side, Turtle Top's Odyssey line of buses, built on heavy-duty Ford, Freightliner, and International chassis, accommodate the bigger group moves. The smallest of the three, the Odyssey, can hold up to 25 passengers, while the XL and XLT round out at 47 and 51 passengers (without luggage), respectively.

Turtle Top's longevity in the industry means that a lot of their products have been on the road for many years. In addition to the high-end luxury products they manufacture for the chauffeured transportation sector, they also build for markets that use their buses on an hourly basis such as municipalities and universities. Showcasing the range and durability of their lineup, they produce everything from mobile bloodmobiles to ADA-compliant assisted-living facility transport vehicles.

Stricter safety regulations have affected how buses are built and used, and Director of Sales & Marketing Timm Bledsoe says he's noticed a change in what customers are requesting. "Now we're doing more upgrades with things like captain's chairs, wider seats, and more luxurious styling," he says. "We used to install a lot of TVs, but USB ports and onboard WiFi are more in demand. People have their own devices and control what they want to watch instead of putting on a movie for the entire bus. We're not looking to build a bus as quickly and as cheaply as we can, so we're not cookie-cutter. These are custom buses."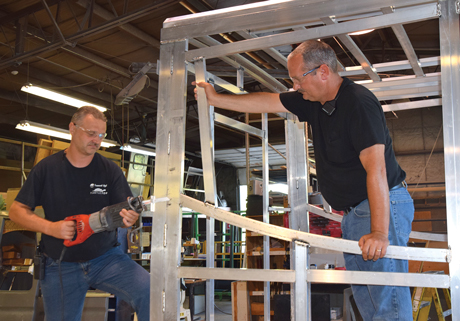 Vasyl Gladun (left) and Guy Staples, production management, work on a VT3 cage Tom says that the bus industry has matured and that his buyers are not only more sophisticated but better educated on the products they are looking to buy before they initiate contact.

Turtle Top sells its vehicles primarily through its 25 North American distributors, which they rely upon heavily as the customer service touchpoint of their company, according to Bledsoe. Because of the open communication that the company fosters with its customers and distributors, the team often uses direct feedback to improve and refine future products—most recently, with the design of the VT3.

"We always say that we strive to treat others like we want to be treated, so we fully support our distributors because they are building those relationships with our clients," says Tom. "Our sales team educates customers but also listens to what they need from our products. It's sales, it's service, it's parts—it's everything. It's not about what's good for Turtle Top on the short term, but what's good for our clients on the long term to keep those relationships strong—which begins with the sale of the bus, it doesn't end with it. It's through the ownership of the bus, which could be three years or 15. We have some buses out there, built on the Freightliner chassis, with over a million miles on them."


One-piece fiberglass roofs "All of us encourage customers to come to our plant," says Bledsoe. "The main thing they will notice is how we build our buses: the floors, the walls, the ceilings—the entire process is second to none. You see how we weld our sidewalls and build our frames. Any time a customer comes to the plant, they leave impressed. We're also a family-owned company for five generations—it makes a difference."

Tom is part of the fourth generation of the Cripe family ownership. Tom and his cousin-in-law Rob Cripe, also vice president, spearhead the bus division and lead the management team that includes Bledsoe, Director of Engineering Matt Sausaman, and CFO Tom Craig; in addition to sales associates Lance Yoder, Gerry Lawton, and Tom's son and fifth-generation Cripe, Shane Tom; and a team of 200 craftsmen.

Besides immediately addressing customer issues, Tom says they have a Top 10 list that they tackle each month with the operations team to ensure a solid fix and that the problem is resolved for future vehicles.
Any time a customer comes to the plant, they leave impressed. We're also a family-owned company for five generations–it makes a difference." – Timm Bledsoe, Director of Sales and Marketing of Turtle Top
"There have been many suggestions from customers and vendors over the years that we've used," says Tom. "Door operations is something that comes up because it's the one thing that is used on every trip, so we cycle test and cycle test again. We've made tweaks to our door motors and even changed to a different structure that works better. Our electrical system is another area: We use all automotive-grade wiring harnesses and weatherproof connectors where moisture can make them vulnerable. We're always looking to improve something. If you have a good foundation and a strong structure, it's going to weather the storm."

Tom says that because they are a family-owned business, they always evaluate safety as their ultimate priority. "We never build or sell a product that we wouldn't feel safe to ride in ourselves and the team knows that. It's not just a matter of welding a cage together to get it done, but doing it the right way on a consistent basis. After 50-plus years in business, we've had a lot of products that have been broadsided by semis or slid down the road on their sides, and it's our strong cage that has helped passengers walk away from those accidents. When Ford came to do the QVM inspection, we missed a completely perfect score by just a couple points—which is totally unheard of. That speaks volumes for the intensity we have for building vehicles the right way."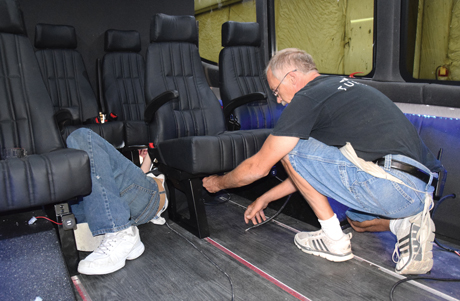 Gene Pfefferle, lead for interior installation, preps a VT3 for interior work Turtle Top also undercoats its buses with an underbody sealant for protection from harsh elements and increased durability. Every bus sits on a rubber cushion to reduce road vibration and bumps for increased passenger comfort. Similar to the trucking industry, tires are filled with nitrogen, which has larger molecules than traditional oxygen; the pressure stays even and reduces potential damage to sidewalls from escaping oxygen (which, according to Tom, ultimately enhances safety). Additionally, Turtle Top buses are painted instead of gel coated, which Tom says reduces the likelihood of uneven fading.

"You can make anything look pretty on the outside, but it can cover up something ugly on the inside. That's why we build the quality all the way through. It's a price-product relationship, and our customers want that. You can't have the best quality product if you don't invest in that," he says. "We want to create a vehicle that isn't noisy or falling apart at 100,000 or 150,000 miles. We want to make sure it still has value."

Operators will have a chance to check out two of Turtle Top's buses at its booth at the Chauffeur Driven Show in Washington, D.C., this October 9-12, where they anticipate having the VT3 and an Odyssey XLT on display. [CD0916]