BY LIZ HUNTER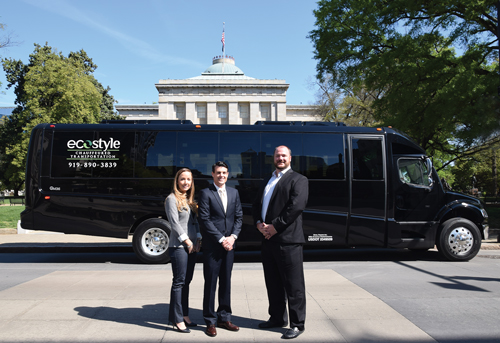 L to R: EcoStyle CFO Danielle Pittman, President Brock Pittman, and Vice President Scott Tyler stand with one of their limobuses at the North Carolina State Capitol in Raleigh One might wonder how a professional baseball player from Philadelphia ends up running a chauffeured transportation company in Raleigh, North Carolina. Well, since you asked… In 2001, Scott Tyler was drafted out of high school by the Minnesota Twins. The right-handed pitcher played professionally with several clubs, including the Oakland A's and the then-Florida Marlins, until 2008. During that time he met his wife, Cassie, who lived in North Carolina, and his love for Cassie soon extended to his new hometown, too.

Around the time he retired from baseball at age 25, Tyler became friends with Brock Pittman, owner of parking and valet management service Royal Parking, and he became a manager at one of Royal Parking's hotel locations. After about a year, the hotel approached them about starting a car service program for their guests; together, Pittman and Tyler cofounded EcoStyle Chauffeured Transportation in 2010.

It felt like a whirlwind for Tyler, who had no prior transportation knowledge. "I had no experience in the industry, so I was learning as I went along, and I had no idea this would be my path," he says, adding that while the company was launching he was also working toward obtaining his degree from Campbell University. "It was a busy time, to say the least."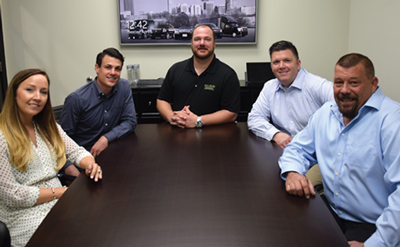 Clockwise: Danielle Pittman, Brock Pittman, Scott Tyler, Business Development Manager Matt Smallwood, and General Manager Eric Bohn EcoStyle's foundation was built on that one hotel account, which was adamant about offering green transportation, so the company started with a hybrid Chevy Tahoe. "We had no big ambitions," says Tyler. "We just wanted to service that one hotel."

But in the past six years, the industry has evolved and so has EcoStyle, which now runs a fleet of more than 45 vehicles—although none are currently hybrids. "There's no longer a demand for those from clients, but we are still partnered with [energy education organization] NC GreenPower," Tyler says.

He says that EcoStyle works with every large hotel in the Raleigh-Durham market, including the Washington Duke Inn, Renaissance, Marriott, and The Umstead Hotel and Spa—the only five-star hotel in North Carolina. The groups coming into these properties put EcoStyle in a position to offer them high-volume transportation.

"We ramped up our group and charter division, and in 2012 bought our first bus. As of today, we have eight with a few more on order," says Tyler. EcoStyle has five Grech executive-style buses and three 24-passenger coaches, all black exteriors with black leather.

But for Tyler, it's about more than the vehicles: It's about the people, too. "We've made strategic hires of people who are able to procure and secure the groups and manage them all the way through. We're known for our attention to detail and all-around great service. The hotel conference service managers and sales directors know we can meet their demands."


EcoStyle has moved away from a fleet of hybrids—which gave it its name—to a diverse lineup that now includes several motorcoaches"
Group Sales Manager Cameron Worsham is focused on seeing groups through their trip from start to finish while acting as the point of contact, according to Tyler. "He's accessible and that goes a long way for big groups who like to know they won't be handed off to someone else."

EcoStyle also welcomes groups outside the corporate market. "We do a lot of weddings and entertainment groups heading to concerts or sports events," says Tyler, "which are frequent around here because of the universities. We take care of groups going to and from the Carolina Hurricanes, Durham Bulls, or Carolina Mudcats games, and we drive team personnel, too."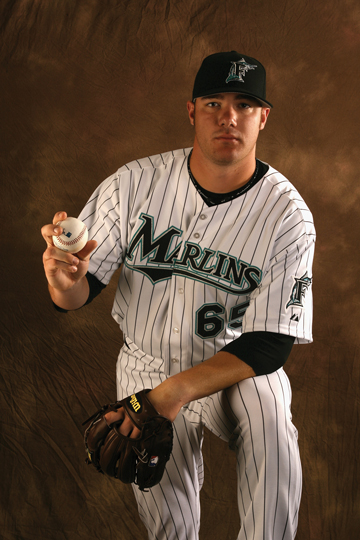 Scott Tyler during his stint with the Florida Marlins Tyler felt quite proud of EcoStyle's role in providing transportation this past July for a Major League Baseball game between the Marlins and Braves played at local military base Fort Bragg. "It's the first game ever played on an active military base, and as a former baseball player, it was really special to be a part of it," he says.

Just like for groups, EcoStyle has several team members dedicated to handling certain pieces of the business—for instance, their FBO work, which is a significant sector for the company. In fact, EcoStyle has an office located inside Signature Aviation in Greensboro, putting them right in front of those clients. "We've been partnered with the local FBOs for the past three to four years," says Tyler. "There are high-level VIPs coming in and out daily and we enjoy doing the work." EcoStyle prides themselves in being the first chauffeured transportation company in North Carolina to invest in four BMW 7-series to cater to these ultra-high-end clients and even has a reservations staff member assigned to managing their requests.

Tyler is not surprised to see a wide variety of clients and businesses attracted to the Raleigh-Durham market. From corporate travelers to sports enthusiasts, there is something for everyone. "I remember as a child up north, I could get to the beach or the mountains or New York City all within an hour—and here it's the same way," Tyler says. "We have the beach, mountains, the city of Charlotte, universities, sports. It's a great place to raise a family, which has proven to be the case with my sons. There's so much we're able to do. I don't ever see myself leaving."

Raleigh, the capital of North Carolina, is home to nearly a half a million people in the city proper but there are more than 2 million residents in what is known as the Research Triangle of Raleigh-Durham-Chapel Hill. The moniker comes from the major universities in each city: NC State, Duke University, and UNC at Chapel Hill, respectively. In 2014, Forbes named Raleigh the Best Place to Raise a Family, and that same publication has bestowed other accolades upon the region, such as Best Place for Business and Careers (#1, Forbes 2014) and Fastest Growing City (#9, Forbes 2016).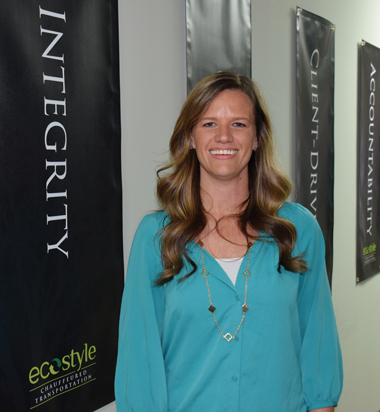 National Affiliate Manager Stephanie Alligood Culturally, Raleigh is diverse. Its downtown features several historic landmarks, including the Sir Walter Raleigh Hotel, and popular tourist attractions such as the North Carolina Museum of History and the Raleigh City Museum, as well as entertainment venues like the Duke Energy Center for the Performing Arts—home to the North Carolina Symphony and the Carolina Ballet.

At Raleigh's economic core are the banking and education industries. Major companies headquartered here are Red Hot, Quinitiles, SA Institute, Cree, and Carquest, but some of the biggest employers are the state and public school systems. The universities in the area have been a big driver of economic development, says Tyler. "Companies are moving here because there are students looking for jobs in these industries and they are not leaving after graduation. It's great for businesses like ours because there are new companies and new hotels for potential business, and the state is responding with infrastructure improvements," he says. "It's been amazing to see the growth skyrocket around us."

For its own growth, EcoStyle has relied on a series of strategic acquisitions, the first of which was in 2013. "Our first purchase was Prime Time Limousine, which was based about 45 minutes from us in Sanford. We were starting to see business in that area so it made sense to acquire them and continue our growth," says Tyler. Prime Time had been running older equipment, so EcoStyle kept one vehicle and replaced the fleet with brand-new metal.

"It showed their clients that we were willing to invest and provide them with brand-new vehicles and expanded service options," he says.

This was a stepping stone for EcoStyle, and within a year came its acquisition of Elite Coach, one of the largest companies in the North Carolina market. For this purchase, EcoStyle replaced the fleet but kept some of the staff, including the company's owner, Matt Smallwood, who now handles EcoStyle's business development and affiliate network.

"Matt is a knowledgeable person in the industry," says Tyler of why they kept him on board. "He's grown a company from its start, and after we met with him, we felt that he could help us get to the next level with his experience and background."

Smallwood now works full time in the office helping the EcoStyle staff learn the business and grow. "He's also taken a role of handling some of the affiliate relationships with Stephanie Alligood, national affiliate manager, and they are working well together, procuring future business. Matt is going to be a part of our organization for a long time," Tyler says.


We have the beach, mountains, the city of Charlotte, universities, sports. It's a great place to raise a family." – Scott Tyler, Co-Founder/Owner of EcoStyle Chauffeured Transportation
EcoStyle's acquisition of Elite pushed the company even further into the affiliate network realm. "We started developing affiliate relationships from the beginning and they improved and grew, but with the acquisition of Elite Coach, we have really been able to focus on it and put key people like Matt and Stephanie into managing it," Tyler says.

For affiliates sending inbound work, a visit to the EcoStyle headquarters will reveal a true team of professionals who care about the day-to-day business operations. "We have a vast assortment of luxury choices and there is rarely a request we can't take care of," says Tyler. "We operate with a five-star mentality, which is why we never say 'no' without an alternate solution. If we don't have it, we offer a legitimate solution or alternative that will work 99 percent of them time. There's never a flat-out refusal. We have a great team of people who buy into our brand and the way we do things."

Tyler speaks highly of his entire staff, which totals 67, including chauffeurs—who are employees. "A majority of our hiring is done through references and word-of-mouth. We like to look at people with backgrounds in different industries and convert that to what we're doing," he says. "We've hired some who didn't have a background in this industry, but we offered training and taught them the ropes. If you find the right person—no matter what industry they come from—who will work hard and give it their all, they are going to do a great job for you."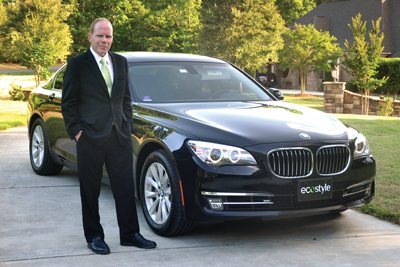 Chauffeur Eric Paige Empowering his employees from the inside out is paramount in Tyler's management style. "My job is to hire the right people," he says. "I'm big on the end result and the big points that need to happen along the way, but I don't micromanage. You've got to let them evolve into the person they are and they'll do it the right way. They don't need me intervening." Tyler adds that turnover is low and the company's first employee is still with them today.

Tyler handles the daily operations of EcoStyle and has some key people in management roles, such as Smallwood, Alligood, and Worsham. Eric Bohn is the company's general manager, and he's been with them for four years, handling fleet management and overseeing the dispatch department. Alan Byerly is lead dispatcher and has been with EcoStyle three years. Tyler says he comes from a long background in the industry and does a great job. Danielle Pittman, the wife of Tyler's business partner, is in charge of human resources and accounting.

Brock Pittman's main responsibilities are with Royal Parking, EcoStyle's sister company, which has more than 300 employees, but he remains a sounding board for Tyler. "We bounce executive decisions off each other in terms of financial or fleet decisions," he says. "We coordinate more on the vision and direction, but Matt and Eric are the people I go to on a day-to-day basis."

Considering how much their employees contribute to the success of the company, Tyler has given them an impressive environment in which to work. They recently moved into a new facility built with employees in mind. "We believe if you want great employees you need to put them in a great environment to be successful," he says. "You want them to come to work and walk through the doors feeling excited about the day. It's nice for them to come and enjoy being here." Some of the amenities include kitchens, a large training room, an Xbox for break-time play, an outdoor patio where employees can enjoy lunch away from their desks, and even some outdoor games like cornhole.

"We try to keep it fun and relaxed. We'll celebrate birthdays and almost every other Friday we'll cater lunch with either a food truck or have someone grill. We like giving rewards, not always monetary, but it could be shirts or tumblers with the company logo," says Tyler. "We make them feel like a part of the company."

In the world of chauffeured transportation, EcoStyle is still young, but it has experienced extreme growth in just six years. "We've learned a lot handling the growth from one vehicle to 45, from zero dollars to more than $5 million. It's a blessing but a challenge," says Tyler.

Like any new company, EcoStyle has had its fumbles. Tyler points to software as one of those stumbling blocks. "We've switched providers three times in a year-and-a-half, but we just switched to Livery Coach and we're so happy with the transition," he says. "We outgrew other platforms but this one is a great asset that's going to take us to the next level, and it's here to stay in the industry."

Moving forward, Tyler says EcoStyle will be considering future acquisitions as well as the potential of opening other offices, but one of the biggest investments on his mind right now is the two brand-new 2016 Volvo 9700 motorcoaches they recently added to the fleet.

"Our group department has been so successful that it seems that adding motorcoaches would be a nice complement to that portion," he says. "But there are things to consider, like insurance, mechanics, personnel—it's tricky. We needed to have the right people in charge and make sure we were fully prepared. We didn't make rash decisions. Every move is thought out and strategic so when we made the leap, I want to have everything in place."

Surely this conversation will continue between Tyler and Pittman, who are still very close friends outside work. "My wife Cassie and our two kids Cannon and Colton spend a lot of time with Brock, his wife Danielle, and their kids Stella and Finn," he says. "We're also close with Matt and his wife Jacki. We all spend a lot of time together at the office and away. This business is 24/7 and can break you down, so we try to balance that as much as we can."

Even though Tyler might not be on the mound anymore, he doesn't get far from his athletic roots. "I'm an avid sports fan and the only way I really unwind is by taking my family to games," he says. [CD0916]