BY ROB SMENTEK

Every four years, the Republican and Democratic National Conventions each take over a major city for a week, and bring with them a tidal wave of candidates, current and past politicians, delegates, speakers, and celebrities. In the time since the last convention, the transportation industry has changed dramatically with the emergence of the TNCs. When operators started making their preparations for the conventions as far back as two years ago, they were forced to consider the potential competition from the TNCs.

Of course, the unusual political climate that has swept the country in recent months created its own set of challenges. When scheduling rides, limousine companies had to plan around the throngs of protestors looking to surround Cleveland's Quicken Loans Arena and Philadelphia's Wells Fargo Center. Whether it was Bernie or Bust, Black Lives Matter, or those supporting either Trump or Clinton, drop-offs and pickups were destined to be complicated, not to mention the traffic snafus that accompany any major event became even more snarled by the thru-ways closed for security.

If the chauffeured ground transportation industry has a motto, it might be very well be "Expect the unexpected." This certainly came into play for the operators providing transportation in Cleveland and Philadelphia. Chauffeur Driven wanted to learn more about how companies managed their businesses during these week-long, round-the-clock events, so we spoke to operators from each city to get their impressions of the convention chaos. If there's anything to take away from their words, it's that planning, as always, is everything.

Q: How did you get involved with providing transportation for your town's convention?
MARY JO MAZZARELLA, director of sales, American Limousine Service in Lakewood, Ohio: We were fortunate—because we work closely with Destination Cleveland (our convention and visitors bureau)—to have the opportunity to drive the host committee on several visits when they came to look at the city two years ago. That was a great chance to showcase our service.

ANTHONY MAZZARELLA, general manager, American Limousine Service: When we got the announcement that Cleveland had been picked to be the host city, we started planning a full year out what we would need chauffeur-wise, and began putting contracts out there to customers.

STEVE QUA, president, Company Car and Limousine in Cleveland, Ohio: We were led to the RNC by our convention and visitors bureau. They were very helpful in making it known what was available to us if we made ourselves available to the convention. In Cleveland, we don't have a lot of events like this, so we've got to make sure when they happen that we maximize it—not just for the value of the money generated, but for the value of people's opinion of Cleveland.

RON ROBINSON, operations manager, Sterling Limousine & Transportation Services in Wrightstown, Pa.: We got involved well over a year and a half ago. When the word first came out [about Philly hosting the DNC], I was searching how to get involved that afternoon. Then, when the RFP came out for the convention, we immediately filed to be a vendor for ground transportation.

ALAN CANDEUB, president, Park Avenue Limousine in Trevose, Pa.: We're networked with a lot of major companies, both in and out of the industry, and those people reached out to me to provide service to their clients. I've worked similar conventions before, most notably the 2000 Republican convention in Philly. Actually, I don't see a lot of difference between a political or pharmaceutical convention. If you can handle one industry, you can handle any industry.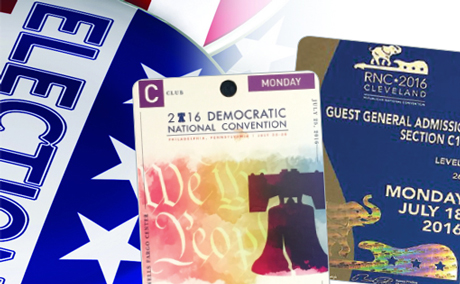 Q: What was the chauffeur vetting process? What was overall security like at your convention's venue?
STEVE QUA: The Secret Service asked us for a fair amount of documentation, including the little stuff like a vendor's license, but also things like chauffeur lists in case they needed to drive someone inside the secure perimeter around the venue. We sent in the paperwork, and then promptly received a letter saying we were "in."

The clients that were available to us—the customers, the passengers—were not universal. For instance, the conventioneers and delegates got "free transportation" from the hotels. I don't think any limo companies here saw any delegates for the most part. There were buses that dropped them off inside the secure zone. So they would go through security at the hotel, get on the bus, and get dropped at the event site, and not have to re-clear security at the site.

RON ROBINSON: A lot of my drivers were vetted by the Secret Service due to the caliber and type of passengers they were carrying. Documentation had to be supplied a week and half in advance, which was somewhat surprising since we were expecting the request to come in well before that. Due to our nationwide affiliation with a lot of large companies, we carried a number of major Hollywood stars who were speaking, as well as a lot of high political figures who weren't in need of security escorts. We did have a few police escorts that week, which our chauffeurs thought was the coolest thing ever.

ALAN CANDEUB: Whether it was through our clients or affiliates, we started the vetting process with the Secret Service about six weeks before the convention. We provided them with license plate numbers, Social Security numbers, driver's licenses, etc. We already do criminal background checks on our chauffeurs, unlike the TNCs, so there was no concern.

Q: Speaking of TNCs, did you find your business affected by them during the convention week?
STEVE QUA: Oddly, Uber was named the official transportation provider of the RNC, which is amazing that a company that insists they're just a software provider can be an official transportation company. But there's still a big segment of society that cares about time, availability, and responsibility, and we like that idea. We served groups of customers for whom time was more valuable than money.

ANTHONY MAZZARELLA: Luckily for us, we were able to land transportation contracts, so our customers were planned well in advance. Our business wasn't really affected by them, although Uber took over the whole limo lot at the venue, which was an inconvenience. We relayed this information to the chauffeurs so they knew what to do, so even this didn't affect us too much.

RON ROBINSON: We were upset that the DNC embraced Uber. It was listed on the DNC website as a preferred transportation provider and, not only that, they made special accommodations to have a parking lot near the convention venue, which was not allotted to us at all. Also, Uber bought out half of the 30th Street Train Station parking spaces and had an attendant there 24/7 shooing away any livery vehicles. I was actually sitting in front of one of the major hotels downtown watching minivans with car seats in the back picking up Uber fares. But, despite these inconveniences, the TNCs didn't hurt our business—they simply don't cater to our clients.

Q: With street closures, a heavy police presence, and ­potential traffic problems, how did you approach planning for the logistical nightmare of the event? How did you prepare your staff?
MARY JO MAZZARELLA: Because a nice portion of our fleet was dedicated a year out through our affiliates, we knew what kind of manpower we would need. We started early with additional hiring and training so we would know who was the right fit, and they'd have a few months to get the hang of the airport procedure, the downtown, and our company's processes.

Logistically, things were easy; because Cleveland is a smaller city, at least compared to Philly, everything was very compact—the different venues for the convention were all in one place.

ANTHONY MAZZARELLA: Our airport procedures changed, but we were able to give our chauffeurs notice. As far as the event itself, we were given the street closures, and once we got into the first day of the RNC, and our chauffeurs were comfortable with the routes, it was pretty easy going.

STEVE QUA: Eighteen months ago, the city of Cleveland started having meetings, which gave an idea of how things were going to work during the convention. Also we regularly met within the company as to how we were going to manage, dispatch, and price things, along with how we were going to work around the city. The Secret Service was very careful about what information they were going to let out, so we didn't know the specifics of the secure perimeter around the event until two weeks prior. Once we found out, we developed a plan.

RON ROBINSON: Our operation was all hands on deck: There were no days off. There were no vacations during this time, and drivers were told six months in advance that this was a blocked-out week and everybody works. We even had part-time drivers take off from their full-time job to work the DNC because that's how much of a cash cow it was.

Traffic was unbelievable. Every single day at approximately 4 o'clock the protests started down Broad Street from City Hall in Center City Philadelphia. The inner city traffic—with rush hour, the convention, and protests—was a dead standstill. It took an hour and 15 minutes to make a drive that normally takes seven minutes. There's just no planning for that.

ALAN CANDEUB: For major events in the past, like the Super Bowl and the Pope's visit, we've gambled on adding drivers and cars, and had slightly disappointing results. Now, have more of a tendency to be conservative about bringing in or renting equipment for large events. This time I reached out to vendors in the Cleveland market and asked how things went with the RNC, so that helped me plan. Requests didn't really kick in until the week before the event but by the Saturday before the DNC, we were completely sold out.

Q: Given that convention week would see most of your cars in use by the conventioneers, how did you handle your regular client base?
RON ROBINSON: It was a struggle because we have regular clients who have regular lives—everyday corporate customers who still needed service. You can't tell them "no" because the DNC is here for a week; your repeat clients are here for life. We still operated business as usual, and allotted a certain number of cars that we didn't use for the DNC. We utilized a number of smaller local affiliates who weren't going to get a piece of the pie from the DNC. They were our backup for airport transfers and the like.

ANTHONY MAZZARELLA: We brought enough staff in, and had groups dedicated to handling our regulars.

STEVE QUA: We started communication with our regular clients 90 days out. We assured them they we'd be here, at normal pricing, and we only asked that they booked early. We asked them to book early and they were helpful. They wanted us, and the event, to be successful. Not many of our regulars called us during that week. We told them book early, book early, book early, and we got an awful lot of compliments from our customers saying "thanks for looking out for us." We didn't have to say no.

ALAN CANDEUB: This was our biggest challenge. We were hoping that we wouldn't be as busy with local work as we normally are, but that wasn't the case. Many of our local runs are 24-72 hours out, so we had to work closely with our dispatchers, and held meetings three times a day between reservations and dispatch. Communication was essential. For our regular customers, we honored our current pricing, but for DNC-related trips, we had hourly minimums and a slight price increase. In some instances, it was a challenge to determine whether it was local work or a trip for the convention. We had to evaluate each job. 

Q: Did your company learn anything from the convention experience?
RON ROBINSON: Yes, quite a bit. While we had cancellation policies set in place, better communication with our nationwide affiliates as those polices would have been beneficial. You have to be very careful as how to handle cancelling them. There's a fine line of sticking to your policies because you don't want to ruin any relationships.

ALAN CANDEUB: The whole thing with these events is preparation. We started months in advance, making sure our fleet was ready, confirming our insurance was in order for any rented vehicles, and ensuring that we had plenty of prepared staff. Also, you need to consider whether you have enough detailers as well as standby maintenance procedures. We actually had an incident where a volunteer driver for the DNC hit one of our vehicles. We had a body shop ready, and had the vehicle on the road the next day.

ANTHONY MAZZARELLA: The whole process was a learning experience: if you plan in advance, you can do anything. In fact, the planning process was actually more daunting than the actual event. [CD0916]