Details

Category: Industry News
Dear Industry Friends, Clients, and Partners,
I would like to personally inform you that on Friday, January 3, 2014, I have resigned from my position as the general sales manager of Don Brown Bus Sales. This mutual separation is fully amicable and designed to guarantee the future success of both parties. My departure will allow me to pursue new opportunities within the industry to ensure the positive growth and advancement of my career in serving your needs. There will be a transition period of consulting for Don Brown Bus Sales to ensure the well-being of our clients and partners. As I move forward, I will be working closely with DBBS and consulting for them to ensure that you receive the same level of customer service you have grown accustom to.
I would like to take this opportunity to express my genuine gratitude to DBBS and thank Mark and Eric Sebast, as I will forever be grateful for the opportunities they provided to me. The personal and career growth and development experience they allowed was a rare experience that I hold in very high regard. The brand, relationships, and customer loyalty that we were able to build in a short time is a testament to our commitment to the industry.
"Having the opportunity to work with AJ over the past four years has been a true pleasure. He is one of those rare individuals who truly cares about the success and well-being of all of his clients, and that shows in both the amount of his time that he dedicated to them as well as the personal friendships that have developed because of it. AJ's departure is not without sadness, but I know he will be successful whatever path that he chooses, and I look forward to watching him continue on in his journey," says Eric Sebast, vice president of Don Brown Bus Sales.
"We have had the privilege to enter an industry together, to build relationships and products that are second to none. Together we developed our manufacturing and dealer support network—a winning combination that we will continue as we go forward. We wish AJ all the very best as he continues his career," says Mark J. Sebast, president of Don Brown Bus Sales.
I would also like to thank you for your support over this time and ensure that you will be in good hands with DBBS in the future. I have been able to establish priceless relationships and friendships that will last a lifetime. I look forward to serving our industry for many years to come and continuing to give back to all of you who have supported DBBS and myself and made all of our success possible. Details of my transitions are still being finalized, and more information will follow shortly.
Carl Restivo will become your primary contact at Don Brown Bus Sales and can be reached at:
carl@buscrazy.net
855.546.6060 office
862.266.2923 cell

Thank you greatly,
AJ Thurber
518.698.7862
adamjthurber@me.com



1/14
Details

Category: Industry News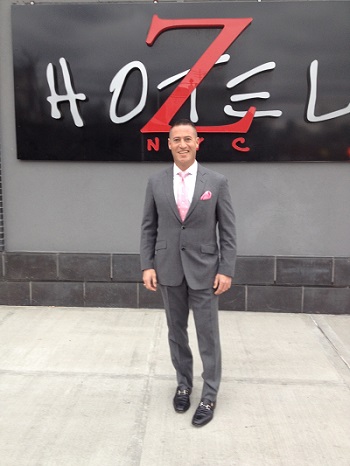 Sergio Sanchez Joins Ben's Long Island City, N.Y.—Ben's Luxury Car & Limousine Service announced that Sergio A. Sanchez has joined the company as its new general manager. Sanchez brings over 26 years of experience in the ground transportation industry to the company, which is located in the Z Hotel in Long Island City, N.Y.
His experience in the industry impressed President Pini Gardi. "Sergio is a true professional. I feel he has the right mind sense to make Ben's successful, and I believe in him on a business and professional level," Gardi says.
Working in the transportation industry runs in Sanchez's blood, dating back to when his grandfather was a cab driver. Sanchez started his career as a chauffeur during college, working his way up to become an account manager. From there, he found much success, which led to a position as vice president of sales and marketing for a black car company in New York.
Sanchez was also general manager of Partners Executive, eventually being promoted to Executive VP. During this time, Sanchez also helped found Luxury Based Operators of America Association (LBOA), where he met Avi Mazouz, VP of Ben's.
"It is because of the past experience of working with Sergio within LBOA that I had the opportunity to get to know his character and view his leadership skills. I feel that Sergio has what it takes to bring Ben's to the next level" says Mazouz.
"I am particularly excited by the challenge of taking on a big venture for such a well-established company like Ben's" says Sanchez. "I'm optimistic that with all the resources and dedicated ownership at the company we'll be well on our way to experiencing growth and meeting goals for the future in no time."
Sanchez's charitable work will also continue to be a major part of his life, as he is a part of the Jorge Posada Foundation, Ron Darling Foundation, and the Latin Women Empower Faces. In his spare time, he enjoys golfing, boating, and spending time with his children.
Visit benslimo.com for more information.
1/14
Details

Category: Industry News
Houston, Texas—Elite Limousines of Houston announced in early January that it had acquired Mike Turner's Quality Chauffeured Limousine in Houston. "Mike has a quality book of loyal frequent travelers," says Renzo Ormsbee, president of Elite Limousines of Houston. "Acquiring Quality gives us a strong book of great clients, several cars, another high caliber chauffeur in Mike, and also gives us a segue into the niche market of personal protection and security in Houston." "I enjoy being a chauffeur, but handling the business side of things can sometimes effect my availability to service my clients' needs, especially during peak periods. My wife practically demanded that I get this deal done before the upcoming rodeo season in February," says Turner, about the sale of his company. "I have known Renzo for some time and we have been discussing this deal for a year or so. I knew that Renzo and his team are the type of people that could service my clients professionally. By becoming part of the Elite team, I gain the depth and economy of scale that I need to provide better service to all of my clients, who have become friends." "This is our third acquisition in the last 3 years." said Ormsbee. "Owners have come to me because they know that I have the people and procedures in place to handle their clients the same way they would. They have established relationships with their clients and don't want to let them down, even as they exit the industry. I am proud that my company is viewed positively by my industry peers and we'll continue to do what's required to keep that reputation." Visit
elitelimohouston.com
for more information.
1/14