Details

Category: Industry News
US Travel Association (USTA) convened top leaders in travel, transportation, and technology with policymakers and administration officials for the association's first-ever Future of Travel Mobility Summit, which was held on October 26. It was held just ahead of the opening of the US to vaccinated international travelers on November 8.
The association noted that discussions were focused on issues central to the coming decade and beyond of transportation and technology innovation that will reshape how people travel, and which will ultimately enhance the traveler experience. Key topics included sustainability, seamless and secure travel, and innovative and emerging technology.
New research by Ipsos released in late October underscored the necessity of accelerating the advancement of new technologies and innovations, as highlighted at the summit. Over the next two to five years, one-in-four (24 percent) Americans plan to take fewer leisure trips than they did prior to the pandemic, according to Ipsos. Two-in-five (40 percent) business travelers plan to travel less for business than they did before COVID.
The same survey showed that the demand for travel would only increase if Americans had access to more sustainable, seamless, secure, and modern travel options, such as electric vehicles; airlines and fuels that produced fewer carbon emissions; improved Transportation Security Administration screening; and more efficient transportation technologies such as hyperloops or supersonic aircraft.
If travel were to increase by just 5 percent as a result of more sustainable travel options, it would result in an additional $50 billion in travel spending and $130 billion in economic output annually—supporting roughly 850,000 additional American jobs.
"These conversations are so important because we see that new, innovative transportation solutions are more than a customer preference—they are a necessity as we look ahead to the future of our industry," said USTA President & CEO Roger Dow. "This is an opportunity to build a travel industry that is stronger, more modern,  and more globally competitive than ever before."
Remarks were delivered by Secretary of Transportation Pete Buttigieg, Secretary of Homeland Security Alejandro Mayorkas, Senator Shelley Moore Capito (R-W.V.), Representative Debbie Dingell (D-Mich.), Representative John Katko (R-N.Y.), and Austin Brown, Senior Director for Transportation Emissions, White House Office of Domestic Climate Policy.
They were joined by private-sector leaders including Delta Airlines CEO Ed Bastian; GM President Mark Reuss; Virgin Hyperloop CEO Josh Giegel, Joby Aviation CEO JoeBen Bevirt, and many more.
A recording of the full event is available here.
"US Travel is proud to bring so many incredibly relevant industry and government leaders together for this critical discussion across the travel, transportation and technology sectors. It is imperative that we continue to collaborate to drive the necessary policy outcomes and bring new ideas to the forefront to benefit the US economy and travelers alike," said USTA Executive Vice President of Public Affairs and Policy Tori Emerson Barnes.
Visit ustravel.org for more information.
[11.02.21]
Details

Category: Industry News
SC Coach of Aiken, S.C., announced that it has added a new MCI J4500 motorcoach to its fleet. The company received the motorcoach as a demo unit in late 2020, which then turned into a 6-month lease, and ultimately they purchased the coach in October. This makes the ninth (soon to be tenth) J4500 in their fleet.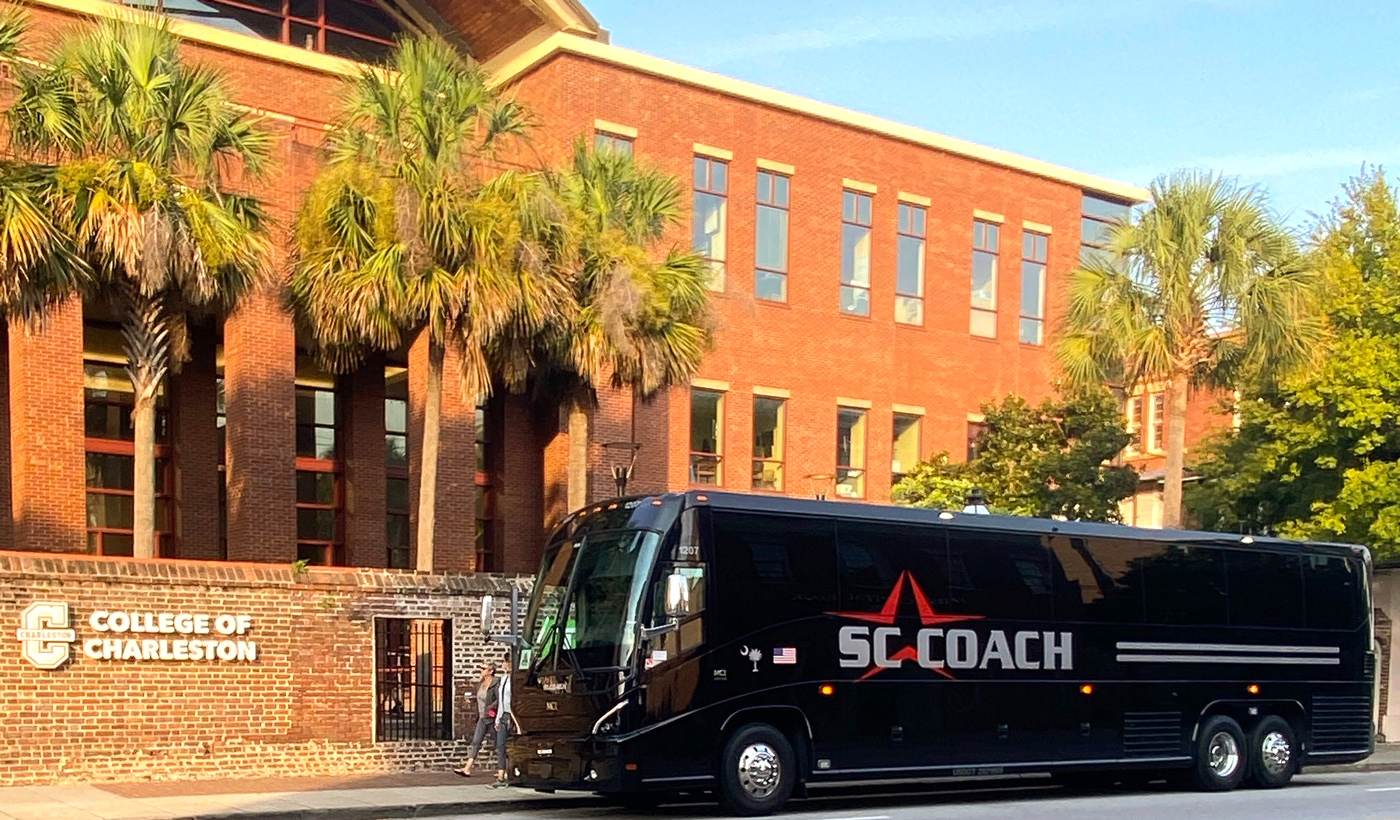 MCI J4500 at the College of Charleston
"MCI turned around a less-than-ideal situation on a previously purchased coach and was able to find a remedy with this coach. The customer service we received through the process was exceptional and made the sale simple and easy during a rocky time in the industry. This J4500 truly sets the bar for ground transportation in our area, and I could not be prouder to brand it with our logo," says SC Coach Founder Jeff Canady.
Founded in 2000 as CLT Express Livery with just one sedan, they acquired their first coach company, Busy Bee Coach, in 2015. Busy Bee was rebranded into SC Coach, and the company soon traded in their existing fleet of coaches for their first J4500s. SC Coach has grown into 16 coach (and growing) fleet in just 6 short years. They are currently the largest chauffeured transportation provider in the Carolinas with over 85 vehicles.
SC Coach-branded MCI J4500
"This new J4500 ties SC Coach back into our roots, truly bringing the limousine feel into the coach industry. From the leather seating, to the mood lighting, to the exceptional ride quality, the company feels that the luxurious feeling of an MCI is incomparable," added Canady.
"When they say Reliability Driven, they mean it," says Dustin Robinson, a driver with SC Coach assigned to the vehicle. "Almost every day I'm behind the wheel of this coach and I've yet to find a feature or, in better words, a lack of feature that I dislike. To pick a favorite, I'd have to say the mood lighting. When a team or group boards the coach and they see their colors, it takes it from another bus ride to a feeling of its their own team coach. From the ride quality to the comfort aspect, I love being behind the wheel of an MCI."
SC Coach Maintenance Manager Jon Furtado is also impressed with the new coach.
"Running the most monthly miles in our fleet and only seeing it in the shop for routine services, inspections, and tires says a lot compared to our other new coaches with various other issues after delivery. From reliability to parts availability, to some of the best tech support in the industry, MCI makes a great product and stands behind it every step of the way," says Furtado.
Visit scmotorcoach.com for more information.
[11.01.21]
Details

Category: Industry News
You asked for it and we listened. In this column, we ask operators of all sizes and from all walks of the industry a question about their business and report their answers so you can assess how your own company compares to your peers. If you would like to participate, please email Rob Smentek at rob@chauffeurdriven.com for next issue's question.
TOPIC:

What's most important to you when purchasing a vehicle? Price, warranty, features, the relationship with the dealer, incentives, prestige of the brand/model, client demand/request?
---
The two most important factors that weigh heavily when I purchase a vehicle are: A) Can the vehicle be used in several different types of client requests? Is it a "Swiss army knife" asset that can create constant opportunities seven days a week, 24 hours a day to generate revenue? B) Does the vehicle have the right pricing to allow me to generate most amount of revenue with least amount of expense to operate it?  I have learned 90 percent of buying customers don't care about the vehicle you pick them up in as long as it's clean, the chauffeur is professional, and the services are timely. The other 10 percent are those who have special events where a specific vehicle is requested (i.e., weddings, proms, etc.).
Michael Barreto, President
Metropolis Passenger Logistics in Philadelphia, Pa.
---
We know what type of vehicles fit our business the best based on our body of work and what we need to achieve for our customers. Mainly, we consider relationships and features when we buy our vehicles. It just so happens that brands like Ford/Lincoln (specifically the MKT/Continental/Expedition Max), General Motors (Suburban/Escalade), Grech Motors, and First Class Customs all have the features we need, and we have great relationships with those companies. 
Nick Boccio, General Manager
Buffalo Limousine in Buffalo, N.Y.
---
The way we vet our fleet purchases is based on quality standards of equipment for clients to improve their onboard experience along with the historical KPI maintenance of the brand. This is very important for safety matters and to avoid down times due to maintenance issues.
Fernando Carlison Jr., CEO
Mundi Limousine in Deerfield Beach, Fla.
---
Currently, our biggest concern is that we, in Amsterdam, have to be ZERO emission by January 1, 2025, and unfortunately electric vehicles don't have enough range as compared to the diesels. There is also a shortage of charging stations in the city. That said, these factors have us considering which cars will be our go to.
Richard de Krijger, General Manager
DMC Limousines in Amsterdam, Netherlands
---
When it comes to buying vehicles for my fleet, we have decided to turn our entire lineup over to Ford and Lincoln models. The reason that we have decided to do this is for the simple fact of reliability of their products. When it comes to Ford and Lincoln, their warranty has been a huge selling point to me and my staff. With that said, our clients have loved all of the new additions for their appearance, ride comfort, and the level of craftsmanship.
Karl Guenther II, President
Statement Limousine in Sheffield Village, Ohio
---
When purchasing vehicles for our fleet we look at various aspects pertaining to the equipment. Pricing is a major factor due to a need to buy in quantity, whether large or small. A few thousand dollars per unit adds up so the financial decision is a major factor for us. Brand is also important, but you have to understand your clientele. If they require higher-end vehicles and are willing to pay a premium, that has to go into consideration. Warranties and incentives play a vital role in decision-making. Line up assorted vehicles and make smart financial decisions when it's time to purchase. Also, when you decide on vehicle type, try to stick to the same manufacturer for a while, which makes life much easier when ordering tires, brakes, etc.

In my opinion, corporate customers aren't as focused on expensive high-end vehicles, but more on mid-range equipment, customer service, cleanliness, and safe professional chauffeurs.
Joe Gulino, President
Gem Limousine in Woodbridge, N.J.
---
Factor 1: Quality. This refers to the workmanship and durability of the car, its components, and accessories over time. Cars that are rated high on quality will experience fewer overall problems such as paint peeling, rubber seals wearing, rattling noises, etc.

These days, many quality problems tend to occur on tech features, such as navigation, adaptive cruise control, reverse-parking assist, and telematics systems like GM's OnStar. It's important to note that redesigned or newly introduced vehicles will experience more quality problems during their first year of production than subsequent years. This is natural since manufacturers have to deal with unforeseen production glitches and errors. I recommend waiting until the second year of production before buying a new car—it will not only save you money, but you'll experience fewer quality problems.

Factor 2: Cost of ownership. The long-term cost of owning a car is considerably more than the actual price you pay for it. Ownership cost includes depreciation, fuel, maintenance, repairs, and insurance. The largest of these costs is depreciation. Foreign cars tend to hold their value a little better than domestics.

Factor 3: Reliability. If you've ever owned a car that was always in need of repairs, then you understand why reliability is such an important factor. The good news is that most vehicles nowadays are highly reliable. New car warranties cover at least three years or 36,000 miles, and some even go as high as 10 years/100,000 miles. Nevertheless, you still want a car that's going to be dependable.
Agustín Hernández, Owner
Blackcar Offers in Mexico City, Mexico
---
The vehicles are changing so fast that our terms of acceptance have been adapting. I aim to support vehicles that, without question, would be acceptable to the client. That way, we do not have to change our sales strategy. Relationship with the dealer is important so I can get my issues resolved with less pain. As for amenities and extras in the vehicles, the fewer moving parts we have, the fewer issues we have to deal with.  In short: price, simplicity, dealer relationship, and warranty.
Gus Ortis, CEO
Executive Transportation in Minneapolis, Minn.
---
Post-COVID, it is all about supply and demand. Some bus dealers/manufacturers have increased the price on buses by $10,000 as they are having supplier issues, too. With the chip shortage, used cars are worth as much as brand-new cars. Finding the best deals is the great struggle. Although warranty and supply are a plus, we have to wait a month before the dealership can even see our vehicle plus another two weeks for service due to the employee shortage. Luckily, we have had good relationship with our dealers, and they are willing to work with us. We bought four buses from Northwest Bus Sales, and although we could not get much of a lower price, they threw in service, new tires, replaced all fluids and belts, and also a DOT inspection.
Jess Sandhu, Director of Operations
A&A Limousine & Bus Service in Kenmore, Wash.
---
We've had quite a dilemma since Ford/Lincoln discontinued all sedan products. We want a worthy and gracious, prestige-badged sedan to represent our brand, and we haven't had to pay for preventive maintenance expenses since we switched to Lincoln in 1985, but we expect to lose that edge with any other manufacturer. Lincolns have been bulletproof to 450,000 miles. (We "only" run them to just under 270,000 miles—then have had plenty of NYC black-car buyers who have taken them for another 150,000.) There has never been an engine or transmission repair.

It's not only the increase in preventative maintenance spend and repairing failures but the slight increases in both fleet size and subsequent auto insurance needed to accommodate all the new downtime.

We'll probably stay with Lincoln even though they only have "hatchbacks" now. The industry can help itself by providing good high-mileage fleet operating expense data.
Charles Wisniewski, President & CEO
Teddy's Limousine Service in Norwalk, Conn.
---
Demand is the biggest factor. Over the years, we have changed the size of our fleet from between 8 to 32 vehicles based on future demand. Last year, we shed off older vehicles as soon as possible as the virus hit us. We sold what was not moving and planned on buying back newer vehicles when things picked up.

But, as we all know, things are not that great for getting newer SUVs or stretch limousines; we are what I call "open to buy" for 3-5 new stretch limousines, which are not being made for many reasons that are beyond my comprehension. The latest in our industry are new 2019 stretch limousines for which the build will not be completed until next year—so new is actually three years old. I'm hoping someone builds out the Aviator as the new stretch as it has the look. As for SUVs chip availability is up in the air, plus the increase in price makes it impossible to make money with them. Hopefully, we will get back to a stable flow of vehicles soon as we all need them.
Cliff Wright, Owner
Royal Transportation Group in Orlando, Fla.
---
We've loved hearing your answers to our benchmarking questions—but we always welcome suggestions for future topics, too!
Send an email to rob@chauffeurdriven.com you just might see your query answered in our next e-News.
[11.02.21]