Details

Category: Industry News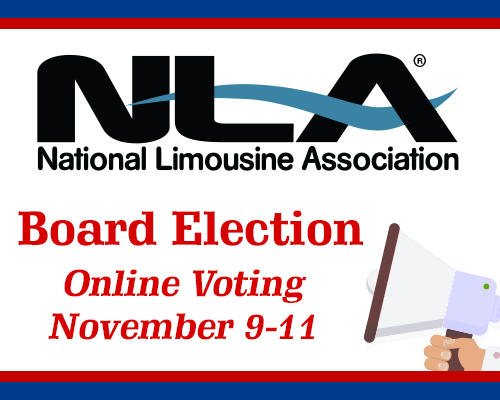 The National Limousine Association (NLA), which announced its roster of candidates for its Board of Directors election in October, is ready to start the election process next week. This year's election will take place online from Tuesday, November 9 at 9:00 am ET to Thursday, November 11 at 8:00 pm ET—a shorter period than normal.
NLA President Robert Alexander of RMA Worldwide confirmed in his weekly letter that members will soon receive their unique voting credentials via email (the address associated with your NLA membership profile). If you need any assistance or have any questions, contact the association at info@limo.org.
Candidates were offered a chance to make their case and earn your vote during a series of live streams last week. The debates were hosted by Bill Faeth of Limo University and were broken down by region. If you missed the debates live, you can view them on NLA's Official Member Group Facebook page here (must be a member):
Visit limo.org for more information.
[11.01.21]
Details

Category: Industry News
Davey Coach Sales—a leading dealer and lease fleet provider of new and used midsize shuttle bus and specialty transportation vehicles representing 15 bus manufacturers—has added new members to the Davey Coach team. After establishing a permanent location in California as part of the company's growth plans, Davey Coach President Mark Stenseth has announced the following new appointments to its Colorado operations.
They include:
Director of Fixed Operations Michael Maddox has more than 20 years of progressive operational success in both commercial truck leasing and the passenger bus industry, and his leadership and process-driven background will help guide the company's growth plans.
Transportation Consultant Ben Olszewski brings several years of experience and knowledge through service and aftermarket automotive and bus management. His extensive technical knowledge combined with his customer relations skills provide a foundation for success.
Transportation Coordinator Clayton Weldon's history of dealership support and multi-location logistics has prepared him well for his new role as organization and logistical support are the keys to any well-running bus sales and leasing operation.
"Davey Coach is excited to have added such excellent talent, and we look forward to seeing the team work together to support our customers and build long-term relationships that serve the small- and medium-size bus market," said Stenseth in the company's announcment.
Visit daveycoach.com for more information.
[10.26.21]