Details

Category: Industry News
Each month, we invite a select number of operators to take part in CD's popular Benchmark & Best Practices column. Past topics have included price increases, insurance rates, growing market segments, new vehicles and types, and much more. In addition to providing you and your company with some free exposure, participating gives you the chance to share your business knowledge with operators from around the world. You can read our latest Benchmark here.
This month, we're giving you the chance to win a half-page ad in an upcoming issue of CD. All you have to do is answer this issue's question:
Have you seen a dip in business or increased cancelations due to the recent news about the Omicron variant? In what segment have you seen the biggest impact? Has your state/market instituted any new measures that have precipitated this?
To take part, we just need a few sentences explaining your answer (at least 50 words or so), along with a headshot photo, no later than Monday, January 3. The winner will be selected at random from the published responses.*
Send your response to rob@chauffeurdriven.com by 1.3.22 for your chance to win. Good luck!
*The annoying fine print: CD must receive a minimum of 10 entries for contest to be valid. Winner must supply finished digital-ready art for advertisement.
[12.28.21]
Details

Category: Industry News
The Global Business Travel Association (GBTA) is closely monitoring the newest COVID variant, Omicron, which was announced around Thanksgiving as cases surged in the Southern countries of the African continent. As of December 21, 2021, it is now the dominant variant for COVID cases throughout Europe and now the US.
As GBTA has been on the forefront of the business travel community during the pandemic, the association gathered feedback from members on the how Omicron is affecting global travel recovery. According to the poll, most companies are taking a wait-and-see approach before introducing new restrictions or requirements for business travel. Additionally, a clear majority feel countries should require international visitors to prove they are fully vaccinated, and that pre-trip negative tests should be required regardless of vaccination status. Note that data was collected December 6-12 and that new information about Omicron has been learned over time.
"As we move through the pandemic, I think this shows the business travel industry is taking a thoughtful, informed, and adaptive approach even as new variants may emerge," said GBTA CEO Suzanne Neufang. "Without clear scientific data, we know knee-jerk restrictions on travel do not generate an effective outcome and taking actions such as border closures and frequently changing entry rules only add to the confusion. Companies and travelers are better equipped now with policies and processes to safely mitigate risk and support traveling, as long as testing and vaccines remain a part of the equation."
Some highlights of the poll:
Eight in ten (82 percent) respondents are concerned or very concerned about the revenue impact to companies in the business travel sector.
Seven in ten (69 percent) report they are concerned in some capacity about employment and (re)hiring, while six in ten (61 percent) are concerned about the safety of business travel.
Omicron has likely impacted at least a portion of bookings for business travel suppliers and TMCs. One in three (37 percent) report their bookings have decreased while a third (35 percent) say bookings have remained the same.
On a global basis, there are indicators of a more wait-and-see approach to introducing new restrictions or requirements for business travel:
Half (53 percent) report their company is unlikely to introduce new restrictions, while one in five (19 percent) report their company is considering doing so.
Less than a fifth (17 percent) of respondents said their company introduced new restrictions on non-essential business travel or new requirements related to business travel due to Omicron.
In Europe, where the variant debuted a week or so before it hit the US, caution is high:
Respondents based in Europe (90 percent) are more likely to say they are concerned or very concerned about the revenue impact to companies in the business travel sector compared to those based in North America (79 percent).
Travel supplier respondents in Europe (61 percent) are more likely to report their bookings have decreased compared to respondents in North America (29 percent).
While still far fewer than half, Europe-based respondents (32 percent) are much more likely than North America-based buyers to say they have introduced new restrictions (12 percent).
The survey results can be viewed here.
Visit gbta.org for more information.
[12.21.21]
Details

Category: Industry News
On Thursday, December 16, the New England Livery Association (NELA) held its holiday quarterly meeting at the Kowloon Restaurant in Saugus, Mass. Approximately 70 people attended the event, including some who traveled a distance to be there, such as Chris Przybylski of LBC Fleet and David Eckstein of Valera Global.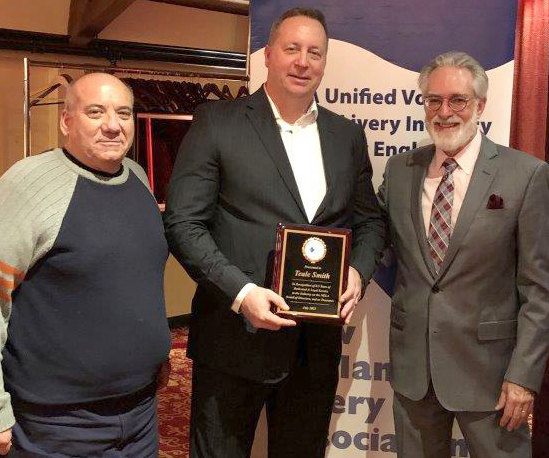 L to R: NELA President Joe Cardillo of AOT Global (left) and NELA Executive Director Rick Szilagyi (right) present Teale Smith of Maine Limousine Service with a plaque for his years of service
Hosted by NELA Executive Director Rick Szilagyi, several NELA board members made presentations during the meeting, including NELA President Joe Cardillo of AOT Global, Brett Barenholtz of Above All Transportation/Boston Car Service, and Mark Kini of Boston Chauffeur.
After Szilagyi offered appreciation for the members of NELA's Quarterly Meeting Committee, he turned the mic over to Cardillo who thanked Szilagyi and the team at Lexian Management for all they do to support the association, as well as attendees for making a very strong showing. Cardillo reminded everyone of the mission of the NELA, focusing on how the association assists both operators and vendors by strengthening the industry, supporting both sides to continue its mission. He also asked for members to consider running for a board seat or working on a committee before closing with an overview of the great programs the NELA has rolled out and will continue to roll out with TIEF funds.
Cardillo and Szilagyi then presented Teale Smith of Maine Limousine Service with a plaque in thanks for his more than eight years of service on the NELA Board of Directors, including time as Treasurer.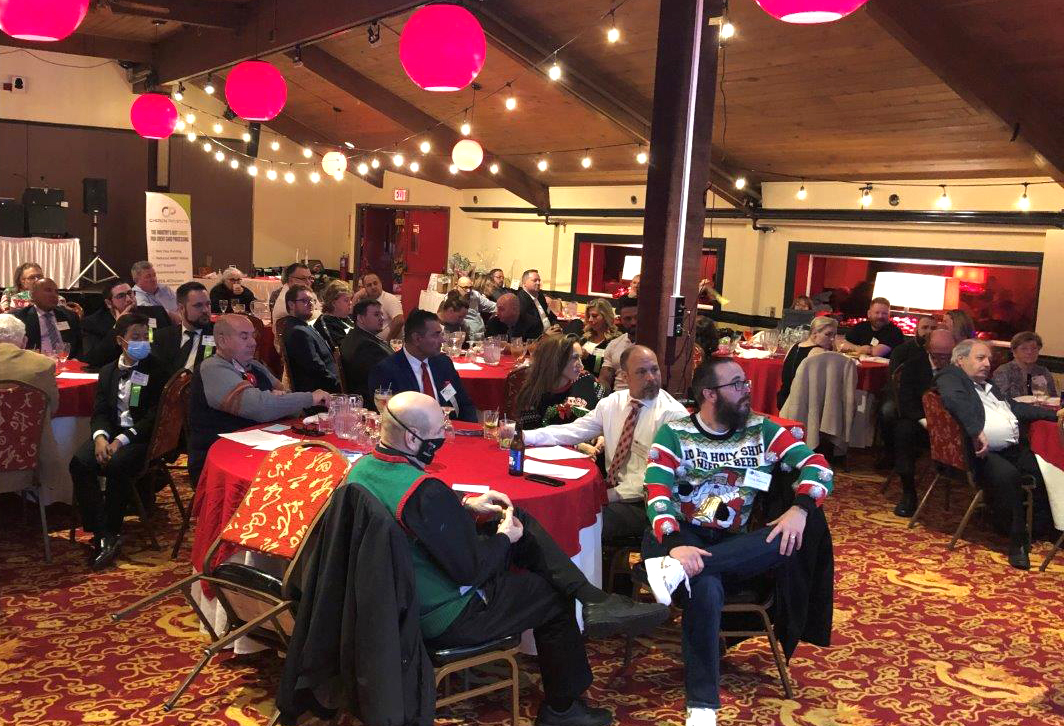 NELA held its annual holiday meeting and party at Kowloon Restaurant
Next up, Barenholtz had attendees give themselves a round of applause for soldiering on during the extreme challenges the pandemic has inflicted on the industry, followed by a moment of silence in memory of NLA Board Member and friend Ken Carter of Aadvanced Limousine, who passed in early December at the young age of 40.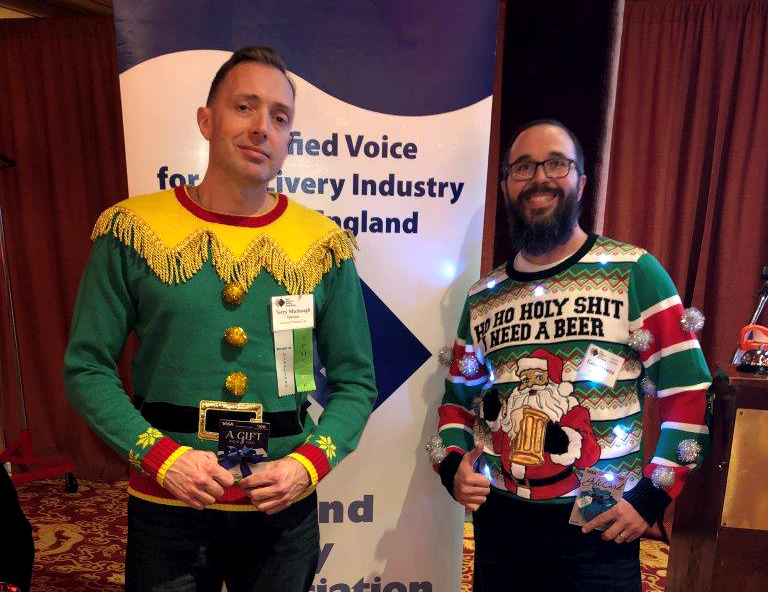 Ugly Christmas Sweater Contest winners Terry Murtaugh of United Private Car (left) and Greg Hawes of Boston Chauffeur
He also extolled the efforts of the NLA's and NELA's lobbying firms especially during the past two years.
NELA Board Member Kini next discussed the huge opportunity that operators have relative to the Employee Retention Credit, and shared his personal experiences with it. He recommended that Mass. operators take advantage of all the benefits currently on the table.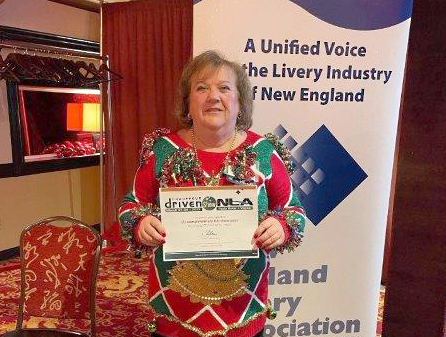 CD/NLA Vegas Show pass winner Tina Benson of LA Limousine Service
Barenholtz, Kini, and Szilagyi also discussed their recent meeting at Logan Airport, where new traffic patterns were reviewed and each of the four terminals were visited. Barenholtz noted that once construction is completed, terminal exits impacting on each other will be a thing of the past. In the meeting with Logan Airport management, Kini and Barenholtz helped to identify areas where improved limo signage was needed.
Before the end of the evening, prizes were awarded for the Ugly Christmas Sweater contest, which were won by Terry Murtaugh of United Private Car and Greg Hawes of Boston Chauffeur. Finally, a pass to the 2022 CD/NLA Show in Vegas was raffled, and was won by Tina Benson of LA Limousine Service.
More information about the meeting can be found here.
Visit nelivery.org for more information.
[12.21.21]