Details

Category: Industry News
The American Bus Association Foundation (ABAF) recently released the First Quarter 2022 Motorcoach Builders Survey, which is based on information from the major motorcoach manufacturers that sell vehicles in the United States and Canada. According to data, motorcoach manufacturers continue to face unprecedented challenges. While new motorcoach sales in Q1 2022 are 11 percent above where they were during the same period of 2021, sales are still well below before the onset of COVID.
This quarter, the participating manufacturers sold 191 new and 109 preowned coaches, for a total of 300 motorcoaches. This compares with just 270 during January 2021. The bulk of new coach sales were made to public entities like transit companies, which accounted for 58 percent of sales. These public entities tended to continue to purchase motorcoaches during the COVID shutdowns, while sales to private companies fell by almost 50 percent to an average of just 152 per quarter following the lockdown.
Overall, the three-month moving average of total coach sales is down by about 30 percent from the last month prior to the COVID pandemic.
"The motorcoach industry is still reeling from the effects of the pandemic," said ABAF President Peter Pantuso. "When motorcoaches aren't running, the trickledown effect on suppliers is devastating. As the industry struggles to rebound from the past two years, we are hopeful sales will also improve. However, it could be well into 2024 and beyond before we see a true comeback for the industry."
According to the ABAF, the bus industry is the greenest and most affordable transportation sector and was moving more than 600 million passengers annually before the pandemic. As of the beginning of 2022, industry passenger volumes were still down by 62 percent from pre-COVID levels, making it one of the hardest hit parts of the economy.
The ABAF is the scholarship and research arm of the motorcoach, tour, and travel industry. The largest nonprofit in motorcoach group travel, the ABAF distributes $100,000 a year in scholarships to industry families and invests in research to demonstrate the important role motorcoach transportation plays in society. 
Visit buses.org/aba-foundation for more information
[06.07.22]
Details

Category: Industry News
Sandra "Sandy" Asaro, co-founder of Desert Rose Worldwide Transportation of Phoenix, Arizona, passed away on May 25. The well-loved operator was 63.
Sandy grew up on Long Island with her older sister, Elizabeth. Just out of high school, she met her future husband and soulmate, Tony (1954-2020), in the most New York way possible: at a pizza parlor. Smitten, the inseparable couple were married a few years later and went on to have four children together: Josina, Barbara, Anthony, and Matthew.
Together they founded and ran a transportation company, A&S Limousines, in the late '80s, while Tony was still on the force of the NYPD. While Tony would drive, Sandy would handle the phones and manage operations—while wrangling a family of young kids. After deciding that they wanted a change of pace from the hectic New York life after Tony's retirement, they sold their book of business, packed up their young family, and set their sights on the much-warmer Southwest. Soon thereafter, settling in the Phoenix area, they founded Desert Rose in 1991, which became a full-time venture for the couple. You can read more about their company in the April 2017 issue of Chauffeur Driven, where they appeared on the cover.
Beyond business, the family matriarch was also the planner-in-chief, known for her legendary get-togethers—regardless of whether it was a family dinner or a massive holiday or birthday celebration. When her babies started having babies—she had six grandsons in all—she was known to envelop them in love and spoil them like only a grandma can, too. The couple also enjoyed traveling, quality wine, and good food wherever they went—which many times included their kids and grandkids. They would frequently travel to visit their extended "limo" family.
It's impossible, however, to talk about Sandy without also remembering her soulmate and the love of her life. The pair's enviable love story spanned more than 40 years; they celebrated their 40th anniversary just months before he passed in 2020 after a long battle with brain cancer.
In addition to her children, Sandy is survived by her grandchildren: Mason, Dylan, Anthony Jr, Grayson, Cade, and Gaven; and many friends and extended family.
Sandy will be laid to rest on Friday, June 10, in Phoenix, Arizona. Visitation, celebration of life, and funeral information are available below.
VISITATION
Friday, June 10 at 8:30 a.m.
Messinger Pinnacle Peak Mortuary
8555 E Pinnacle Peak Mortuary
Scottsdale, AZ 85255
FUNERAL MASS
Friday, June 10 at 11:00 a.m.
Our Lady of Joy Catholic Church
36811 N. Pima Road
Carefree, AZ 85377
BURIAL
Friday, June 10 at 12:30 p.m.
Holy Redeemer Catholic Cemetery
23015 Cave Creek Road
Phoenix, AZ 85024
[06.07.22]
Details

Category: Industry News
With the Chauffeur Driven Executive Retreat less than two weeks away, you might be experiencing a bit of FOMO. But have no fear—there's still time to join us at the Loews Miami Beach Hotel this June 12-14. Just head on over to cdexecutiveretreat.com to register. Your admission price includes our Opening Dinner & Party on the beach with open bar, two days of on-point education from experts both within and outside the industry, a dinner cruise with open bar aboard the Biscayne Lady yacht, breakfast and lunch on Monday and Tuesday, a vendor/sponsor meet-and-greet, and all the one-on-one networking you can pack into three days… not to mention a tour of the Wynwood Walls street art gallery and plenty of opportunity to sit by the pool or ocean and unwind. Whew! Now, that's what we call a getaway!

It goes without saying that CD Executive Retreat wouldn't be possible without the generous support of our sponsors. That's why we're pleased to announce that EmpireCLS has come on board as a Gold Sponsor of the event, and is inviting their affiliates and guests for a discussion about technology and other industry issues. CEO David Seelinger and his executive team, including Joey Phelps, Steve Horowitz, and Ed Martinez, will be on hand throughout the retreat, giving EmpireCLS partners and operators a rare chance to have some face time with the people behind one of the country's leading operations.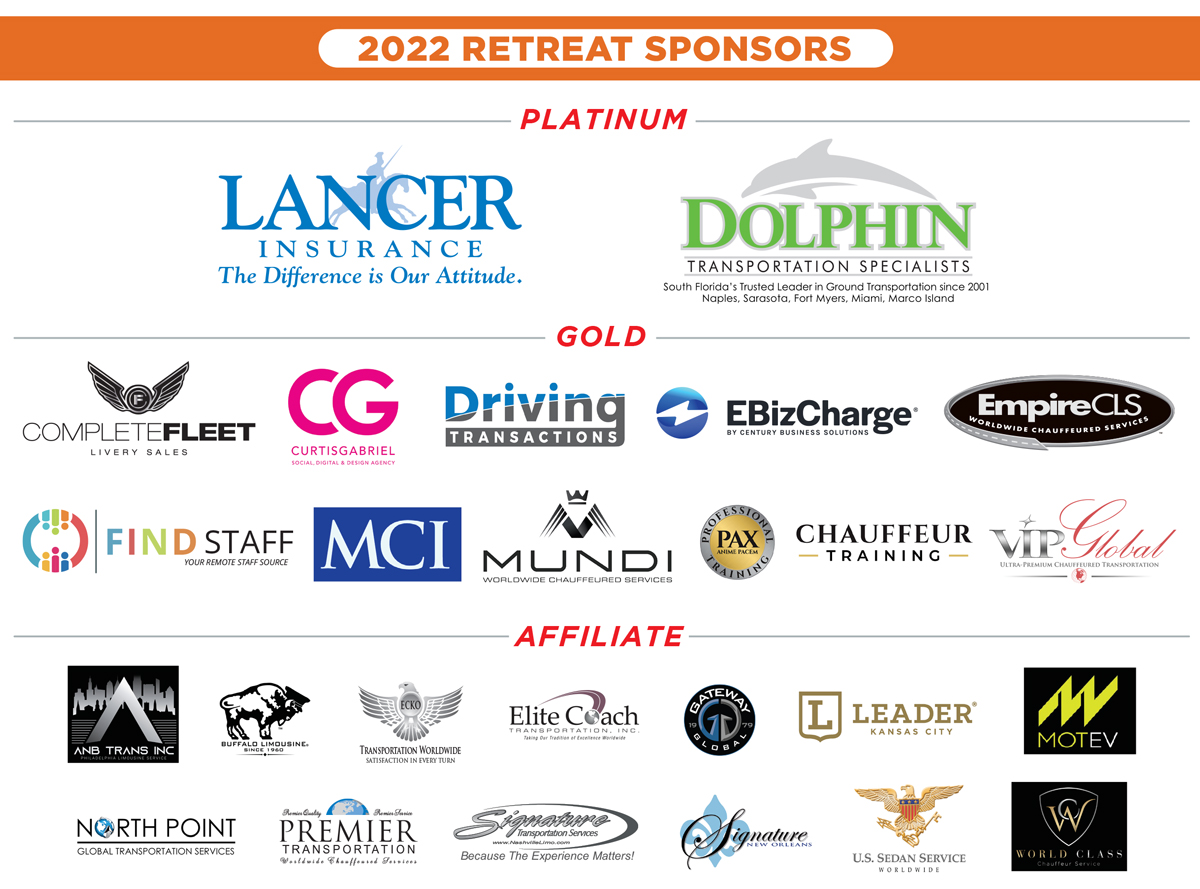 "We're happy to be headed to Miami to support the CD Executive Retreat. This provides us with an excellent opportunity to meet with our partners and be introduced to new faces within the industry," says Seelinger.
EmpireCLS joins a host of Gold-Level Sponsors that includes Century Business Solutions, Complete Fleet, Curtis Gabriel, Driving Transactions, Find Staff, MCI, Mundi Worldwide, PAX Training, and VIP Global. Our Affiliate Sponsors include ANB Trans, Buffalo Limousine, Ecko Transportation, Elite Coach, Gateway Global, LEADER Kansas City, Motev, North Point Global Transportation Services, Premier Transportation, Signature New Orleans, U.S. Sedan Service, and World Class Chauffeur Service. And of course, special thanks to Platinum Sponsors Lancer Insurance and Dolphin Transportation Specialists for their support of this comeback event.
Discounted hotel rooms are extremely limited at this point. Please contact Director of Events Jess Pavlow at jess@chauffeurdriven.com for availability.
Visit cdexecutiveretreat.com for more information.
[05.31.22]