Details

Category: Industry News
The next phase of business development is here: In recent months, talk about Artificial Intelligence, and especially ChatGPT, have hit the media like wildfire. Even though they sound like something out of the Matrix, these are practical—and surprisingly easy—tools that you can use for your luxury ground transportation business. How? Join us Tuesday, June 6, at the CD/NLA Executive Retreat in Nashville for a trend-setting session, Revolutionizing Your Business With AI and ChatGPT.
To be frank, AI is nothing to be intimidated by and it touches on more than you think. Businesses in all industries are utilizing this technology in a variety of ways from sales and marketing to HR and compliance. Spearheaded by Robyn Goldenberg of Strategy Leaders, this session will provide a plethora of uses for AI/ChatGPT that can help luxury transportation businesses improve efficiency, reduce costs, and enhance the customer experience. Operators experienced in its use will be on-hand to share their tactics and provide real-world examples in the tech's use. Discover specific use cases for AI in the industry, gain insights into best practices for implementation, and hear real-life success stories from industry leaders. Whether you're a limousine or bus company owner, this session will provide you with actionable strategies to drive growth and success with AI.
During a recent meeting among the CD/NLA Show Education Committee, it was revealed that the majority of operators on the call are already using AI/GPT in their business. One reported success with sales letters, another has used it for onboarding new hires, and a third was able to prepare himself for potential audits.
"I used AI recently for an HR/interview situation," says CD/NLA Education Committee Co-chair Jason Sharenow of Broadway Elite Worldwide. "I used it to formulate LEGAL interview questions for various positions.  It provided a good framework for department heads to help with the hiring process of chauffeurs, reservations agents, and back-office personnel."
"In looking over our recent guidelines and procedures I noticed we needed to have a more detailed section on ADA," reveals Scott Woodruff of Majestic Limousine & Coach. "In a matter of a few seconds, ChatGPT gave me a very detailed summary of ADA and how it pertains to bus companies. I was able to use it as a framework to generate new guidelines for my business. What would have taken me half a day to do, I was able to complete in 30 minutes."
With this session, any hesitation or fear you have about adopting this ground-breaking platform with be alleviated. Be prepared to bring questions, because this session is designed to provide answers and practical examples for administering AI/ChatGPT for your business. The future is now.
"By using AI as a resource, I have been able to save time and produce excellent marketing material. In addition to updating our website, I've consistently used it for social media marketing. In fact, this testimonial was also written using my AI copywriting tool," says Nina Parson of Company Car & Limousine.
"This presentation is a must-attend event for any small business owner looking to revolutionize their growth," said Goldenberg. "ChatGPT is a powerful tool that can help businesses of all sizes automate their sales, marketing, customer service, and HR/internal communications."
Have you booked your room for the CD/NLA Executive Retreat? We're thrilled to have the Hilton Nashville Downtown as our host property for our return to Music City on June 4-7. Located just steps away from the live music venues and honky-tonks that make Nashville famous, the Hilton is the perfect spot to experience the next-level education, intimate networking, and local flavor that the Executive Retreat is known for.
Visit cdnlaexecutiveretreat.com for more information.
[05.03.23]
Details

Category: Industry News
Peer group facilitator Driving Results is excited to announce the start of the 2023 season for their Spinning Wheels group. Kicking off their meeting season in New Jersey on April 19-21, Spinning Wheels welcomed guest speaker Ken Lucci of Driving Transactions and included a bus tour of New York City and a stop at BBZ Limousine in Bergenfield, N.J., for a tour of their operations.
The Spinning Wheels group meets three times per year for three days to work on business strategies, forecasting, finances, employee training and hiring, and preparing for buying, selling, or borrowing. Discussions include hiring, salary percentages, vehicle usage and purchasing, marketing, outside-the-box ideas, and the newest, most important topic—remote workers. The members are owners or general managers who exercise the knowledge of running their company's day-to-day business.
In addition to 14 returning members, the group has added six members for this year, including a new international member from London, Mo Aziz of Montclares International. Managing Partner Arthur Messina, who created the group in 2012, is now co-running the groups with Group Logistic Coordinator Kathleen Messina.
Additionally, the Spinning Wheels group is also excited to welcome sponsors who are dedicated to helping educate the members on how their products or services can improve their businesses. According to the Messinas, these sponsors provide valuable insights and expertise to the group, further enhancing the learning and networking opportunities for all members.
"We are grateful for the support of our sponsors, who share our commitment to continuous learning and improvement in the transportation industry," said Kathleen Messina. "Their contributions add immense value to our members, and we look forward to leveraging their expertise to further elevate the group."
The group has added the following US members: American Transportation in Miami, Fla.; Signature Transportation in Nashville, Tenn.; Urban Worldwide in Los Angeles, San Francisco, Sacramento, and Hawaii; Avanti Transportation in Houston, Texas; and Triangle Corporate Coach in Raleigh, N.C.
Future meetings for 2023 are planned to be held in Nashville in August and Charleston, S.C., in December.
The Spinning Wheels group is dedicated to staying at the forefront of the transportation industry and sharing best practices to drive success for all members. With the addition of these new members and sponsors, the group is poised for an exciting and productive 2023 season.
Visit drivingresults.org for more information.
[05.01.23]
Details

Category: Industry News
The National Limousine Association (NLA) held its annual advocacy event in Washington, D.C., on April 25-26—its largest in years. The association had meetings with 90 members of Congress representing 24 states where more than 50 NLA members (including six scholarship winners) discussed issues and policies impacting small business owners throughout the industry, as well as the interests of the corporate traveler. The event was even picked up by the mainstream media, with articles in Politico and eTurboNews.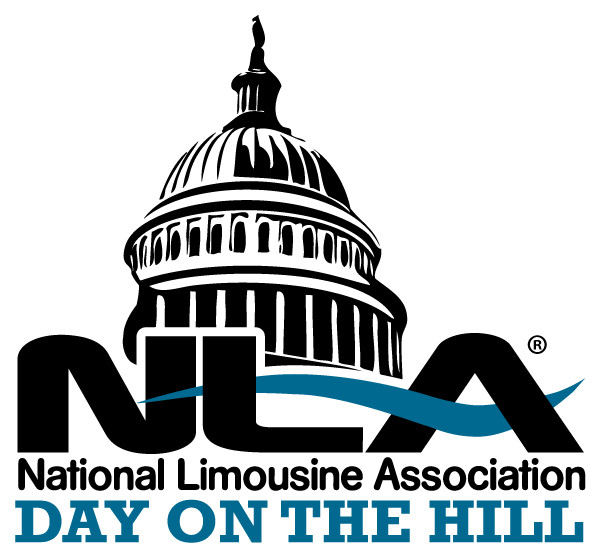 Top issues for the association included support for H.R. 1759, the Economic Impact of Tolling Act, which prevents the Department of Transportation from authorizing congestion pricing plans without first completing and publishing an economic impact analysis; incorporating new grant assurances into the upcoming FAA Reauthorization to apply principles of fairness for airport pickups and drop-offs; urging the IRS Administrator to take immediate corrective action and prioritize Employee Retention Tax Credit processing; and restoring 100 percent bonus depreciation for the 2023 tax year and beyond.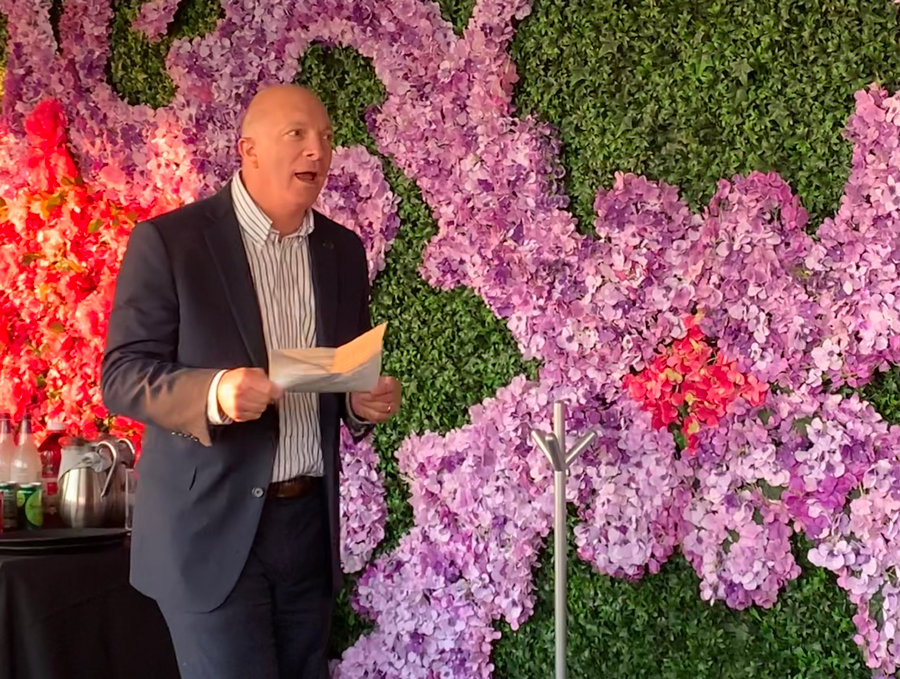 NLA President Robert Alexander The two-day event also included several educational sessions that delved into the hot-button topics affecting the industry across the nation, and the association's lobbying firm offered tips on how members could effectively lobby Congress.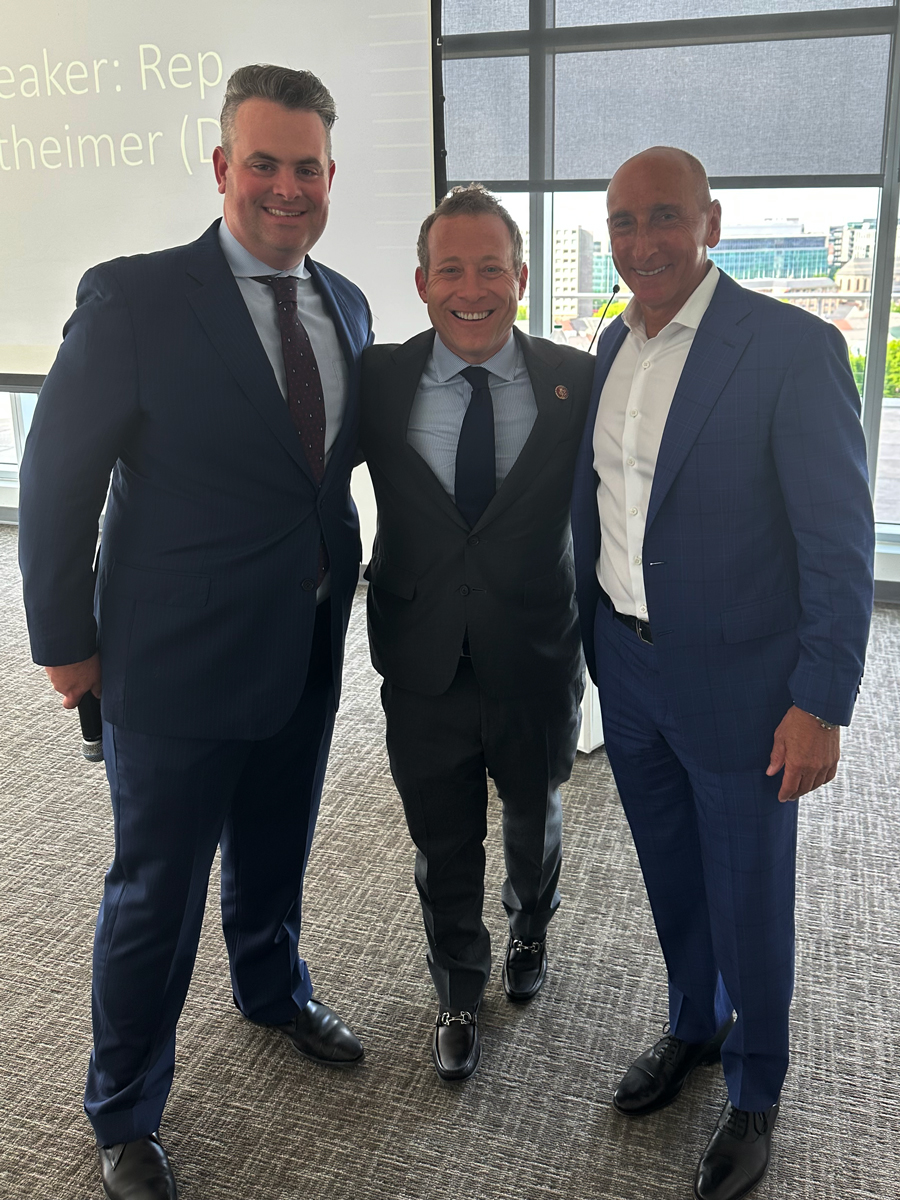 L to R: Matt Assolin of Nikko's Worldwide, N.J. Congressman Josh Gottheimer, and Brett Barenholtz of Above All/Boston Car The association was also joined by Pennsylvania Congressman Brian Fitzpatrick, co-chair of the Problem Solvers Caucus, who gave a speech and engaged with members about the industry's key policy issues and concerns during its PAC Fundraising Dinner. Earlier in the day, Rep. Josh Gottheimer (D-N.J.), co-chair of the bipartisan Congressional Anti-Congestion Tax Caucus and Problem Solvers Caucus, addressed members over his concerns regarding the highly disputed congestion tax that has been proposed in New York City. In addition to doing little to stem overall pollution (as advocates claim), he noted that congestion pricing could have a devastating impact on industries like chauffeured transportation. He vowed to continue his support of the industry and fight against the tax.

"Advocacy has been the cornerstone of the NLA for over two decades," said NLA President Robert Alexander of RMA Worldwide. "It was a privilege to unite with my fellow members this week for the association's 23rd Day on the Hill, one of our most well-attended advocacy events to date. We were grateful for the opportunity to speak with elected officials and have our voices heard on critical issues that affect the small businesses in the chauffeured transportation industry. Thank you to the numerous policymakers who took the time to meet with us and engage in a productive dialogue around congestion taxes in New York and cities across the country; fair treatment at the airport curb in the upcoming FAA Reauthorization; and fixes to tax policy and administration that harm small businesses."

Visit limo.org for more information.