Details

Category: Industry News
As many cities and states prepare to reopen for business with the reality of COVID-19, transportation companies and their clients are reviewing their contractual obligations, and asking whether the pandemic may relieve them of performance obligations and/or contemplate a renegotiation of terms in the best interests of all parties. Those companies now seek to determine if the pandemic and ensuing government restrictions will excuse their inability to provide services in otherwise binding contracts.
The Windels Marx Transportation Practice Group, chaired by Matt Daus, has prepared a white paper and resource guide called COVID-19 'Act of God' Contract Clauses: Are Your Transportation Provider Contracts Still Valid? This white paper provides an overview of the law relating to Act of God provisions, and their applicability to the COVID-19 pandemic, as well as a contract review checklist and FAQs.
Recent government actions included travel restrictions, shelter-in-place, and work-from-home mandates, not to mention school and sporting activity closures and limits on general crowd sizes. So, given the government-mandated shutdowns, what are the responsibilities for transportation companies that have been unable to operate? In short, the answer depends on the contractual language, the state law governing the contract, and the purpose of the contract. These restrictions have particularly impacted the transportation industry, which will also be considered as the purpose of the contract may be frustrated by government actions.
Multiple legal theories will apply to transportation contracts tested by the pandemic, and attorneys will invoke "force majeure" provisions—commonly known as Act of God provisions—and rely upon the legal doctrines of frustration of purpose or impossibility/impracticality. The unprecedented nature of the effect of the COVID-19 shutdown increases the probability of success, as these principles are most commonly successful when the event in question is "unforeseeable" when the contract was made. A more specific answer of whether the non-performance is "excused" depends on the particular facts and the specific language of the contract in question.
 In addition to the white paper, Windels Marx is also offering a free consultation to review the force majeure provisions of a current or proposed contact to help determine if you are excused from your contractural obligations due to the pandemic-related shutdown. The guide and more information can be obtained by emailing mdaus@windelsmarx.com.
Visit windelsmarx.com for more information.
[06.29.20]
Details

Category: Industry News
Prevost is celebrating the 32-year career of Ron Beverly in the motorcoach industry. Beverly worked with Prevost for 21 of those 32 years as a regional sales manager for parts in the South Central U.S. territory. He built a fantastic customer-base and is well known for putting customers first.
Beverly began his tenure in the motorcoach industry with Oregon's Marathon Coach in 1988, where he worked in several different capacities within the parts division until 1997. That same year, Beverly made the move to Desert West Coach in Arizona, where he was responsible for disbursement and inventory management for all of their repair operations.
In 1999, former VP of Parts & Business Development Jack Forbes hired Beverly as one of the first regional parts sales managers when Prevost began creating a team to support regional customers with all their parts requirements.
"Since I had been a customer of Prevost including other manufacturers and suppliers previously, I had every intention of delivering a high level of service that I had expected as a customer. I believe I achieved that goal as often as possible. However, none of that would have been possible without the excellent support from the whole Prevost team. I was able to build very strong customer relationships throughout the region by working extremely hard to earn their trust and trying my best to deliver above their expectations. Being a strong advocate for our customers is tremendously important and I offered all the support possible in order to ensure the very best customer service to contribute to our customer's business success," says Beverly.
He added: "I've always said 'the reason we all have these jobs, is because we have customers'. I certainly wish all of the bus industry a speedy recovery getting back to the business that we all are committed to and all love after COVID-19. I will miss you all!"
With Beverly's retirement, the Prevost parts regional sales managers have redistributed territories to be able to manage the transit, coach, entertainer, and motorhome customer base.
Tom Crowl, director of national parts sales says of Beverly: "Ron is and has always been a very strong advocate for his customers. If I were a Prevost parts customer, I would want Ron to be my representative. Ron will be missed on our Prevost team."
"Ron has been an outstanding resource and friend for Prevost and the entire bus industry over the past 25+ years. He was always helpful and a great team player consistently going above and beyond for our customers," says Vice President Corporate Accounts and Public Sector Jack Forbes. "We will miss Ron from the business aspect but also for his willingness to step up and play the guitar any time he had a chance. Good luck to Ron in his retirement plans!"
Visit prevostcar.com for more information.  
[06.26.20]
Details

Category: Industry News
In a video posted on Facebook in early June, Scott Woodruff and Tim Pettit—owners of Majestic Limo & Coach and Chauffeurs of Distinction, respectively—shared the good news with their clients and industry peers that Majestic will proudly serve Chauffeurs of Distinction's customers moving forward. In this move, Majestic also acquired the company's phone number and website.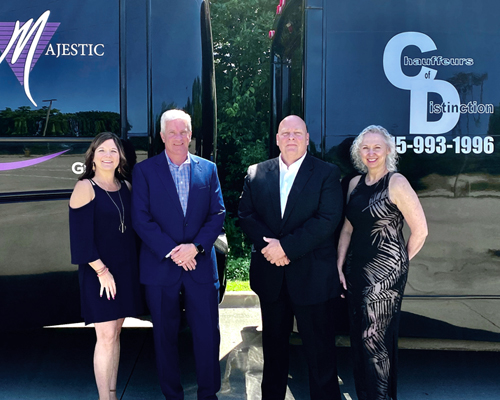 L to R: Melissa and Scott Woodruff of Majestic Limo & Coach with Tim and Grace Pettit of Chauffeurs of Distinction
Pettit and his wife Grace founded their largely corporate-focused company more than five years ago that, at its peak, operated seven vehicles in the Des Moines area. Woodruff founded Majestic in 1996, which he runs with his wife Melissa. Majestic's fleet consists of vehicles ranging from sedans to motorcoaches and is the largest operation in the area.
A serendipitous conversation between the two Iowa company leaders—who often fed each other work and frequently collaborated over the years—led to a deeper discussion about the impact that the pandemic had on their respective businesses and what they hoped for the future.
"Last year, the pie was large enough that everyone had their piece—some bigger, some smaller, but we all worked well together. That's unfortunately changed now," says Woodruff.
"Being a smaller company, it made sense for my wife and me to come up with an exit plan not knowing the certainty of the recovery time," says Pettit. "We realized that working 16-hour days just wasn't worth it to rebuild what we had already built. We're so proud of what we've accomplished."
As it turns out, Woodruff and Pettit also have more in common than just the transportation industry: They also have backgrounds in law enforcement. Pettit retired after 22 years on the force before opening Chauffeurs of Distinction, while Woodruff still works part time for the Altoona Police Department.
Both companies have also been named by CITYVIEW's Best of Des Moines as "Best Party/Event Transportation."
"Scott is one of the sharpest business minds, especially in this industry," says Pettit. "I thought of him as more of a mentor than a competitor. It was a great decision for both of us."
Although there is the possibility of Pettit working with Woodruff at Majestic in the future, the husband-and-wife team are enjoying some much-needed downtime and taking care of family.
As for Majestic, Woodruff reports that he's seeing an uptick in reservations. While primarily a corporate provider, he says they are excited to see an increase in retail reservations for larger vehicles and remain optimistic for the future.
Visit majesticlimo.com or chauffeursofdistinction.com for more information.
[06.23.20]