Fleet Forward Is Theme of TLPA's Annual Convention & Trade Show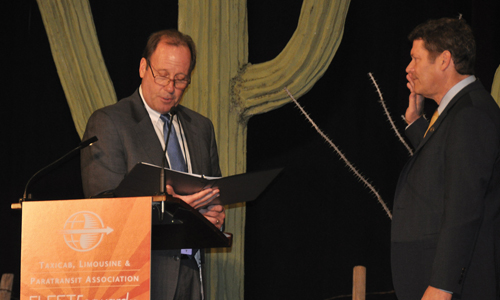 TLPA Immediate Past President Dwight Kines of Transdev (left) and 2016-2017 TLPA President Bill Scalzi of Metro Taxi The Taxicab, Limousine, & Paratransit Association (TLPA) held its 98th Annual Convention & Trade Show from October 31-Novem­ber 4, and Chauffeur Driven's Director of Events Jess Pavlow and Business Development Manager Rickie Roberts were among those in ­attendance.

"We were very pleased with the strong show of support from our industry's vendors at our trade show," said TLPA CEO Al Lagasse. "Our showroom floor was filled and looking great, and the level of sponsorships was outstanding. We owe a huge thank you to our vendors."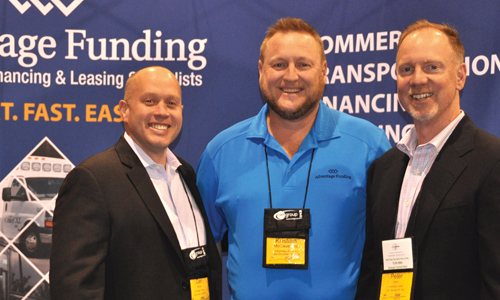 Members of the Advantage Funding team (L to R): Dan Morgan, Kristian McCausland, and Peter Heber Building on the Fleet Forward theme—beginning with this summer's initiative of the same name that aims to educate and inspire operators by highlighting those who are thinking outside the box when it comes to new ways of doing business—this year's TLPA event focused on empowering attendees with three general sessions, a show floor featuring nearly 100 vendors, plenty of networking and optional events, and a varied educational program that included 29 unique sessions.

The education included 18 interactive sessions and 11 breakout sessions, all designed to help operators remain effectively competitive in a constantly evolving market. Topics ranged from social media to diversity and catered to all facets of ground transportation operators from all around the world.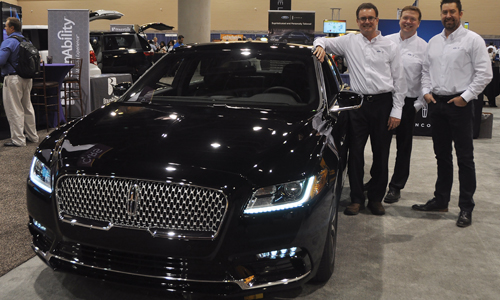 L to R: Craig Hall, Dave Edmunds, and Mike Massey of Ford-Lincoln Limousine and Livery "In this challenging time for our industry, I am very proud of the meaningful educational sessions TLPA's Fleet Forward program is providing," LaGasse said. "Our technology, marketing, and public relations consultants gave important presentations at the convention, providing TLPA members with options for matching alternative aggressive business strategies with the correct complementary technology platform that is then very actively marketed and promoted."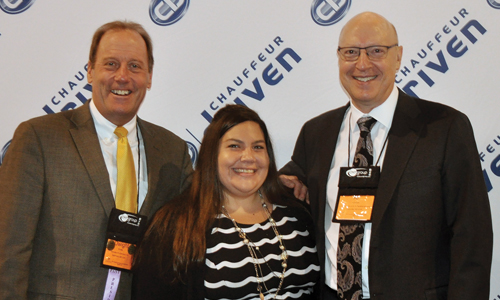 CD Director of Events Jess Pavlow with TLPA's Immediate Past President Dwight Kines of Transdev (left) and CEO Al LaGasse Convention participants were also able to attend sessions on the TLPA National Marketing Program and connected vehicle technology, as well as a rousing presentation from Matt Daus, president of the International Association of Transportation Regulators on the white paper that he has prepared to help municipalities and local companies in their battles against TNC intrusions. Daus stated, "TNCs have demolished the local transportation regulatory structure, but the industry is still standing and at the end of the day, we are still concerned about the safety of our passengers."

The meeting's keynote address, Matching Your App Technology to Your Business Strategy, was delivered by Matthew Ranen, a San Francisco technology consultant. Ranen stated that while it is impossible to predict the shape of future markets, he believes that understanding the range of possibilities that those markets hold will lead to more decisive, confident, and adaptive strategic choices. He said that "a good app does not equal a good business model," and discussed the core strategies fleets will need in order to thrive in today's market.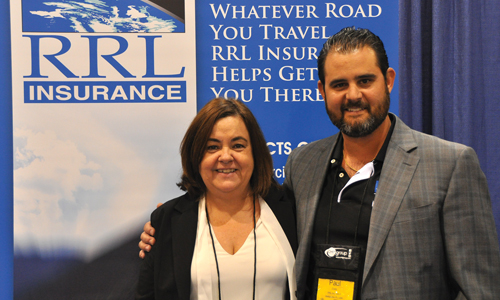 Lucy Singer and Paul Zizzo of RRL Insurance The convention also served as the forum in which drivers and fleet executives were recognized with a number of annual awards honoring exemplary service within the taxicab, limousine, and paratransit transportation industries. The 2016 award winners included:

Limousine Operator of the Year: David Friedman of Carmel Car & Limousine Service in New York, N.Y.
Limousine Chauffeur of the Year: Frank Johnson of Executive Transportation in Newport, Ky.
Paratransit Operator of the Year: Judy Potter of Black & White Transportation in Toledo, Ohio
Paratransit Driver of the Year: Gregg Katz of 10/10 Taxi/Kansas City Transportation Group in Kansas City, Mo.
Taxicab Operator of the Year: Nick Cambas of United Taxi in Clear­water, Fla.
Taxicab Driver of the Year: Enders Abdu of Yellow Checker Cab in San Jose, Calif.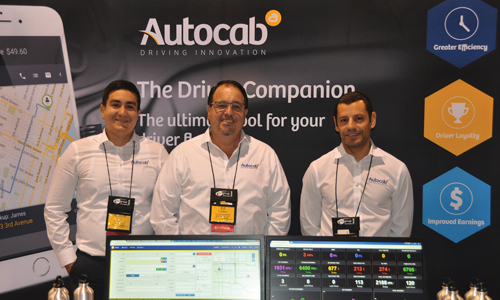 L to R: Roberto D'Anetra, Ed Brodeur, and Jorge Alvarez of Autocab International Outgoing President Dwight Kines of Transdev welcomed newly elected TLPA President Bill Scalzi of Metro Taxi. Scalzi laid out his platform of change and growth in his acceptance speech, which began his one-year term at the helm of the nearly-century-old association.

TLPA's 99th Annual Convention & Trade Show will be in Denver, Colo., from October 8-12. The association's next event will be its Spring Conference & Expo from April 25-27 in Palm Springs, Calif.

Visit tlpa.org for more information. [CD1216]