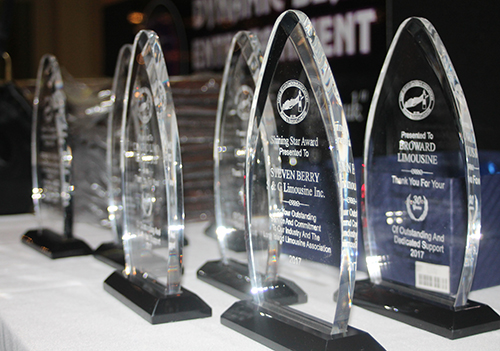 Some of the awards honoring those who have been LILA members for 30 years or more Smithville, N.Y. — Long Island Limousine Association's (LILA's) Black-Tie Awards Banquet saw regional operators, vendors, family, and supporters alike flocking to the Springfield Golf Links & Country Club dressed in their fancy finery. The equally decked-out bar, lobby, and ballroom gave industry peers an evening to mix and mingle as well as recognize some of the association's longest and most loyal members. CD Editor Madeleine Maccar was present for the celebratory holiday evening.

After a lavishly appointed cocktail hour, attendees took to a ballroom that was festooned with red and green decorations for a DJ'd evening featuring a smorgasbord of food, raffles, a photobooth, and, of course, an array of awards. There, LILA President Bill Goerl of Clique Limousines took to the mic, expressing his sincere gratitude to those who have trusted him to lead the association and helped him along the way.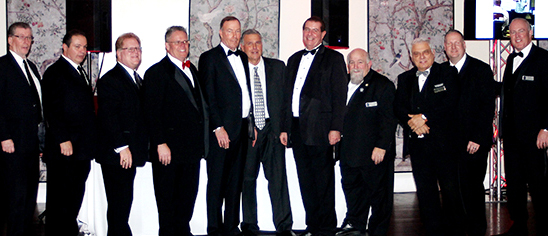 Members of the LILA executive board "Thank you all for making one of my dreams come true. I always wanted to be president of this association," Goerl said, bringing up LILA's executive board one by one to share anecdotes about their role in the association's success and sharing the limelight with them in recognition of their dedication and contributions.

It was then time to begin the awards portion of the evening, with LILA 2nd Vice President Matt Silver of Ultimate Class Limousines emceeing the presentation. Plaques were awarded to companies that have been LILA members for 10-19 years, 20-29 years, and those who have been involved with its safety initiatives.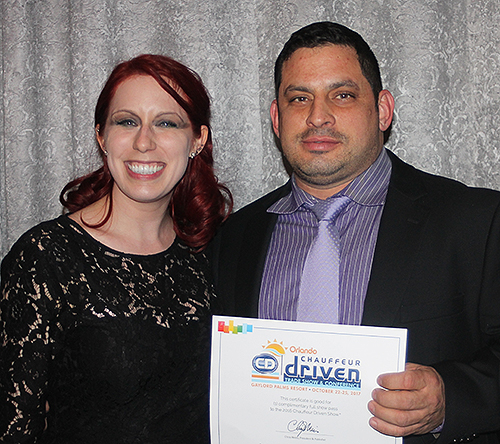 Chauffeur Driven Editor Madeleine Maccar and winner of the pass to CD's 2017 Show in Orlando, Chris Cannella of Concord Limousine Services/Krystal Bus Tours After a number of raffle winners claimed their prizes—ranging from wine, technology, dinner, and a spa outing—and as dessert and dancing continued the night's theme of camaraderie, it was time to bestow awards upon those who have been LILA members for 30 years or more, plus individuals whose efforts have helped make LILA the association it is today. LILA's 1st Year Director Douglas Schwartz of Executive Limousine was named Man of the Year while Treasurer Mike Fargnoli was heralded as the association's unsung hero.

Before the evening concluded with an hour of dancing and socializing, Maccar raffled off a pass to the CD 2017 Show in Orlando. Chris Cannella, son of LILA 1st Vice Presdudent Paul Cannella of Concord Limousine Services/Krystal Bus Tours, was the lucky winner.

The next LILA membership meeting will be March 28, with the association's ongoing Chauffeur Training Program scheduled for March 14.

Visit nslali.com for more information.

[CD0117]