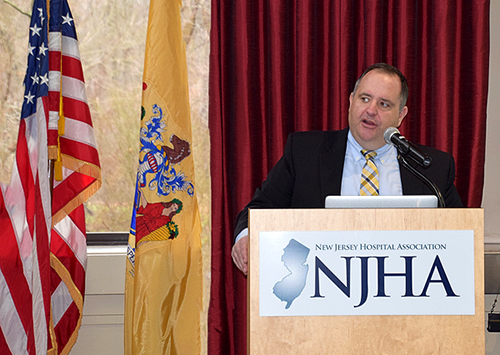 LANJ President Jason Sharenow of Broadway Elite Chauffeured Services Worldwide Princeton, N.J. — The Limousine Association of New Jersey (LANJ) kicked off 2017 with its first meeting of the year on January 18 at the NJHA Conference and Event Center. Approximately 100 members and guests were in attendance, including Chauffeur Driven's Publisher Chris Weiss and Editor Rob Smentek.

LANJ President Jason Sharenow of Broadway Elite Chauffeured Services Worldwide started the meeting by thanking the vendor sponsors present and introducing the association's 2017 board of directors:

President: Jason Sharenow of Broadway Elite Chauffeured Services Worldwide
1st Vice President and Treasurer: Jon Epstein of Royal Coachman Worldwide
2nd Vice President: Jeff Brodsly of Chosen Payments
Secretary: Karen Gajda of Country Club Transportation
Board: Anthony Azara of Avalon Chauffeured Services, Pete Corelli of Lakeview Custom Coach, Howard Gogel of My Limousine Service, Scott Greenwald AAA Worldwide Transportation, John Maziarz of Arrive in Style Transportation, Brian O'Neill of Grech Motors, Michael Renehan of Concorde Worldwide, Steve Rhoads of Rhoads Limousine (honorary), Tim Rose of Flyte Tyme Worldwide Transportation, Bob Schiavo of Albert's Transportation, David Seelinger of EmpireCLS, Eddie Somers of Arrow Limousine, Christian Stochholm of New Jersey Limo Finder, Barry Trabb of Complete Fleet Livery Sales, and CD's Chris Weiss.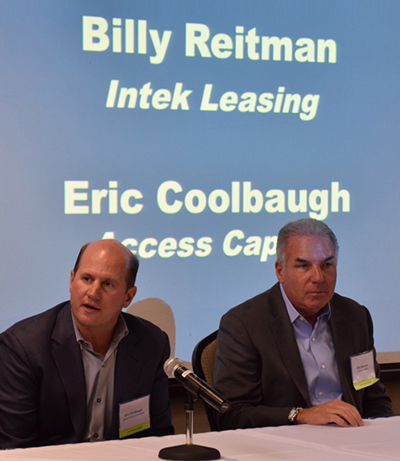 Speakers Eric Coolbaugh of Access Capital (left) and Billy Reitman of Intek Leasing New board members include Sam Emam of Chauffeurs Limo Corp. and Joe Guilino of Gem Limousine Worldwide, who is replacing Barb Chirico as she retires from the LANJ board after many years of service.

Next, Sharenow welcomed three of LANJ's newest members to the podium as part of the meeting's Member Spotlight. Randall Willms of Minutemen Limousine and Car Service, Rob Mains of Vroom Fleet, and affiliate member Steve Rhoads of Rhoads Transportation each got the opportunity to introduce themselves and describe their services to the room.

The afternoon's educational component—Financing Need-to-Know for 2017—was next on the agenda, providing timely and useful information to the members. Moderated by Sharenow, the session featured pointers from two respected financiers who have served the industry for years, Eric Coolbaugh of Access Commercial Capital and Billy Reitman of Intek Auto Leasing. Coolbaugh and Reitman provided their fiscal forecasts for the coming year and provided valuable tips for securing loans. Chief among their insights were the importance of developing strong relationships with your leasers and the necessity of reinventing your business as the industry changes.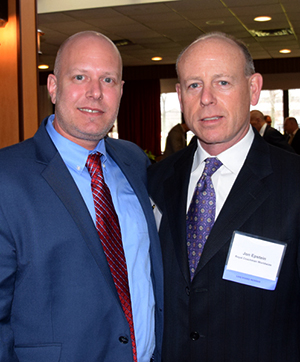 CD Publisher Chris Weiss (left) and LANJ First Vice President Jon Epstein of Royal Coachman Legislation news is always a hot topic at LANJ meetings, and Sharenow provided an update of happenings at the state house. The long-in-development TNC Bill (SB-2179) recently hit a snag as N.J. Governor Chris Christie balked at the fingerprinting requirements proposed by the bill.

Sharenow was much more enthusiastic about the LIMO Bill (SB-2315), which will create parity with taxis and TNCs by eliminating the sales tax currently required by the chauffeured ground transportation industry. This bill has many supporters in the state house, but Sharenow encouraged all LANJ members and supporters to write to the governor in support of the legislation. Less popular was the news that the Port Authority is considering adopting airport fees and licensing fees to all vehicles that do pickups at the N.J. and N.Y. airports. While airport fees are minimal, the licensing fees could approach six figures and be prohibitive for many operators. Following the meeting, Sharenow and Epstein held a conference call with other operators to discuss the impending levies. A meeting with the Port Authority is planned in the next 30 days.

The meeting closed with a few words from Weiss, who spoke about CD's newly redesigned website and June's Executive Retreat in San Francisco and Napa Valley. A pass was raffled to CD's Trade Show and Conference to be held in Orlando from October 22-25, which was won by Epstein.

LANJ's next meeting is scheduled for late March with a location to be determined. In addition, Corelli is planning to hold a meeting for South Jersey-based operators on February 8.

Visit lanj.org for more information.

[CD0117]