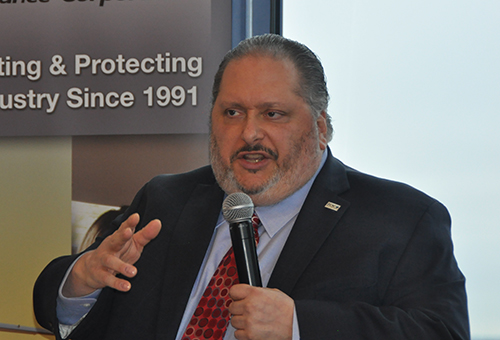 BCAC Executive Director Ira Goldstein New York — Black Car Assistance Corporation (BCAC) held its most recent meeting last Wednesday at the Four Points Sheraton in Long Island City with about 75 people in attendance. The meeting coincidentally took place on the heels of the announced New York state budget, which New York Governor Andrew Cuomo released the night before. The proposed budget in some form must pass by March 31 at the end of the state's fiscal year, and Gov. Cuomo has been traversing the state to gin up support for his budget.

For several years, TNCs and the taxi, black car, and livery industries have co-existed mostly peacefully on a nearly level playing field within the city of New York, but Gov. Cuomo and several state legislators have, on several occasions, pushed to expand TNC operations statewide. Cuomo said that his hefty $152.3 billion budget focuses heavily on the middle class, which includes increased spending for schools, tuition-free in-state college for families making $125,000 or less, tax cuts, and a $10 billion overhaul of Kennedy International Airport (JFK). The New York Times reports that it also includes $500 million in economic development for Buffalo, and two airports in Syracuse and Plattsburgh.

The impact of the proposed budget on TNCs was still being unpacked by BCAC Executive Director Ira Goldstein and the BCAC board at the time of the meeting, although he and Attorney Matt Daus of Windels Marx, who also spoke at the meeting, issued a dire call to action to all members to be actively involved in efforts to amend the budget by contacting local legislators.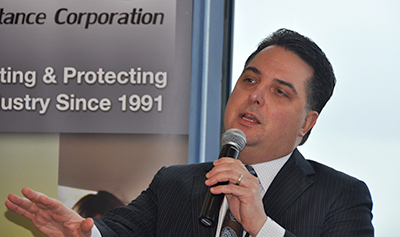 Former NYC TLC Commissioner Matt Daus of Windels Marx In the governor's plan, Uber and Lyft would be green-lighted to operate throughout the state, but especially in the cities of Buffalo, Albany, and Rochester. TNC drivers would be regulated by the state's Department of Motor Vehicles, face a background check through their company, and be forced to comply with anti-discrimination standards. They would also be subject to a fee for a new workers' compensation fund dedicated specifically for TNC drivers. Insurance requirements were expected to be significantly lower than those for taxis and other for-hire vehicles (FHVs), and fingerprinting would not be required like other FHV drivers. Uber and Lyft, which obviously stand to benefit greatly, have come out in full support of the governor's budget.

"I'm normally optimistic, but I am worried about this budget," said Daus. "If we do nothing, the industry as we know it could be dead within a few years," noting that Upstate could be hit especially hard because TNCs do not currently operate legally north of the city.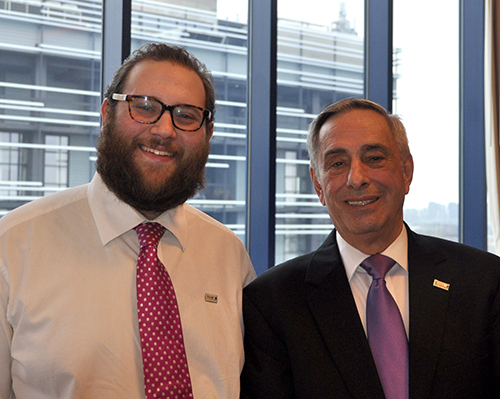 BCAC Communications and Social Media Specialist Jason Fromberg (left) and BCAC Driver Education and Outreach Manager Guy Palumbo He added that it's imperative that BCAC members talk to one on one with their clients—especially travel managers who are receiving pressure from their travelers to allow the use of TNCs—about the limitations of TNCs and the impact that the less-regulated transportation providers could have on their passengers regarding duty of care.

The meeting also included an update on driver fatigue rules that were passed last summer but are facing an overhaul thanks to pressure from industry associations. Current allows for up to 10 hours of drive time within a 24-hour period, and as long as a company has an electronic system that delineates between drive and wait time, periods without a passenger are not penalized.

Additionally, the Port Authority of New York & New Jersey, which operates many of the major Hudson River crossings and all three area airports (Newark Liberty, JFK, and LaGuardia), has proposed a fee for all FHV pickups and drop-offs. Goldstein mentioned that the current rumored fee is $4, although nothing has been finalized but was expected as soon as Q2 2017. The New York Times reports that $7 billion of the $10 billion proposed spending for JFK Airport's infrastructure will come from private sources, leaving a $3 billion hole that could be filled by fees and other taxes.

We'll have more information about the governor's proposed budget and other factors impacting FHVs in the February issue of the magazine.

Visit nybcac.org for more information.

[CD0117]