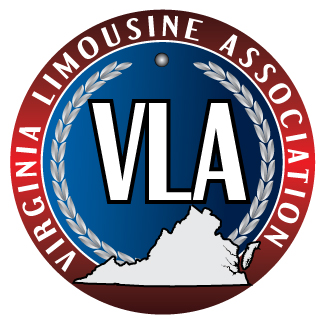 Williamsburg, Va. — An audience of more than 30 looked on as President Paul Walsh of Superior Executive Transportation presided over the general membership meeting of the Virginia Limousine Association (VLA). Maurizio's Italian Restaurant was host site in the quaint colonial town. Among the attendees was Chauffeur Driven's Industry & Brand Ambassador Philip Jagiela, who also serves as the VLA's executive director.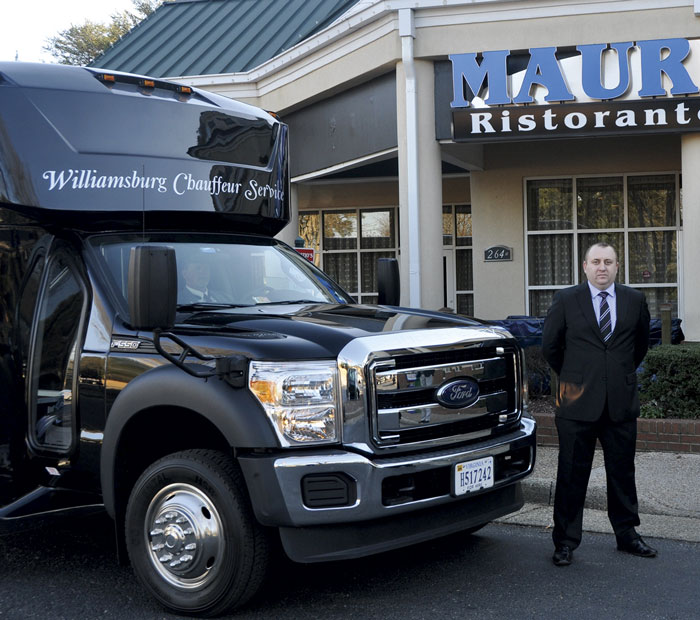 Meeting Sponsor Claude Cristea of Williamsburg Chauffeur Service in front of Host Restaurant Maurizio's After an initial networking opportunity, Walsh called the meeting to order by welcoming attendees and introducing the event's guest speakers and sponsor, which included Jill Pongonis from the Greater Williamsburg Chamber & Tourism Alliance and Tom Penny of the Virginia DMV. Meeting sponsor Claude Cristea of Williamsburg Chauffeur Service spoke about his diverse modern fleet and the benefits of serving the Williamsburg area for the past eight years.

Guest speaker Jill Pongonis, director of tourism and events for the Alliance spoke about the Williamsburg market and included the highlights of their research showing that now women do a vast majority of vacation planning and Williamsburg is considered a drivable destination. Of particular interest to the livery industry is the fact that local business has increased by 2.9 percent in calendar year 2016, with breweries gaining in locations and popularity. Also according to Pongonis, "the wedding market is on fire," and of course area wineries remain a constant tour opportunity for local operators.

"Jill is a fountain of knowledge and was very informative-from the deep historical aspects of the region, the emerging sports and art scenes, and shopping that make the area an in-demand place to visit-we learned a lot," stated Walsh. "Her knowledge of the bus business also added to the overall picture for our industry."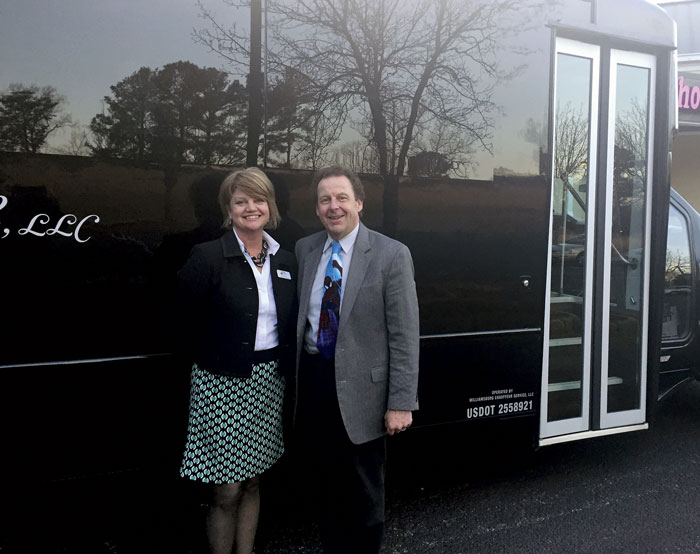 Williamsburg Chamber and Tourism Alliance's Jill Pongonis and CD's Philip Jagiela Pongonis' presentation was followed by Tom Penny of the Virginia Department of Motor Vehicles (DMV). He updated the membership on TNCs and active sting activities for illegal operators. The department employs 15 enforcement officers for this purpose. "Our close relationship continues to be a huge benefit to VLA members," claimed Walsh. "The field agents know us and we know them." Penny stated that the DMV appreciates their long-standing professional relationship with the VLA—a representative from the agency is present at each meeting of the association.

First Vice President Andrea Saathoff of Albermarle Limousine reported on upcoming webinars along with a possible FMSCA compliance training day, offered by Reston limousine at their facility to a small group. A survey is currently being crafted seeking additional education topics for 2017.

VLA Secretary Glenn Stafford of Love Limousine provided the group with a legislative report that touched on the TNC identification marker bill and a drafted letter for association members to send to prompt their respective legislators' involvement. In addition, a committee will be created to review the assessment of livery vehicles.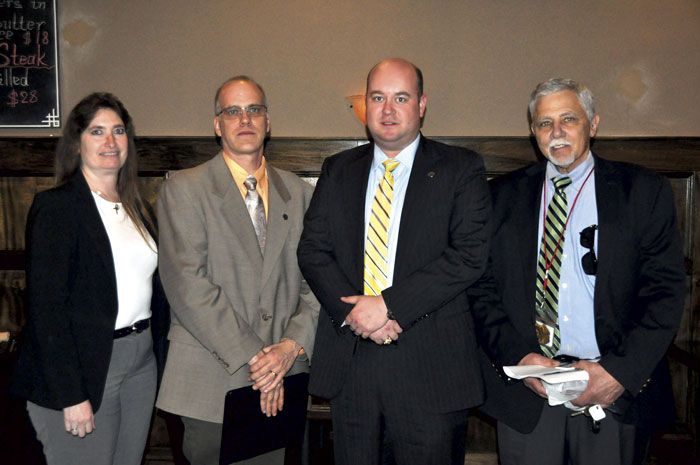 Virginia DMV Commercial Carrier & Tax Enforcement Unit agents (l to r) SAC Barbara Arkwright, ASAC Greg Wray, SSA George Wilson, and Director Tom Penny Stafford also offered an update on charity efforts, spearheading a cumulative report that will assist operators in their philanthropic endeavors once uploaded to the VLA site. After comment from VLA member Barry Gross of Reston Limousine, it was also agreed that members would support the NLA Limo Patriot Ride 2017 with donations pledged at the meeting and e-promotion to follow.

Gross also contributed the news that VLA membership increased by 100 percent in 2016, and he will be contacting lapsed members for renewals.

The next VLA meeting will be held April 3.

Visit vla-limo.org for more information.

[CD0217]