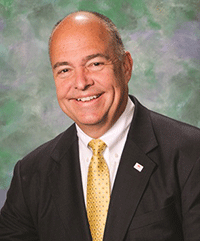 ABA CEO and President Peter Pantuso Washington, D.C. — In a notice published in the Federal Register on March 23, the Federal Motor Carrier Safety Administration (FMCSA) withdrew its Notice of Proposed Rulemaking (NPRM) on Safety Fitness Determinations (SFD).

FMCSA had previously announced in mid-January that it was delaying any movement toward a final rule and preparing to issue a supplemental notice of proposed rulemaking. However, after consultation with the new Secretary of Transportation Elaine L. Chao, the Agency elected to abandon this plan and withdraw the proposal. A brand new rulemaking would need to be initiated in order for any changes to be made in the future.

As the American Bus Association (ABA) and many other commenters argued in nearly 200 sets of submitted comments, FMCSA must first evaluate and consider the results of the CSA Correlation Study currently underway within the National Academies of Science (NAS), before moving forward with any changes to the CSA program, including Safety Fitness Determinations. Currently identified by three "ratings" from FMCSA, safety fitness is indicated by the "Satisfactory," "Conditional," and "Unsatisfactory" designations.


ABA and several bus operator members were active in participating in the three public meetings of the NAS throughout 2016 and helped to provide the motorcoach industry's perspective on the CSA program during their discussions and deliberations. The final report of the NAS study is set for publication in June 2017. ABA further elevated the withdrawal of the SFD rule as one the Association's top priorities with President Donald Trump's Transition Team and in direct correspondence with Secretary Chao.

"This is a big win for the commercial motor vehicle industry. ABA supports getting the bad actors off of our roads as the safety of our passengers is our number one priority," said ABA President and CEO Peter Pantuso. "However, making decisions based on bad data is not a path that would result in increased safety or the removal of substandard operators. So it makes good sense to withdraw this rule until the data can be improved."

As recognized with a direct excerpt from ABA's submitted comments in the published withdrawal notice, ABA's voice and the voice of the motorcoach industry was heard loud and clear by the new Administration throughout this process.

"Conceptually, the use of real-time safety performance data for making safety fitness determinations is a good idea. But the data must be sound, timely, accurate, and reliable. Unfortunately, the current data is just not there yet," Pantuso said.

The ABA will be hosting its 2017 Capitol Hill Fly-In May 3-4 in Washington, D.C.

Visit buses.org for more information.

[CD0417]