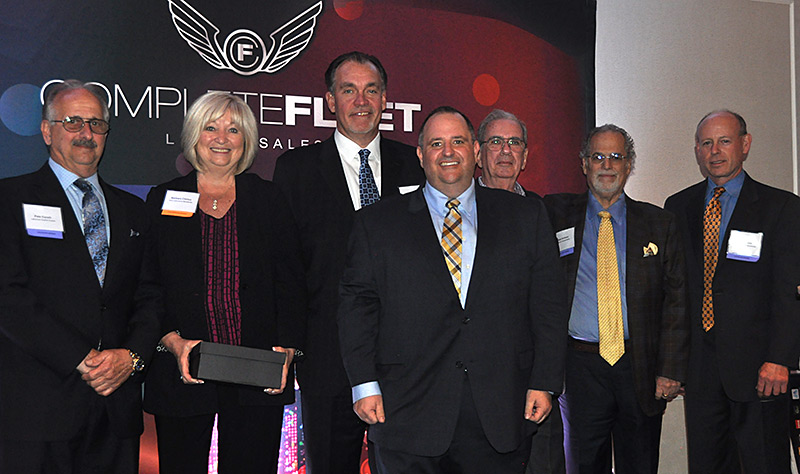 L to R: Pete Corelli of Lakeview Custom Coach, Barb Chirico of Gem Limousine Worldwide, Tim Rose of Flyte Tyme Worldwide, Jason Sharenow of Broadway Elite Worldwide Chauffeured Transportation, Jim Moseley, Bob Schiavo of Alberts Limousine, and Jon Epstein of Royal Coachman WorldwideWest Orange, N.J. — The Limousine Association of New Jersey held their 15th annual fundraiser meeting and auction at the Wilshire Grand Hotel on Wednesday, May 10. Among those in attendance at the packed room were CD Industry & Brand Ambassador Philip Jagiela and Editor Rob Smentek.

Thanks to the event's premier sponsors—Complete Fleet Livery Sales, Ford Motor Company, and Maple Crest Ford Lincoln—and the months of hard work and planning by Complete Fleet's Barry Trabb and Bruce Cirlin, the evening was a massive success with a record-setting $33,175 raised through the generosity of LANJ members and guests who took part in an auction, contributed to a 50/50 raffle, and donated cash to the association.

The total raised was an impressive 54 percent increase over the previous year. "We're thrilled by the generosity of the association," says Trabb. "It's always great to see the operators come together and have fun. We're in for the fight of our lives with the TNCs, so we need the industry to work together and support LANJ."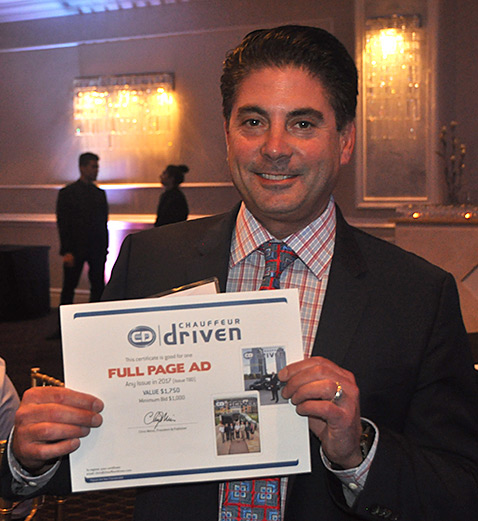 Barry Trabb of Complete Fleet Livery Sales was the winner of a CD full-page ad Following a cocktail hour sponsored by Grech Motors, things got down to business as LANJ President Jason Sharenow of Broadway Elite Worldwide Chauffeured Transportation welcomed the more than 100 members, vendors, guests, and friends in attendance. Sharenow then invited Trabb and Cirlin to speak, followed by a few words from Craig Hall, national sales & marketing manager of the Ford Motor Company.

After a buffet dinner, the auction got underway thanks to auctioneer Pete Corelli of Lakeview Custom Coach. Attendees bid on a wealth of items, including sports tickets, home electronics, gift certificates, wine baskets, and, for the first time, out-of-state airport transfers for the association's affiliate members. CD also contributed a number of items to the auction, including a full-page ad, which was won by Trabb; a pass to the upcoming Executive Retreat in San Francisco, which went to Daniel Arias of DLA Executive Limousine; and two passes to October's CD Trade Show & Conference in Orlando, which saw Jon Epstein of Royal Coachman Worldwide as the high bidder.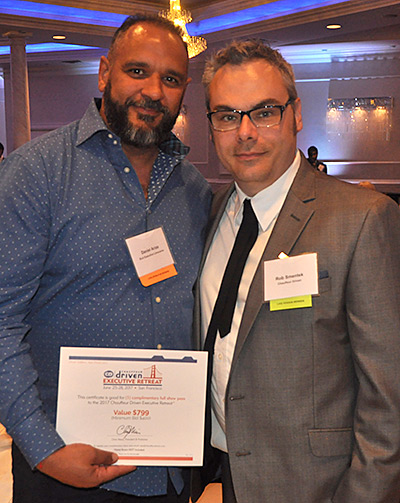 Executive Retreat pass winner Daniel Arias of DLA Executive Limousine (left) with CD Editor Rob Smentek After the auction's close, Sharenow provided some recent legislative news affecting the state, and reminded members that this was the first meeting since the state "Limo Bill" went into effect, which eliminated sales tax for operators. Sharenow also updated the room on the status of the state's background checks for TNCs. Uber has six months to propose a reasonable background check option, otherwise the onus will fall onto the State Police, who will likely require fingerprinting. Also, Essex Country legislators are seeking to require for-hire vehicles to get color-coded license plates; Sharenow said that LANJ is supporting this proposal. Next, Pat Russo, an attorney from Windels, Marx, Lane & Mittendorf, shared news from New York's ongoing TNC battles. While Governor Cuomo's support of TNCs in the upstate region paints something of a bleak picture for the ground transportation industry in the state, New York City continues to be the national model for effective regulation of for-hire cars.

The evening ended on an emotional note when LANJ board members, past and present, honored former member Barb Chirico of Gem Limousine Worldwide for her years of loyal service to the association and the industry. She was welcomed with a standing ovation and given an award.

LANJ has scheduled their first annual golf outing on September 18 at Cherry Valley Country Club in Skillman, N.J.

Visit lanj.org for more information.

[CD0517]