Minneapolis — In its efforts to better satisfy members' requests, the Minnesota Chauffeured Transportation Association (MCTA) debuted regular Happy Hour sessions last month, tabulated the results of its 2017 membership survey, and has compiled legislative updates relevant to the transportation industry.

The Happy Hours debuted May 1 at MCTA President Len Nelson's Valley Limo facility in Burnsville. The get-togethers aim to facilitate camaraderie and the sharing of expertise among members and prospective members alike in a casual environment.

The 2017 MCTA Membership Survey provided anonymous feedback from members regarding the direction they would like to see the association take, priorities it should consider, and even what the new MCTA logo should be.

The survey results, which will be addressed when the MCTA next meets, reflect a general acceptance of the current annual dues and the ways they're used to provide membership value, as well as members' overall satisfaction. They also ranked top political issues from most to least concerning (minimum wage increases, general MnDOT issues, TNCs, MAC issues—all of which MCTA Administrative Staff Leslie Rosedahl indicated as being "very close in ranking") while highlighting suggestions for speakers, such as Senate Transportation Chairperson Steve Murphy and the Insurance Commissioner for the Minnesota Department of Commerce.

The association has also supplied updates about numerous legislative session outcomes: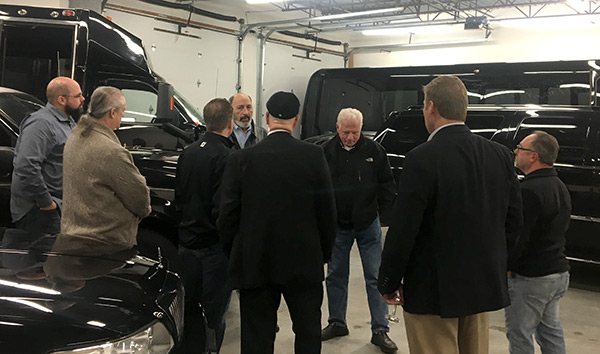 MCTA current and prospective members alike met up at President Len Nelson's Valley Limo facility last month Budget Bills
The 2017 Minnesota Legislative Session concluded at the end of May; Governor Mark Dayton announced his decisions on final bills soon after. All state budget bills were signed, avoiding a July 1 government shutdown. But Gov. Dayton line-item vetoed the Minnesota House and Senate operations budget in an attempt to both force legislature into a special session and renegotiate some policy items that were in the newly signed budget bills. It's anticipated that the legislative funding issue will be fought next in the courts and a potential special session won't happen soon, if at all, since the House and Senate are controlled by Republican majorities and the governor is a Democrat.

Pre-emption
Gov. Dayton announced his veto of pre-emption, or uniform statewide labor standards. The bill also included some of the governor's priorities about parental leave for state employees, a pension fix for unions, and funding for "wage theft" issues, all of which he vetoed collectively, accompanied by an unhappy letter. Safe and sick leave in St. Paul and Minneapolis will proceed as planned, as will the effort to raise minimum wage in Minneapolis.

Minneapolis Minimum Wage
The City of Minneapolis staff issued a report and their recommendations on minimum wage to City Council, which the council largely adopted. The proposed ordinance increases minimum wage to $15/hour tied to inflation, with no tip credit (or other carve outs-for non-profits or healthcare staff), a training wage of 85 percent for the first 90 days, and a recommended three tiers of business sizes for phase in purposes.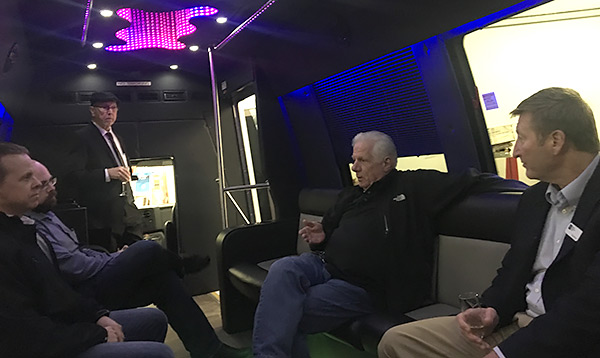 One of MCTA Len Nelson's fleet vehicles provided a casual place to chat during the May debut of MCTA's Happy Hours The plan also calls for covering anyone working in Minneapolis, regardless if the business employing them is actually based in Minneapolis: If your drivers are picking up and dropping off in Minneapolis, this could pertain to you! While this specific provision was thrown out by the courts in safe and sick leave—and now that provision only requires coverage for businesses who have a nexus/are based physically in Minneapolis–the city is proceeding with all employee coverage for now. According to Rosedahl, the details of these issues will be debated over the next month, along with proposed amendments. A final vote will take place at the June 30 City Council meeting. The effective date is still undecided.

Sick and Safe Leave
Sick and safe mandates go into effect July 2017 for St. Paul and Minneapolis. There is a two-tier effective date specifically in St. Paul: Businesses with 24 or more employees in St. Paul must comply by July 1, 2017, while businesses with fewer than 24 employees have until July 1, 2018, to comply. Minneapolis also has two tiers: five employees or fewer and six or more, with both part- and full-time staff considered employees.

Additional St. Paul details can be found at goo.gl/hG0Vos and Minneapolis' details can be reviewed at goo.gl/wmB5QN.

The next MCTA meeting date is currently being finalized.

Visit mnlimo.org for more information.

[CD0617]