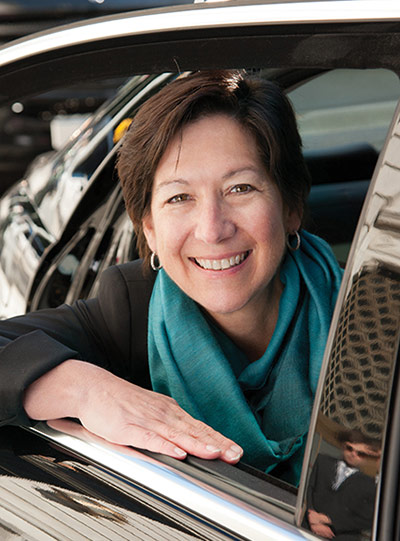 CEO Liz Carisone Boston — GroundLink, a global black-car service, has unveiled a new technology platform for managed business travel. Called Brio and available in the fall, the new tool allows travel managers to book single and multiple rides on behalf of others, and more.

"It was our goal to leverage the latest technology services along with our award-winning, hightouch customer service and deep understanding of the managed business travel space, to bring an intuitive, groundbreaking solution to our corporate travel partners," said Liz Carisone, CEO of GroundLink. "We believe that Brio is just that."

Marcou Transportation Group, the parent company of chauffeured transportation providers Dav El and BostonCoach,acquired GroundLink in January, giving the company access to vehicles that are well suited to the needs of the group market.

Brio handles both business and personal accounts for passengers, while giving travel managers full transparency into their company's ground transportation spend and expense management functionality. The tool is corporate travel policy compliant, and offers the ability to manage all passengers and rides simultaneously with a group feature.


In other news, at the Global Business Travel Association's annual conference, GroundLink announced the introduction of Ride Now, an app-based service that allows customers to obtain a ride in 20 minutes or less. The service expands the company's footprint in metro Boston and has also substantially reduced lead times needed to book a scheduled ride to and from surrounding New England suburban areas. For every Boston Ride Now ride completed from now through August 31, GroundLink will donate $5 to the Big Sister Association of Greater Boston.

Ride Now offers the same service as GroundLink's scheduled service, which features professionally-trained drivers who are vetted and fully-insured and licensed. Additionally, all Ride Now vehicles are well-maintained black on black cars, which is not the case with many of the ridesharing companies. Prices for a ride to Boston Logan from downtown Boston start as low as $51 when booked using Ride Now.

"It is exciting to be announcing our increasingly popular Ride Now service here in Boston during the largest corporate travel convention in the country," said Carisone. "We currently offer Ride Now in New York and Chicago, and just recently launched in Austin, Dallas, and Houston. Boston is the latest city to join our growing number of Ride Now markets, as we continue to rapidly expand this service as the perfect complement to our scheduled service. While business travelers still prefer to schedule many of their rides, such as trips to the airport, they also want to have access to last-minute rides for that impromptu meeting or a pick-up from the airport that they didn't book in advance. Ride Now is the perfect solution for such instances. We are also extremely pleased be giving back to the local Boston community through our partnership with the Big Sister Association of Greater Boston."

"We are proud to partner with GroundLink for this exciting opportunity to raise crucial funding for our programs and also raise awareness of the need for positive women mentors for Greater Boston's girls. GroundLink is making an important investment in the health of our community," said Deborah Re, president and CEO, Big Sister Association of Greater Boston.

Visit groundlink.com for more information.

[CD0717]