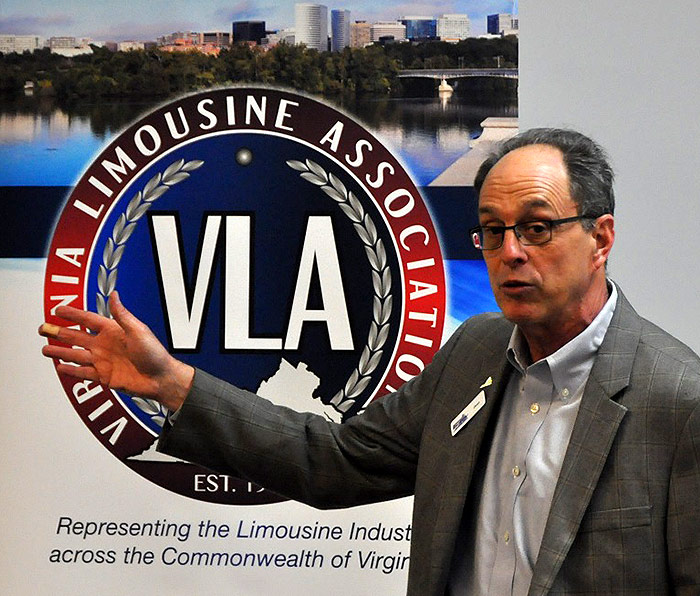 Meeting Host Dean Farmer of Sonny Merryman Bristow, Va. — More than 30 members and supporters attended the April 2 Virginia Limousine Association (VLA) general meeting at vendor member Sonny Merryman's headquarters. Among them was CD Industry & Brand Ambassador Philip Jagiela, who also serves as Executive Director of the VLA.

The meeting kicked off as a social event, complete with a catered lunch serving up Southern fare, before meeting host Dean Farmer offered a facility tour complete with several vehicles on display.

VLA President Paul Walsh of Superior Executive Transportation then welcomed everyone before board introductions and VLA Treasurer Randy Allen of James Limousine Service presented the association's financial report.


L to R: Eric Ampedu and Mia Bowden of D.C. Department of For-Hire Vehicles and VLA President Paul Walsh of Superior Executive Transportation The afternoon's Keynote Speaker was Eric Ampedu, the Enforcement & Compliance Administrator for the D.C. Department of For-Hire Vehicles, whose accompanying PowerPoint presentation further illustrated the many points he addressed. The agency, previously known as the D.C. Taxi Commission, is currently undergoing a rebranding initiative to better express its focus on the passenger transportation industry as a whole.

Part of that new image includes retooling Hack Inspectors as Vehicle Inspection Officers (VIOs), who are tasked with being the on-the-ground enforcement of the agency's regulations—particularly those under Title 31, which pertains to topics such as the insurance requirements, accessibility offerings, and definitions within the for-hire vehicle realm.

Ampedu also explained the reciprocity agreements among operators hailing from outside the District, especially regarding the non-D.C. residence permits (NDLs) that offer operators properly licensed within their home states the all-clear to perform point-to-point work within the capital's city limits for 180 days under this pilot program that the agency wishes to make a permanent one.

Of particular interest to legitimate, traditional ground transportation operators is how the program aims to offer more oversight of TNCs—ultimately provider a more level playing field for all facets of the industry.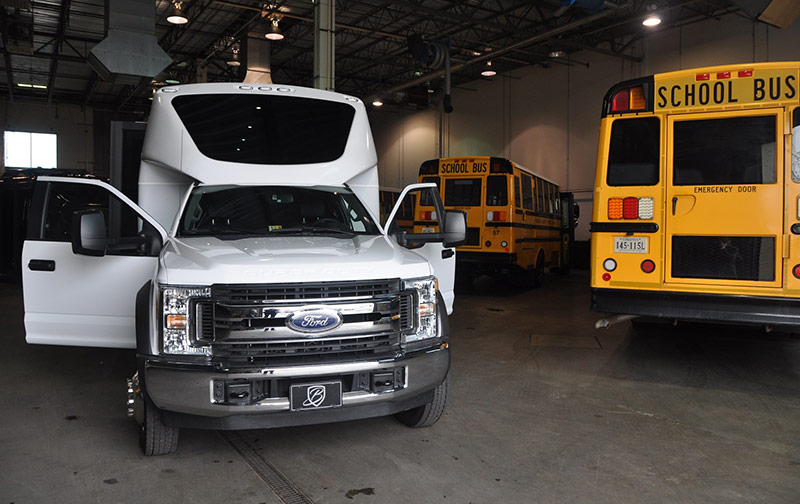 One of Sonny Merryman's Berkshire Coach vehicles on display during the VLA meeting Before taking questions, Ampedu introduced Assistant Chief Vehicle Inspection Officer Mia Bowden, who spoke about the agency's appreciation of its growing business relationship with VLA, emphasized that enforcement is a round-the-clock effort, and reminded those in attendance that cooperating with VIOs goes a long way. For those who feel that they have been treated unfairly by a VIO, however, complaints can be lodged at dfhv.dc.gov.

VLA vendor member Lee Edward of Wells Fargo Equipment Funding then provided a comprehensive presentation on the mechanics of funding, which included details on how to secure approval and speed up the application process.

Barbara Arkwright of the Virginia Department of Motor Vehicles then spoke about a new TNC operating in the state, Care360, which provides almost exclusively medical-related transportation. She also provided updates about SB-128, which passed last month and dictates how trade dress—the legal term for identifying a specific product—should be used in TNC vehicles to "limits the display and color of such illuminated interior trade dress devices and requires a TNC that issues such devices to file the specifications of the device with the Department of Motor Vehicles."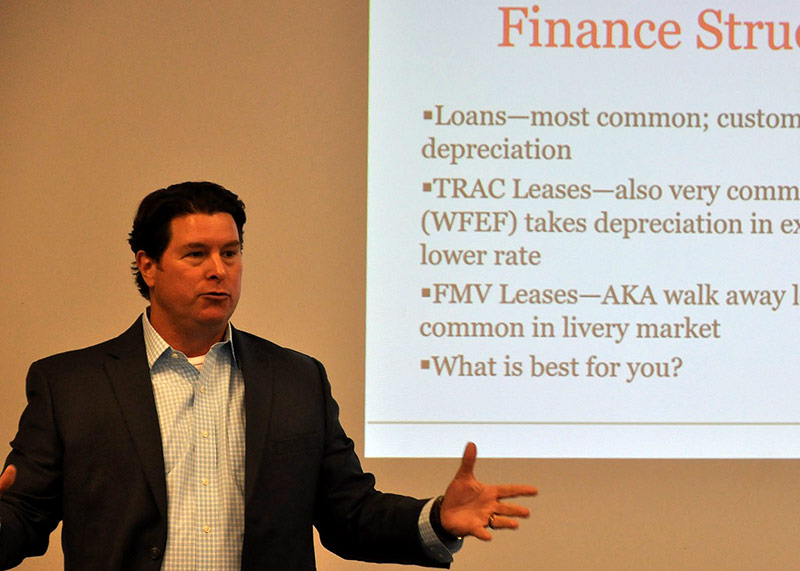 VLA vendor member Lee Edward of Wells Fargo Equipment Funding Arkwright emphasized that the DMV continues to invite reports of potential violators as it continues its own efforts to both monitor and patrol large events for illegal activity.

Farmer then returned to the mic to drum up support for and interest in a mini expo for the VLA in 2019. The event would be fashioned in the likeness of industrywide trade shows to serve as a fundraiser for the association while presenting all its benefits to a regional audience.

Jagiela closed the meeting by discussing the 2018 Chauffeur Driven Show, which will be held at the Gaylord National—right in many VLA members' backyard.

The next VLA meeting will be June 4 at Sonny Merryman's Chesapeake location in southern Virginia.

Visit vla-limo.org for more information.

[CD0418]