Secaucus, N.J.--EmpireCLS Worldwide Chauffeured Services has signed a deal with Cadillac to purchase 150 new Cadillac XTS livery model sedans. The 150 new Cadillac XTS sedans will be added to EmpireCLS's existing fleet in New York/New Jersey, Los Angeles, and San Francisco.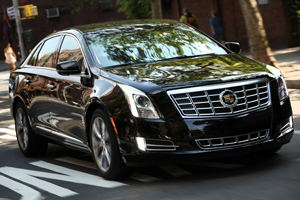 Empire CLSAn industry leader in technology innovation and fleet optimization for over 28 years, EmpireCLS has grown into one of the largest transportation companies in the industry. "We are very excited to roll out the new XTS to our clients as we believe it is the best sedan in the livery space today. We ultimately made this decision for our clients based on quality, interior amenities, passenger comfort, and available technology integration, which allows us to continue to provide premium service," said David Seelinger, EmpireCLS chairman and CEO.
Since the departure of the Lincoln Town Car, the industry has been testing different vehicles to fill the void. "We invested a significant amount of time and resources to test all of our vehicle options over the last two years and ultimately the Cadillac XTS was the best option for our customers and our brand. We believe we have selected the most luxurious sedan option for our customers based on testing, feedback, and the alternatives," said Seelinger.
The XTS has been completely redesigned and is the upgraded successor to the Cadillac DTS sedan. Its signature CUE driver interface comes standard on the livery sedan, providing unmatched levels of customized, in-vehicle connectivity and control. "We are working with GM to integrate our proprietary reservation and dispatch system directly into the CUE interface, which will improve chauffeur communication, safety, and routing," said Seelinger.
The limousine industry-tailored design features on the XTS include: 37.8 inches of headroom, 56.3 inches of shoulder room, and 54.3 inches of hip room. The XTS has 18 cubic feet of cargo space — large enough to carry five full-size pieces of luggage or four golf bags. The XTS has a FWD 3.6L V6 engine and 6-speed transmission.
Visit empirecls.com for more information.