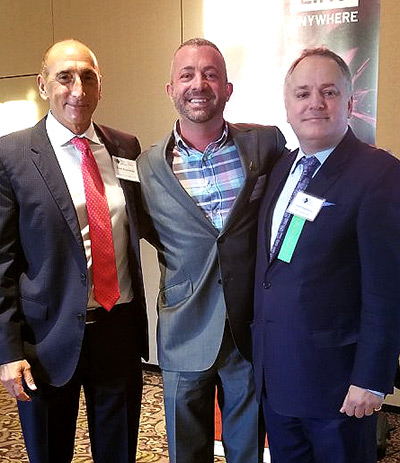 Brett Barenholtz of Boston Car Service/Above All Transportation, Mike Campbell of Grace Limousine, and Scott Solombrino of Dav El/BostonCoach Lynnfield, Mass. — On Tuesday, June 19, the New England Limousine Association (NELA) held their latest membership meeting at Spinelli's restaurant. Sponsored by Grech Motors, 75 members and guests attended the event, which eschewed the traditional format of the association's quarterly meetings.

"This time, we changed it up a bit," explains Executive Director Rick Szilagyi. "Rather than a sit-down dinner, we served hors d'oeuvres and cocktails to open up the meeting for more networking. Our members got a chance to socialize more than they do at our usual events."

Following a cocktail hour sponsored by Limo Anywhere, Szilagyi called the room to order, and began the business portion of the night. First, he welcomed Ned Johnson of Grech Motors and Jay Pearson of Limo Anywhere, who each gave a short presentation of their respective products and services.

Next, Szilagyi reviewed the results of the recent association election, thanked returning board members, and welcomed a new board director, Brittni Kirk of All Points Limousine. Retiring NELA President Mike Callahan of Able Limousine was then invited to the podium, where his 10 years of service to the board were acknowledged along with a plaque and gifts from the association.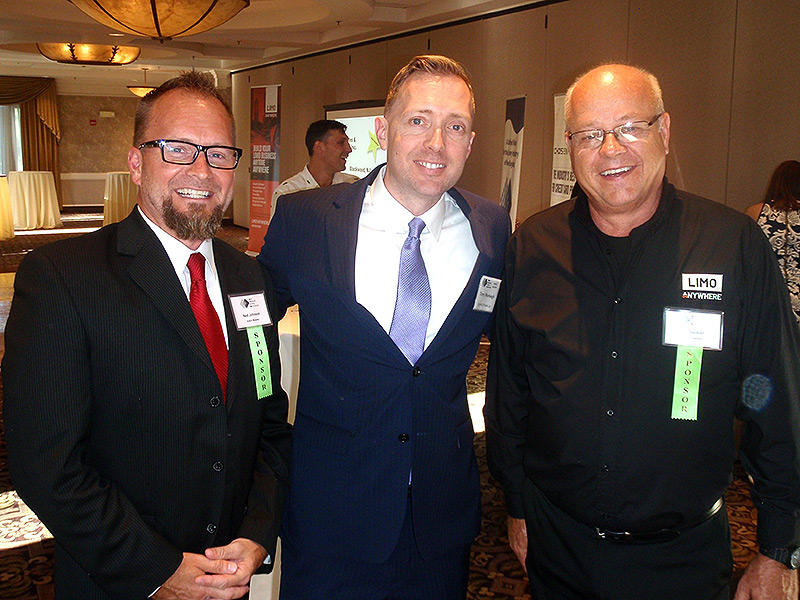 Ned Johnson of Grech Motors, Terry Murtaugh of United Private Car, and Jay Pearson of Limo Anywhere After Callahan thanked the members, NLA Directors Scott Solombrino of Dav El/BostonCoach, Mike Campbell of Grace Limousine, and Brett Barenholtz of Boston Car Service/Above All Transportation discussed the NLA's public service campaign featuring Pamela Anderson. Solombrino and Campbell stated that the PSAs have been very well received by viewers, and successful in changing public opinion toward TNCs. While the previous PSAs have addressed the safety issues inherent with TNCs, the most recent spot addressed the shady hiring habits of those companies.

Before opening the room to another social hour sponsored by Dattco, Szilagyi introduced NELA's new president, Jason Dornhoffer of United Private car, who begins his term on July 1. The incoming president thanked everyone for attending and shared how important it is to continue to support their industry by participating in association events. As the meeting came to a close, the association held their anticipated raffle, which was sponsored by Center Insurance, Colonial Cadillac, and Dave El/BostonCoach. Winners included Lew Aflalo of United Private Car who won the 50/50 and Matt Greene of Regal Limouisine Service who took home an assortment of lotto tickets and a gift basket.

NELA's next quarterly meeting is scheduled for September 11, 2018.

Visit nelivery.org for more information.

[CD0618]