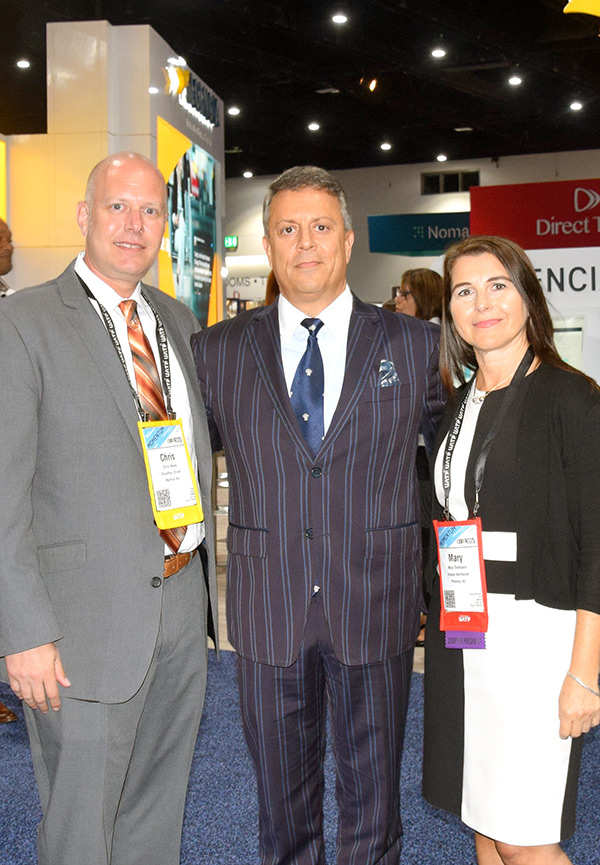 L to R: Chauffeur Driven Publisher Chris Weiss with Shawn Abaspor and Mary Thompson of Vitesse Worldwide San Diego — The Global Business Travel Association (GBTA) held its 50th annual convention in San Diego from August 11-15. GBTA celebrated its 50-year history while looking ahead, as innovation and the future of business travel management were the predominant themes throughout the five-day industry gathering that brought together nearly 7,000 travel professionals and industry leaders, including Chauffeur Driven Publisher Chris Weiss.

GBTA held its first-ever Awareness 5K Run & Walk to raise awareness and funding to stop human trafficking on Sunday morning of Convention with more than 200 registered participants. GBTA continued to raise money throughout Convention, presenting a $20,000 check on Wednesday to benefit ECPAT-USA and its efforts to end child exploitation and trafficking.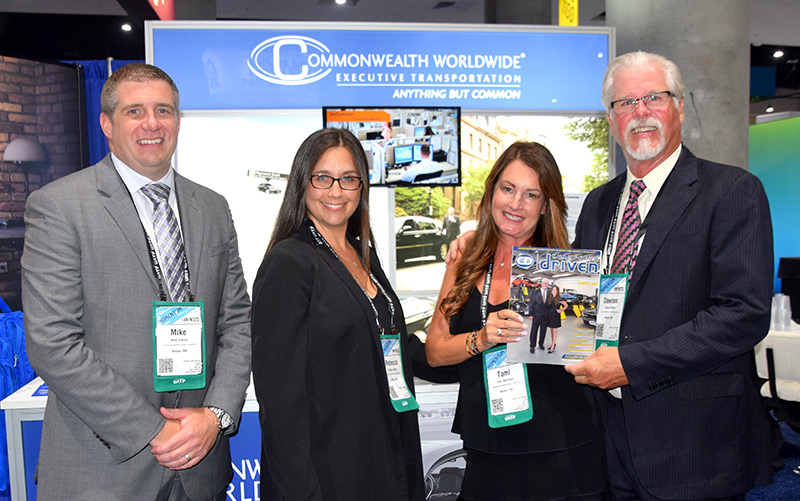 L to R: Mike Cheney, Rebecca Sahlin, Tami Saccoccio, and Dawson Rutter of Commonwealth Worldwide GBTA made two key announcements during Convention including the merger of WINiT for Women into GBTA. The merger will allow GBTA to take WINiT's mission worldwide. Members of GBTA and WINiT will benefit through access to both organization's programs, services, and an expanded network of approximately 12,000 industry professionals. Additionally, leadership from GBTA and the Institute of Travel Management (ITM), the leading managed business travel association in the UK and Ireland, announced a joint venture that is part of a deeper, collaborative partnership between both associations kicking off with a London-based event for the managed travel and meetings sector on January 31, 2019.

GBTA Convention 2018 featured top industry leaders on Center Stage focused on business travel's most pressing issues. As only the third person in 90 years to head the largest hotel company in the world, Marriott International President & CEO Arne Sorenson shared his outlook on the business travel industry, the shakeup over group commissions and the company's home-sharing strategy in a one-on-one interview with GBTA Executive Director and COO Michael W. McCormick.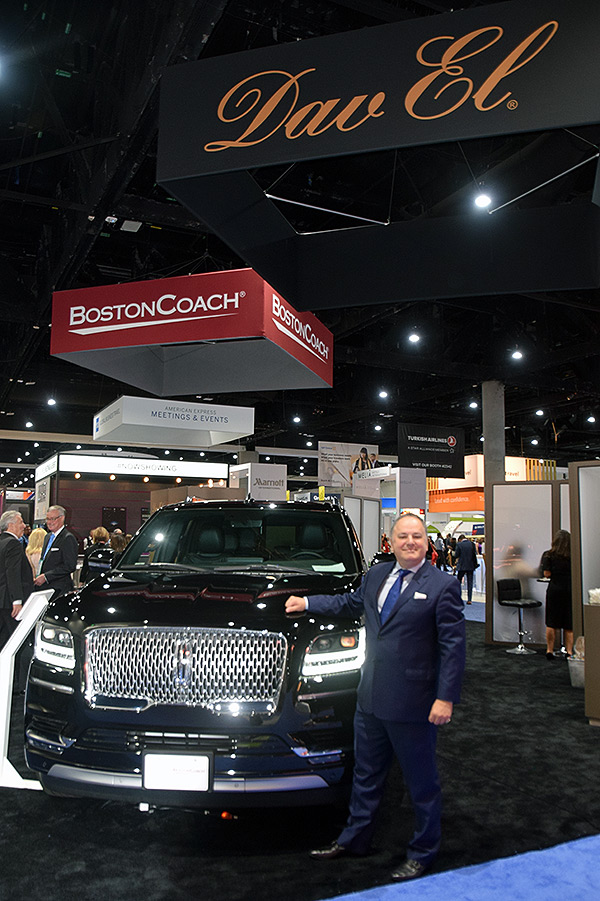 Scott Solombrino of Dav El/BostonCoach Dorothy Dowling, Senior Vice President and Chief Marketing Officer for Best Western Hotels, led a session of top female business travel executives sharing their insights on the unique challenges they faced as women arriving in leadership positions within their companies. Although their personal leadership journeys differed, their advice for women in the business travel industry coalesced around a few core themes: taking risks, thriving through failure and talking the talk.

Transportation Security Administrator (TSA) David Pekoske and U.S. Customs and Border Protection (CBP) Commissioner Kevin McAleenan took the stage together for the first-time in an interview with McCormick where the two highlighted technology's potential to dramatically increase security and passenger facilitation. On the horizon, the two agencies are also planning to better integrate the PreCheck and Global Entry programs.

Kurt Ekert, CEO of Carlson Wagonlit Travel, led a panel of experienced travel buyers in a shift from typical GBTA Convention Center Stage sessions, which often put a supplier on the hot seat. The discussion focused on the growing responsibilities for travel buyers and technology's increasing role in travel management as buyers work to ensure duty of care responsibilities and cost-savings measures are in place, while also balancing individual traveler preferences and convenience.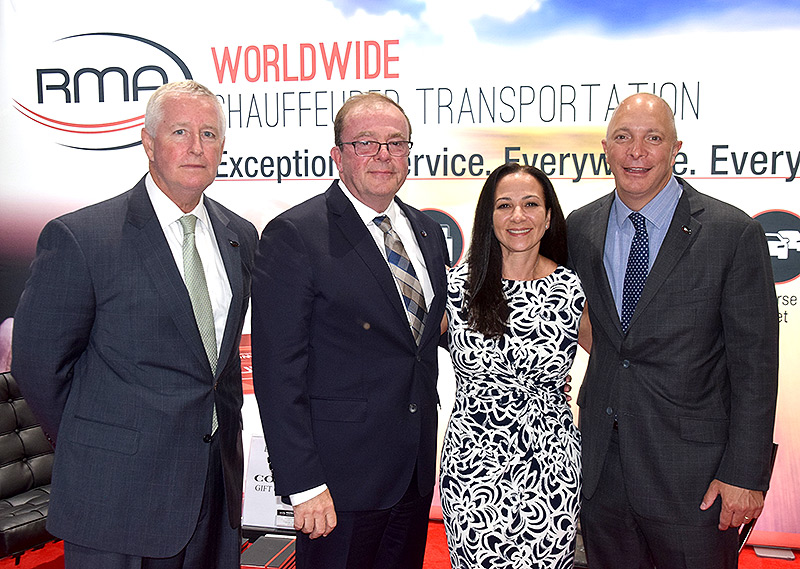 L to R: Mike Pagano, Art Miesemer, Lauren Nock, and Robert Alexander of RMA Worldwide Center Stage wrapped up with Guy Langford, Deloitte's Vice Chairman, U.S. Transportation, Hospitality, & Services Leader, asking a panel of executives covering various sectors of the business travel industry if bigger really is better, prompting a discussion of advantages and disadvantages of industry consolidation. Being bigger can help companies learn, negotiate better and innovate, the panelists said, as bigger companies often have advantages in boosting investments in marketing and new technology to meet consumers' evolving expectations. Being larger can also create disadvantages, especially when growing through acquisition as you must understand how to assimilate and integrate diverse cultures and systems.

The keynote stage at Convention Arena featured sports icon, social justice pioneer, and entrepreneur Billie Jean King; investor on ABC's Shark Tank, chairman of O'Shares ETF Investments Financial Group, and bestselling author Kevin O'Leary; and John Walsh, victims' rights advocate and host of Discovery ID's In Pursuit with John Walsh.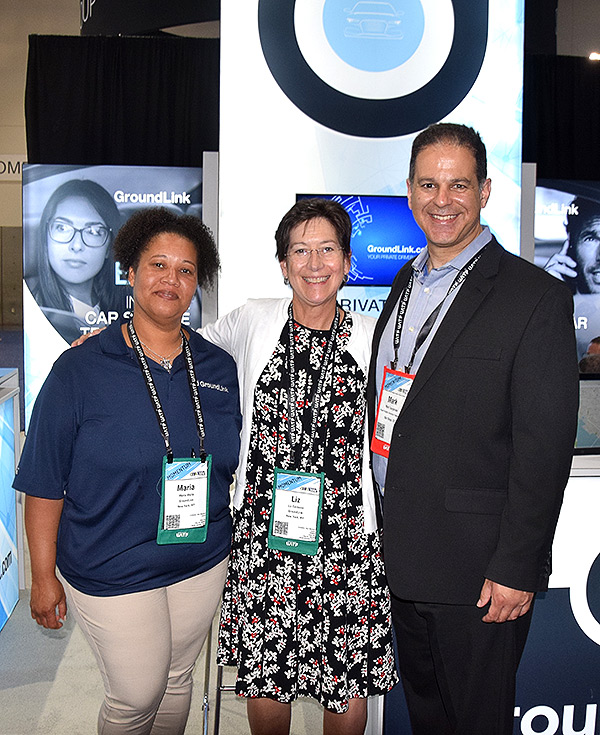 L to R: Maria Mella and Liz Carisone of GroundLink and Mark Tourgeman of Royal Knights Limousine More than 170 education sessions gave travel professionals of all levels more opportunities than ever to help them advance their careers and improve their travel programs. Topics covered top travel industry issues including duty of care, technology and innovation, procurement, and sustainability. Attendees can access all of these sessions and more with GBTA Convention 2018 On Demand.

The sold-out Expo Floor featuring more than 400 exhibitors showcasing the latest and greatest in business travel products and services. Nearly 30 companies participated in GBTA's fourth annual media day and shared their breaking news announcements.

GBTA concluded the event with 6,755 attendees—including more than 1,350 buyers—making this the largest GBTA Convention in history and one of the largest gatherings of travel professionals in the world.

The 2019 convention will be in Chicago from August 3-7.

Visit gbta.org for more information.

[CD0918]