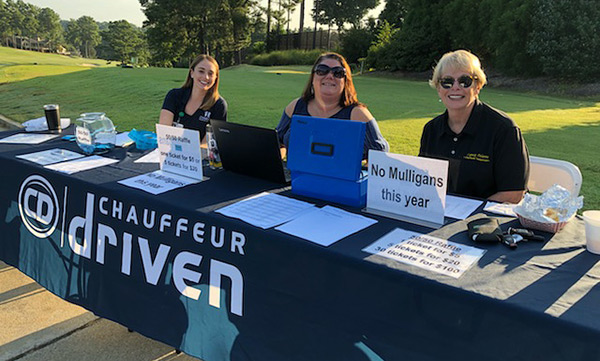 Chauffeur Driven was a sponsor for the annual GALA golf outing Roswell, Ga. — When the Greater Atlanta Limousine Association (GALA) headed to the Country Club of Roswell August 28 for its annual charity golf tournament, more than 100 players from all across the country came along for a day of good company coming together for some friendly competition to benefit a great cause.

A total of 108 golfers comprised 27 teams and raised nearly $44,000 in the yearly fundraiser benefiting Children's Healthcare of Atlanta. It is one of the largest nonprofit children's cancer and research centers in the world—and a favorite charity of GALA's.

"We've donated more than $60,000 to Children's Healthcare over the past few years, and they'll be getting a nice surprise from us when we present them with the donation check at our next membership meeting," said Golf Chair Fred Rich of CTN Global Chauffeured Transportation.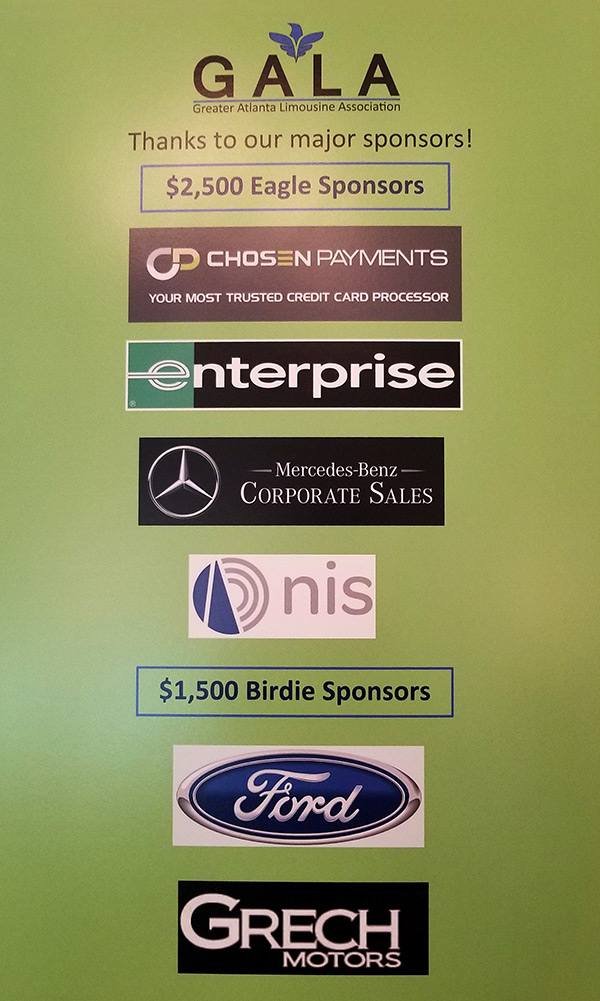 Rich said that GALA's golf outing is now the biggest in the industry, and has attracted more than 40 sponsors accordingly. He cited Enterprise, Mercedes-Benz, Chosen Payments, Grech Motors, and Ford-Lincoln Limousine and Livery Vehicles as being among the event's major sponsors.

In addition to doing some good, golfers had ample opportunities to win big in a various contests, as well as the auction held during the awards banquet that serves as the event's capstone dinner. Items like airline tickets to anywhere in the U.S., hotel certificates, tickets to sporting events like Braves and Bulldogs games, and more helped stuff the charity coffers.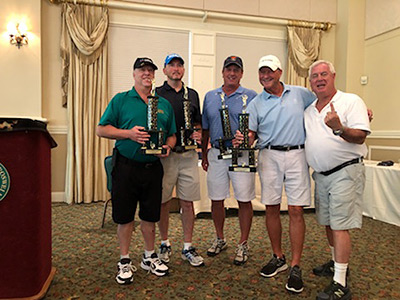 GALA President Jeff Greene of Greene Worldwide Transportation (left) and Treasurer/Golf Chair Fred Rich of CTN Global Chauffeured Transportation (right) present the winning team from RBM of Atlanta with their trophies Contest winners included Hoss Oskouie of Atlantic Limousine & Transportation for Longest Drive, Mark Mayfield of RBM of Atlanta for Closest to the Pin, and Khari Dickson of Divine Chariots for Straightest Drive. A hole-in-one grand prize offered a trip to Scotland, which Rich said that went unclaimed.

"No one's ever won the hole-in-one prize," he said. "We have to ensure it every year because somebody's going to win it one of these times!"

The RBM of Atlanta team ultimately came in first, with the Casey Corporate team placing second and the Chosen Payments team clinching third.

Rich said that, just as in previous years, participants raved about the golf tournament.

"First-timers said it was one of the best tournaments they've ever played in," he said. "Everyone just had a ball. We had a great time and a great awards banquet—and it couldn't have been for a better cause because, frankly, there is no better cause than the kids."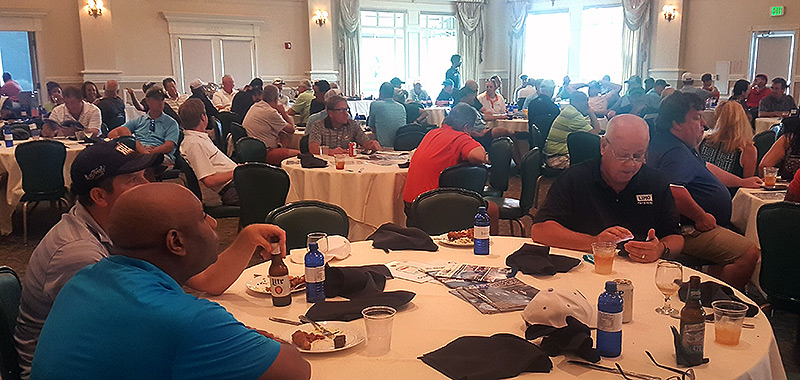 More than 100 golfers and volunteers enjoyed an awards banquet after a day on the green He added that Dave Winokur, the development officer at Children's Healthcare of Atlanta, is a big supporter of the charity outing, and reminds golfers that their generosity is making a difference to the hundreds of young patients the center treats every year.

"Dave always speaks before the tournament, and he talks about how they treat more than 400 cancer patients a year," Rich said. "That means that every day, they're telling a family that their child has cancer. And it feels good to know that we're helping them give some of those families good news."

The next GALA meeting will be September 20, where representatives from Children's Healthcare of Atlanta will be given proceeds from the tournament.

Visit galalimo.org for more information.

[CD0918]