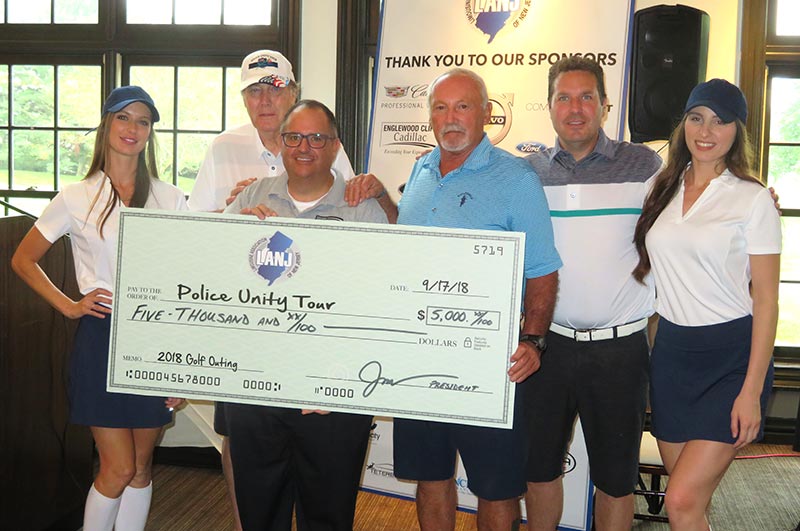 LANJ President Jason Sharenow (third from left) presents $5,000 to representatives of the Police Unity Tour, which benefited from the golf tournament for a second year Skillman, N.J. — Back for a second year, the Limousine Association of New Jersey's (LANJ's) annual golf outing—as well as more than 100 members and supporters, including CD Publisher Chris Weiss—took to Cherry Valley Country Club September 17 for a day of friendly competition and supporting some very deserving causes.

At the end of the day, the rain held off long enough for the golfers to enjoy 18 holes while raising money for Covenant House New Jersey, which is a nonprofit organizations that shelters homeless youth, as well as the Police Unity Tour, which not only memorializes fallen officers but also raises money for the National Law Enforcement Officers Memorial and Museum. While the Police Unity Tour was one of the charities benefiting from last year's golf tournament, the Covenant House was a first-time recipient.

"The Police Unity Tour is near and dear to my heart," said LANJ President Jason Sharenow of Broadway Elite Worldwide, who has volunteered with the Livingston Police Department for more than two decades. "The board vetted out a couple of suggestions for a second charity. [LANJ Director] David Seelinger [of EmpireCLS] was a bigger supporter of selecting Covenant House, which we all ultimately agreed was a great cause."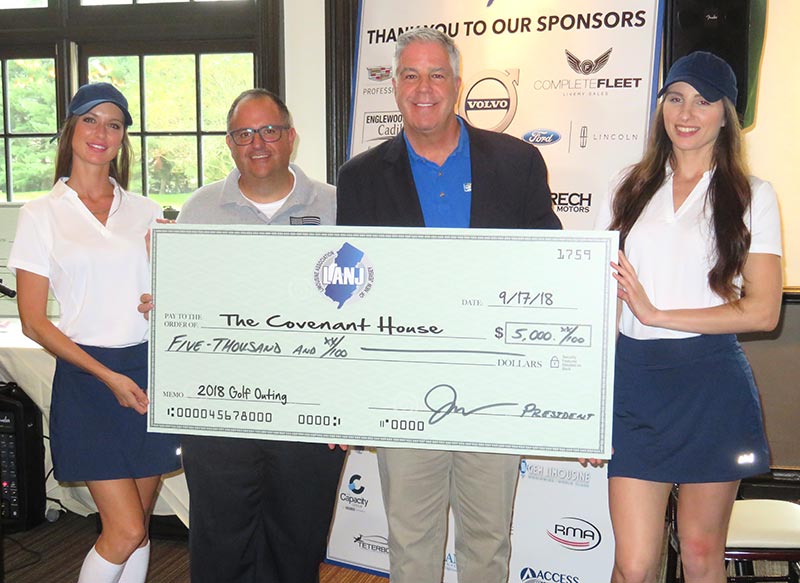 Covenant House New Jersey also received $5,000 of the day's proceeds While last year's debut golf classic was a success, the golf committee—led by Golf Chair Brian O'Neil of Grech Motors and greatly assisted by LANJ Executive Director Patty Nelson—wanted to ensure that the annual event stays fresh.

That included inviting Roger Caldwell of Great Golf Events, who's also a certified gold tournament consultant, to show each team of golfers how to make a few unconventional shots—as well as facilitate some friendly betting.

"There was just so much energy that came off the first year, it was a natural fit to continue the charge by changing it up," Sharenow said. "We wanted to bring even more excitement to the event. People really enjoyed the trick shot and different opportunities to win more prizes."

And, of course, a few on-course contests added a competitive challenge to the day. The Closest to the Pin winners were Jim McTernan at Pin #8 and Jay Erlich of Europe Limousine at Pin #11, while the Longest Drive and Putting contests were won by the police officers participating in the day's events.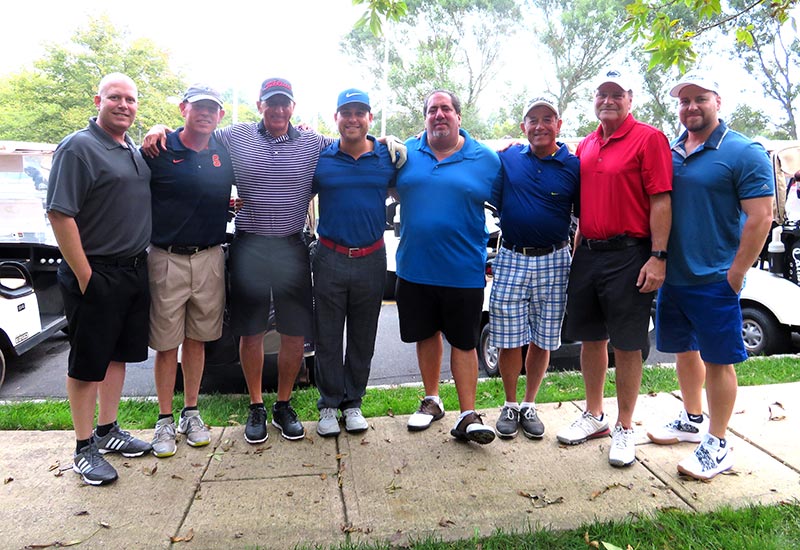 L to R: CD Publisher Chris Weiss, LANJ First Vice President Jon Epstein of Royal Coachman Worldwide, Brett Barenholtz of Boston Car Service/Above All Transportation, Jay Erlich of Europe Limousine, Adam Greene of Park Avenue Limousine, Nick Meyers, Gary Weiss, and Jonathan Erlich of Europe Limousine During the luncheon that followed, live and silent auctions saw attendees bidding on a variety of items and gift packages, while the third-, second-, and first-place teams and contest winners were honored with various awards, like an array of gift cards. Fittingly, the winning team comprised police officers who were the day's honored guests.

But the biggest winners of the day were the two charities that received a portion of the day's proceeds, with representatives from both Covenant House New Jersey and the Police Unity Tour being on hand to receive $5,000 checks.

"Benevolence is something that's in my blood, so it's always good to be able to support deserving organizations," Sharenow said. "It felt amazing to be able to support two charities that do so much."

LANJ will hold its next meeting November 5 in Atlantic City.

Visit lanj.org for more information.

[CD0918]