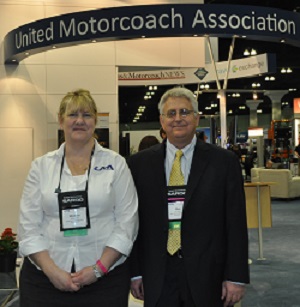 L to R: Michele Nosko and Ken Presley of UMA Los Angeles, Calif.—The United Motorcoach Association's (UMA) Motorcoach Expo at Travel Exchange took place in Los Angeles in mid-February. This was the 30th anniversary for this grandiose event. Chauffer Driven's President and Publisher Chris Weiss was on hand to experience the conference's many events as well as meet with old and new friends in the motorcoach and chauffeured ground transportation industries.
A variety of products and services were on display in the City of Angels, including full-size coaches, vans, shuttle buses, pre-owned coaches, transit buses, tires, safety products, brakes, parts and components, mobile electronics, seats and upholstery, insurance, and more. Not only did the Expo floor feature 189 suppliers, 50 of those companies were not on the floor in 2013 and 39 of those companies were exhibiting for the first time—a fabulous sign that the economy is coming back strong.
Sponsors for the event included TEMSA & CH Bus Sales, the Los Angeles Tourism Board, Bridgestone Americas Tire Operations, Sardo Bus & Coach Upholstery, and Amador Stage Lines and Certified Transportation Services.
"Exhibit space was virtually sold out and that's a testament to the fact that Expo delivers the kind of quality buyers that suppliers have come to expect from us," says Victor Parra, UMA president and CEO. "In Los Angeles, operators were able to see all of the established vendors they already do business with and at the same time, meet new vendors and see new products and services too."
Parra continued: "Many operations are finding that it's necessary to diversify their fleets and offerings to meet consumer demand; at EXPO we helped them meet those needs. Along with the full-size coaches attendees traditionally come to see, we've had a variety of other equipment on the floor this year, like transit buses, midsize coaches, shuttle buses, and vans.
Next year's UMA Motorcoach EXPO will be held in New Orleans, La., from January 18 to 22.
Visit uma.org or motorcoachexpo.com for more information.
3/14