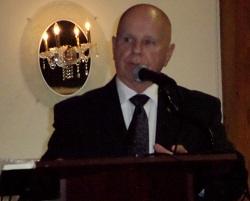 PRLA President Jim SalingerTrevose, Pa.—The Philadelphia Regional Limousine Association (PRLA) hosted its monthly meeting at Twining Hall in Trevose, Pa. The event was sponsored by M.A. Brightbill Body Works of Lebanon, Pa.
PRLA President Jim Salinger of Unique Limousine took the podium to announce that Terminal F at the Philadelphia international Airport (PHL) will be closed for some time due to construction. Passengers should be informed/directed to use Terminal E instead. Salinger then announced that PRLA attorney, Michael Henry informed him that the Pa. Supreme Court has refused to hear the Philadelphia Parking Authority's (PPA) appeal, which means that PRLA, barring a few loose ends to tie up, has won its fight against the PPA in regard to several long-standing issues that the organizations were squabbling over.
From there, the discussion evolved into an ardent, free-form debate about Uber and the other rogue apps. Many of the operators in attendance expressed great surprise at Uber's bold and aggressive business maneuvers (legal or otherwise) within the city. Mike Barreto of Flyte Tyme Worldwide Transportation, Rich Ackerman of the P.A. Post Agency, and Jim Moseley of TripTracker lead this examination with several other operators chiming in with their thoughts on, and overall experiences with, Uber and the other apps of that ilk. It was ultimately decided that a PRLA "discovery" committee would be formed, with Barreto heading up this committee. It was also mentioned that alliances with the Limousine Associations of New Jersey (LANJ) and NLA should be considered to present a more unified front against the money and political influence that Uber, in particular, possesses.
The next PRLA meeting will be held on April 16 again at Twining Hall. Visit prlainc.org for more information.
3/14