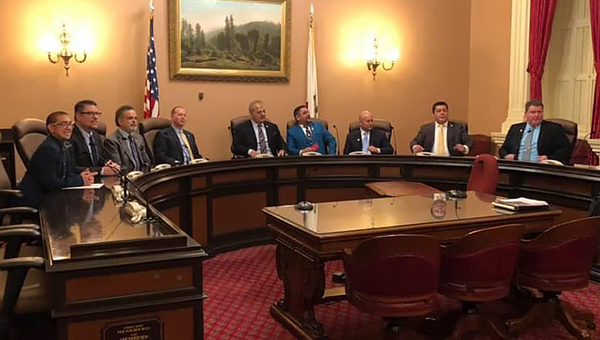 GCLA members at the Capitol in Sacramento Sacramento — The Greater California Livery Association (GCLA) held its annual Day on the Hill February 13, when 21 association members took to Sacramento to lobby on behalf of the state's luxury ground transportation industry.

The yearly event is typically spearheaded by GCLA lobbyist Gregg Cook of Government Affairs Consulting and the GCLA's own legislative committee led by David Kinney of API Global Transportation Group and Mark Stewart of CLI Worldwide Transportation. It presents an opportunity for the association to speak with state legislators and their representatives about the most-pressing issues facing California operators, as well as hear from a few assembly members, too.

A great deal of preparation goes into the event just to ensure that all Day on the Hill attendees are attuned to one another: February 7 saw an in-person training day so that members could be briefed on how get the most from their time in the capital city, while a February 12 dinner allowed participants a last-minute chance to hone their collective message—and with a three-pronged directive, it was especially important to make sure everyone was on the same page.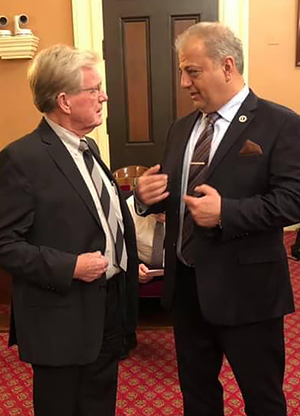 GCLA lobbyist Gregg Cook of Government Affairs Consulting (left) and GCLA Mo Garkani of The COTS Group This year's three correlating key issues were:

--Drug testing for TNC drivers: An especially important topic as legalized marijuana becomes a broader conversation, two possible bills are also looking at this issue from a regulatory standpoint, in terms of mandating both TNC drivers' and traditional livery passengers' usage;

--Wages and labor: In an effort to find a more level playing field between more traditional livery options and TNCs, the classification of workers is emerging as a critical conversation. An Assembly Bill (AB-5) aims to "creates a presumption that a worker who performs services for a hirer is an employee," effectively putting the kibosh on TNCs' tendency to eke by with less expensive labor by calling their drivers what they are by deferring to legal definitions: employees, not independent contractors;

--CPUC Enforcement: The California Public Utilities Commission (CPUC), which regulates the state's commercial transportation industries, has nearly $50M in accrued payments from the operators who've been paying quarterly fees to the PUC's Transportation Reimbursement Fund for years—and the GCLA is urging legislators to release some of those funds to hire additional officers to cut down on the illegally operating outfits that muddy the waters of the state's transportation options by skirting the licensing and oversights that allow them to provide less expensive—though obviously far riskier—rides.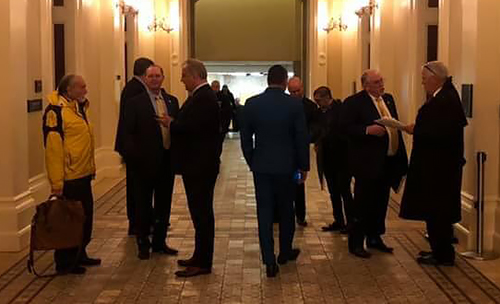 Some of the 21 GCLA members who walked the halls on behalf of their state's livery industry Then on February 13, everyone hit the ground running. The morning was filled with the likes of internal meetings where Cook briefed the group and presentations with key lawmakers before the afternoon's meetings with local legislators began. All told, GCLA representatives advocated their cause to 24 Senate and Assembly offices, and spoke to fewer staff members and more decision-makers than in years past.

The evening recap meeting reflected the generally positive reception GCLA members felt they received, with many reporting that they felt their voices and concerns were actually heard.

Check back with our March issue of Chauffeur Driven magazine for in-depth coverage of this event.

Visit gcla.org for more information.

[CD0219]