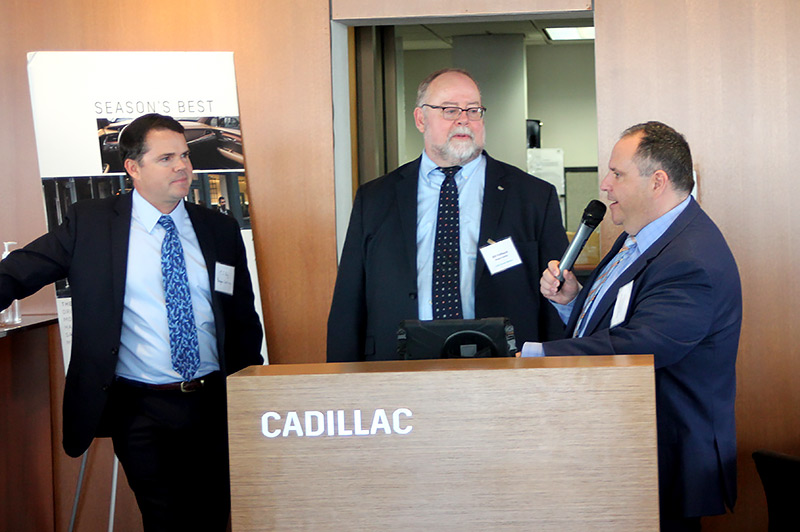 L to R: T.J. Ely and Bill Fellbaum of Broagn Cadillac and LANJ President Jason Sharenow of Broadway Elite Totowa, N.J. — With more than 100 registered attendees expected, the Limousine Association of New Jersey (LANJ) held its first meeting hosted by Brogan Cadillac on March 13, where CD's Editor Madeleine Maccar and Business Development Manager Diane Druss were also present for the packed house.

After LANJ President Jason Sharenow of Broadway Elite kicked off the afternoon meeting, Bill Fellbaum and T.J. Ely thanked everyone for making the trip to the North Jersey dealership—the impeccability of which Fellbaum is so confident in that he joked "you can all eat off the floors here"—before answering a few questions about how Cadillac and its dealerships plan on handling the end of the XTS.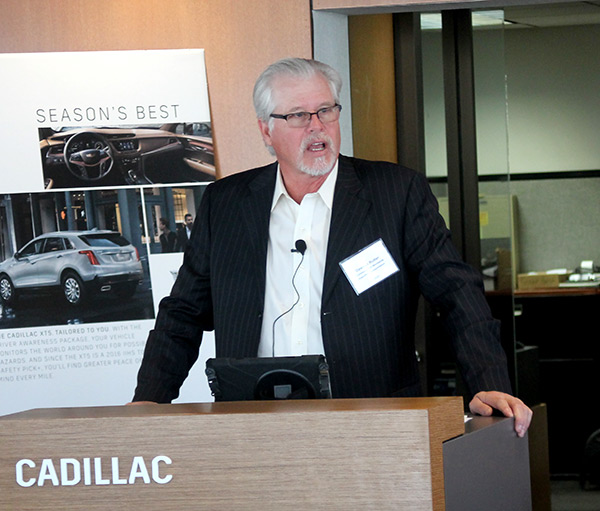 Dawson Rutter of Commonwealth Worldwide Sharenow then discussed the ongoing statewide issue of legalized marijuana and the industry's wariness regarding that potential legislature, based on safety reports from states where legalization has already been implemented. He also warned of the Congestion Tax that companies performing work between New Jersey and New York are vulnerable to.

The association also has a few initiatives and events in the works, with its annual fundraising Auction and Dinner at the Grand Wilshire in West Orange scheduled for May 22—which is always looking for item donations—and LANJ's third annual golf outing and cocktail reception happening September 15 at Cherry Valley Country Club in Skillman.

With LANJ Director Howard Gogel of My Limousine Service spearheading Be Safe Rides, an activist endeavor with a growing social media presence that aims to both educate and connect with "C-suite executives" in the hopes of directly influencing their transportation decisions. Instead of directing its message at corporate transportation departments, Be Safe Rides goes directly to those executives who rely on TNCs during business hours and trips to arm them with the knowledge that they're placing their lives in strangers' hands every time they ride with drivers whose backgrounds remain unchecked and were never put through the rigorous safety training programs that regulated chauffeured ground transportation operations swear by. LANJ invites all who wish to support Be Safe Rides and its message to like and follow the outreach initiative on Facebook.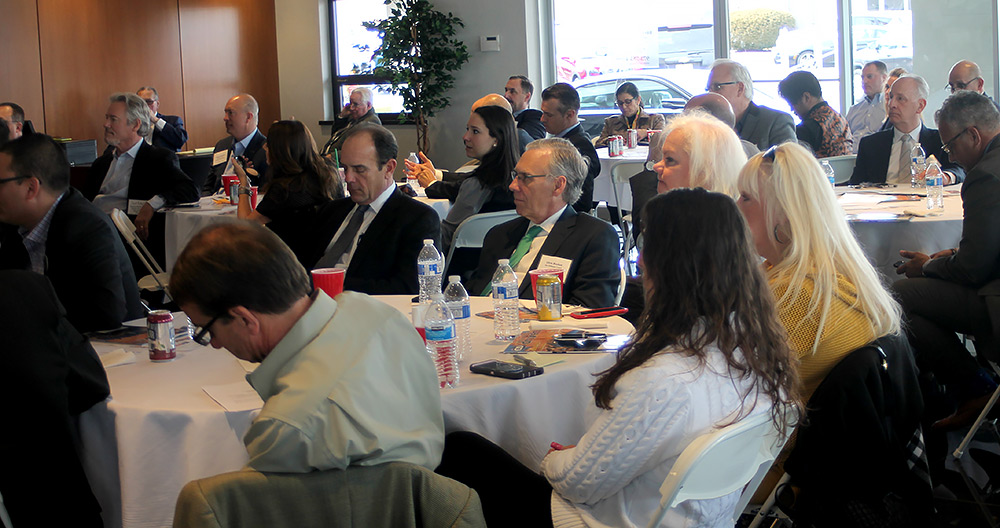 More than 100 guests attended the March 13 LANJ meeting The meeting's keynote speaker was Dawson Rutter of Commonwealth Worldwide, who Sharenow described as a "patriarch of this industry." Rutter's decades in the industry provided a wealth of personal anecdotes to illustrate his experiences both within the luxury side of the ground transportation industry and beginnings as a taxi driver, demonstrating how "the lessons you learn at 25 can still resonate at 67."

Rutter explained how he learned by trial and error, grew cautiously and with the help of smart, trustworthy employees and advisers, survived The Great Recession of 2009 with quick action and foresight, benefited from mentors' and peers' insights, as well as outlined how to craft an exit strategy and detailed why TNCs will never match the safety and consistency that this industry delivers. But most of all, he lauded the value in "not being a victim of karma" and working hard.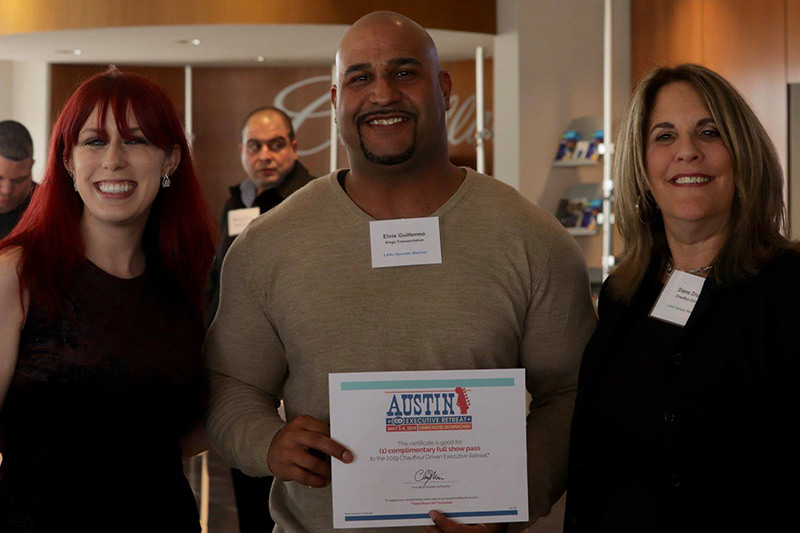 Chauffeur Driven Editor Madeleine Maccar (left) and Business Development Manager Diane Druss with winner of the pass to CD's 2019 Executive Retreat Elvis Guillermo of Kingz Transportation "The harder I work, the luckier I get—because hard work is the foundation of Commonwealth Worldwide's success and it's the only way to run a successful business that I know of," Rutter said.

After Rutter held a Q&A session, Maccar and Druss auctioned off a pass to the Chauffeur Driven 2019 Executive Retreat in Austin this May 5-8, which was won by Elvis Guillermo of Kingz Transportation.

The next LANJ event will be its annual Dinner and Auction May 22.

Visit lanj.org for more information.

[CD0319]