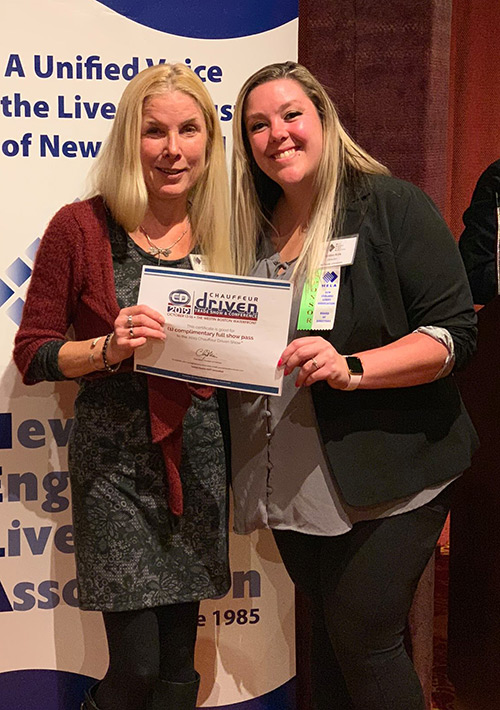 Winner of the CD Show Pass Deb Miner of ASL Limousine (left) with Britt Kirk of All Points Limousine Saugus, Mass. — The New England Livery Association (NELA) welcomed 70 attendees to its March 12 meeting at Kowloon Restaurant, which was co-sponsored by DavEl/Boston Coach and Boston Car Service/Above All Transportation.

The evening started with a cocktail hour, where new and prospective members mingled with long-timers. Everyone had a chance to peruse the prize table to decide which raffle tickets to purchase for the evening's drawing, while the networking table allowed operators and vendors alike to share business cards and brochures.

After dinner, sponsors and board members were introduced to attendees and NELA Executive Director Rick Szilagyi encouraged everyone to fill out surveys that will help the association plan its future membership meetings. He then offered a brief review of the legislation NELA guided to passage in 2016, which added more stringent backgrounds checks to TNC drivers and currently prevents 15 percent of TNC-approved drivers from being permitted, as well as created the Transportation Infrastructure Enhancement Trust Fund—a fund that's financed by TNCs remitting 20 cents for every TNC ride in Massachusetts for five years, with five cents from every 20 set aside for taxi and luxury ground transportation industries.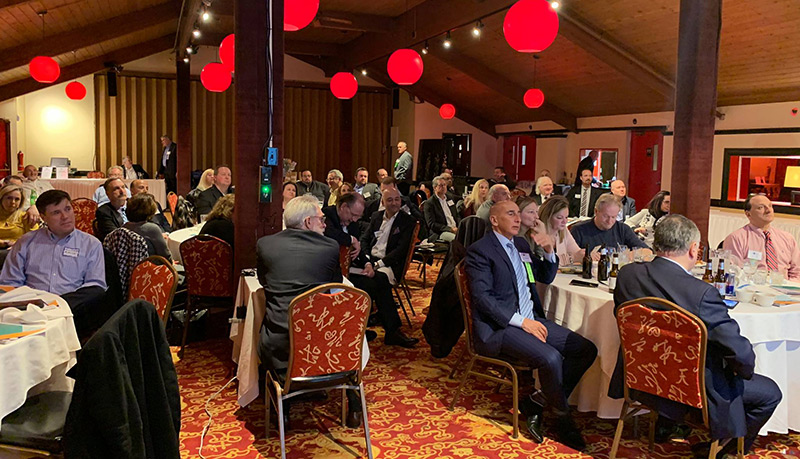 The March 12 meeting welcomed 70 members to Kowloon Restaurant Szilagyi ended his update with a warning about endorsing Boston Mayor Marty Walsh's desire to cap TNC cars in the city, referring to a similar cap in NYC that ultimately included traditional operators, too.

Scott Solombrino of DavEl/Boston Coach discussed the recent Uber settlement case involving arbitration with drivers. He pointed out that the NLA is pursuing information on TNC drivers and unpaid taxes owed to 1099 workers, pointing out that due to the sheer volume of drivers who've been denied monetary compensation, there is reason to hope the IRS will want to pursue the case. Brett Barenholtz of Boston Car Service/Above All Transportation then thanked Solombrino for his involvement in the industry and, on behalf of the NLA, reminded everyone that the national association's Day on the Hill is scheduled for June 5-6 in Washington, D.C.

After various sponsors and members took their turns at the mic, the meeting's speakers addressed meeting-goers. First up was Economic Development Planner Josh Eichen of the Metropolitan Area Planning Council, who expounded upon the Transportation Infrastructure Enhancement Fund (TIEF). The agency is currently engaging with operators to determine how the money would best benefit our industry. NELA has already been working with members to gather information, and asks all members to keep an eye for a survey to assist in this process.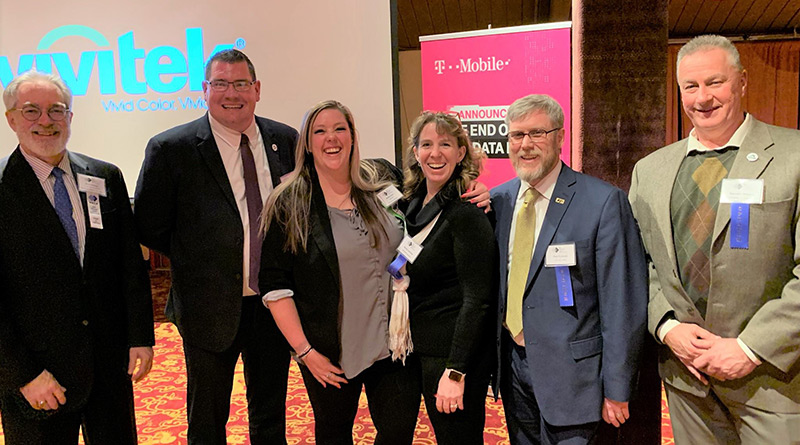 NELA members enjoy each other's company during the meeting Paul Furbush II of the U.S. Department of Labor discussed programs to support veterans, as he works as the Regional Veteran's Employment Coordinator, while MassHire was represented by U.S. Army Veteran and Veteran's Business Representative Christopher Mills and Business Services/Rapid Response Manager Ken Messina; Becky Laramee of All Points Limousine shared part of her positive experience with MassHire.

A pass to the 2019 Chauffeur Driven Show in Boston from October 13-16 was raffled off and won by Deb Miner of ASL Limousine.

The next NELA events are its June 6 Chauffeur Appreciation Day and June 11 membership meeting.

Visit nelivery.org for more information.

[CD0319]