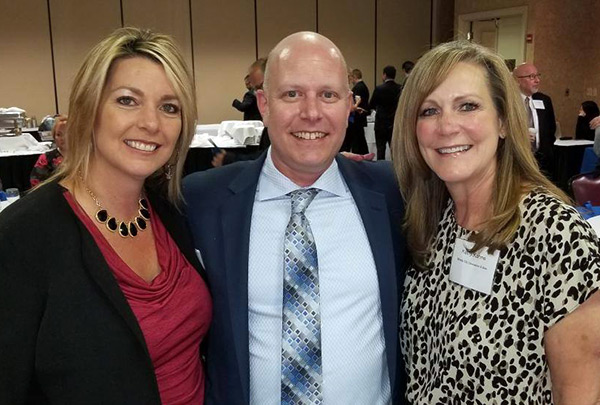 L to R: ILLBA President Tracy Raimer of Windy City Limousine & Bus, CD Publisher Chris Weiss, and Kathy Kahne of Windy City Limousine & Bus Rosemont, Ill. — The Illinois Limousine & Bus Association's (ILLBA's) annual meeting once again brought in attendees and speakers from across the country, who flocked to the Edward Hotel in droves for a day of education, networking, and vendor exhibits on May 15.

The event kicked off with a Pre Meeting Networking Cocktail Reception the evening of May 14. Attendees had an opportunity to catch up with old friends and make new ones while gearing up for the next day's big event.

On the meeting day, vendors were already open and ready to show off their vehicles, services, and products an hour before ILLBA President Tracy Raimer of Windy City Limousine & Bus welcomed her statewide, regional, and national industry peers to the first ILLBA annual meeting under its new association name.

And the day's agenda included education and updates covering everything from a look at the industry itself, regional compliance, and marketing advice.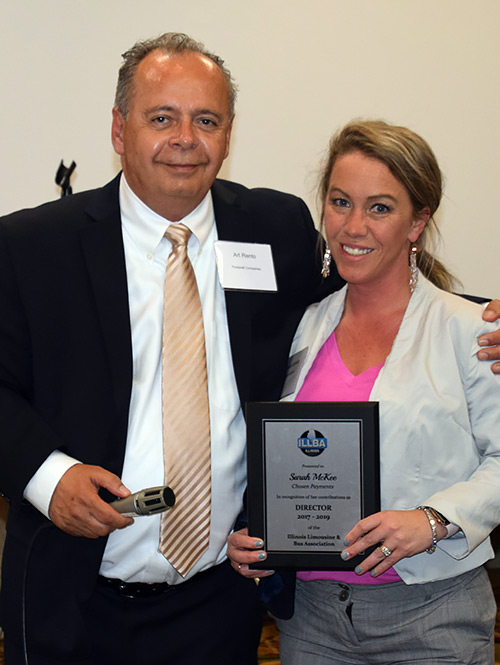 Art Rento of Pontarelli Companies (left) and Sarah McKee of Chosen Payments, who was recognized for her contributions to ILLBA as a board member Once Raimer introduced the 2019-2020 ILLBA board of directors and spoke about the association's past year and immediate future, the next hour was dedicated to DOT and compliance. John Murphy—a Motor Carrier Safety Assistance Program (MCSAP) Compliance Officer with the Illinois Department of Transportation—was joined by Illinois State Police troopers Mark Pietrzyk and Brian Szfranski of Commercial Vehicle Enforcement and the Trooper Passenger Carrier Inspection Team, respectively.

The industry was represented by Florida Limousine Association President and NLA board member Rick Versace of A1A Airplort & Limousine Service and Chauffeur Driven Publisher Chris Weiss, whose hour-long panel explored matters immediately impacting the industry, while also talking about the partnership between NLA and CD that was formalized earlier this year. CD was also a bronze sponsor of the yearly meeting, while Weiss is on the ILLBA board of directors.

Attendees then zeroed in on their companies from a service-selling selling standpoint when Maren Graham of Hudson Software discussed digital marketing's importance and how operators can maximize its payoffs as part of their marketing efforts. Then Adam Gypalo of the Work Your Way Coalition spoke: The group advocates for flexible working options for Chicago-area employees, as it aims to "educate legislators about the negative impact restrictive scheduling proposals will have on employees, employers and the city." Formed as a response to the city's attempts to enforce strict schedules on employees throughout the metropolitan area, the group is trying to fight ordinances that interfere with the inherently last-minute nature of ground transportation.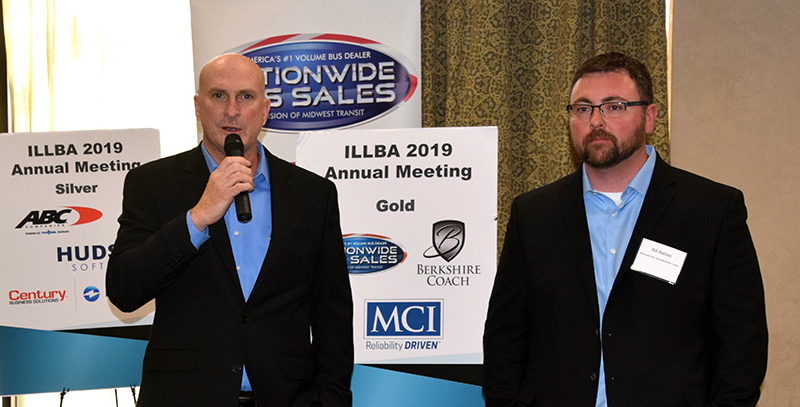 Chris Norlin (left) and Bill Battisti of Nationwide Bus Sales, a gold sponsor of the event Before raffling off the day's prizes and drawings, Deputy Commissioner Rupal Bapat from the City of Chicago Business Affairs and Consumer Protection provided further insight and updates into local concerns.
Among the day's lucky winners was Kathy Kahne of of Windy City Limousine & Bus, who won a pass to the 2019 CD Show in Boston this October 13-16.

Check out the June issue of Chauffeur Driven magazine for expanded coverage of and a ton of photos from this annual event.

Visit illinoislimousineassociation.com for more information.

[CD0519]