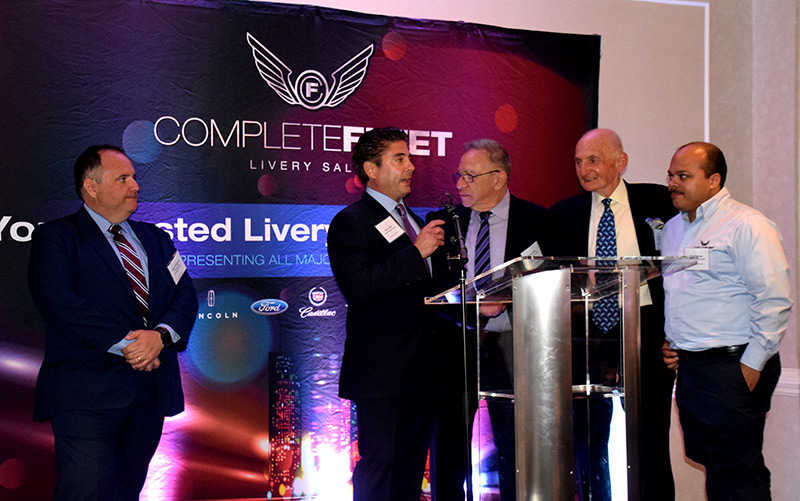 L to R: LANJ President Jason Sharenow with Complete Fleet's Barry Trabb, Bruce Cirlin, Les Meyer, and Dino Olivares West Orange, N.J. — A record-setting fundraising total and major legislative news were two of the highlights of the 17th annual dinner auction held by the Limousine Association of New Jersey (LANJ) on May 22. More than 100 members and guests were in attendance for the event at the Wilshire Grand Hotel, including NLA President Gary Buffo of Pure Luxury as well as CD Publisher Chris Weiss and Editor Rob Smentek.

Thanks to the hard work of the Complete Fleet Livery Sales team, who begin planning the event at the start of each new year, and the generosity of the event's premier sponsors—Complete Fleet, Ford Lincoln Limousine and Livery Vehicles, and Maplecrest Ford Lincoln—the evening was a massive success with more than $35,000 raised through the auction and 50/50 raffle. Operators from all over the country joined their colleagues from the Northeast region to dig deep and raise money for one of the preeminent state industry associations.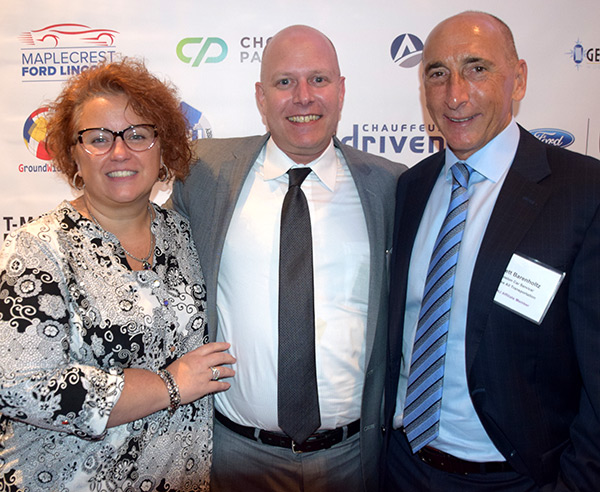 L to R: Tracy Salinger of Unique Limousine, CD Publisher Chris Weiss, and Brett Barenholtz of Boston Car/Above All Transportation The evening kicked off with an opening cocktail reception sponsored by Grech Motors and Gem Limousine Worldwide, which gave operators, vendors, and guests ample opportunity to network and view the items available for auction. Next, LANJ President Jason Sharenow of Broadway Elite Worldwide welcomed everyone in attendance before introducing the Complete Fleet team—Barry Trabb, Bruce Cirlin, Dino Olivares, and recent addition Les Mayer—to say a few words. They were followed by a representative from returning sponsor T-Mobile who emphasized the carrier's continued commitment to the association.

Following a buffet dinner, the auction got underway with returning auctioneer Pete Corelli of Lakeview Custom Premier Products office chairs, wine baskets, sports tickets, and the always-popular lottery ticket board being the hottest items. Corelli was joined by assistants Jill and Nick Trabb who displayed and distributed the items, while Brian O'Neill of Grech Motors enthusiastically encouraged higher bids from attendees.

CD was proud to contribute several prizes to the auction. A full-page ad was won by Buffo, a pair of passes to October's Chauffeur Driven Show in Boston was won by Brett Barenholtz of Boston Car/Above All Transportation, a pass to our 2020 Nashville Executive Retreat was won by Tracy Salinger of Unique Limousine, and a full-show pass to the debut Chauffeur Driven/NLA show in Las Vegas was won by Jeff Cartagena of Leros/Royal Coachman.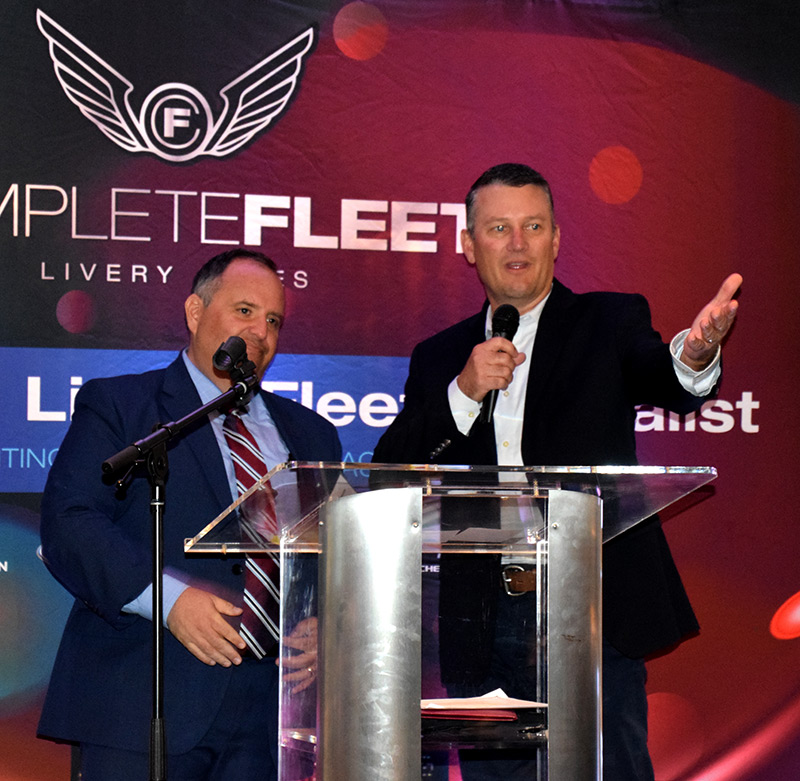 LANJ President Jason Sharenow (left) with NLA President Gary Buffo At auction's close, Sharenow announced that an all-time high of more than $33,000 dollars was raised, which prompted an ovation from the attendees. The president then followed with his LANJ Report, which offered breaking news in the organization's battle for parity with the TNCs. On May 23, a bill unanimously passed the NJ assembly to improve identification of rideshare drivers. Dubbed "Sami's Law" (named after NJ native Samantha Josephson who was murdered by a fake Uber driver in South Carolina), the legislation requires TNC drivers to have a unique QR code and company placard affixed to each vehicle. Sharenow emphasized the groundbreaking nature of this regulation, as no other state has made a move this extreme to improve rider safety. He also discussed a recent meeting with N.J. Labor Commissioner Robert Asaro-Angelo where the I/O model was discussed with a probable outcome that would make luxury ground transportation operators "very happy." Sharenow then welcomed Buffo to the podium to discuss the recent NLA/CD partnership and immediate plans for the organizations.

For more coverage and photos of the 17th LANJ dinner auction, be sure to check out the June issue of Chauffeur Driven.

Visit lanj.org for more information.

[CD0519]