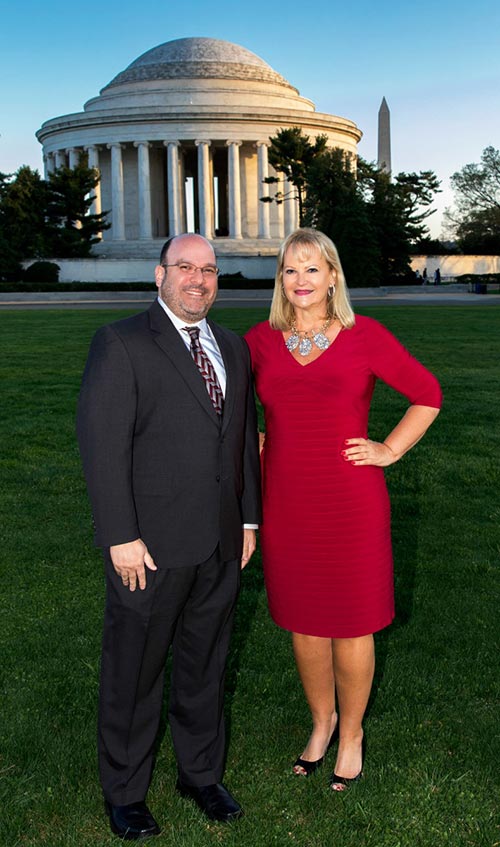 RLS Fleet Services Co-owners Tony Simon and Kristina Bouweiri Capitol Heights, Md. — Capitol Coachworks and RLS Fleet Services have completed an agreement to divest Capitol Coachworks' service division, which operates a 13,000-square-foot facility dedicated to commercial vehicle maintenance and repair, warranty work, body work, inspections, parts for purchase, and fleet maintenance consulting.
Capitol Coachworks Founder and President David Webb will continue to operate the vehicle sales and leasing business units independently. RLS Fleet Services, co-owned by transportation industry veterans Kristina Bouweiri and Tony Simon, has assumed ownership and management of the service unit, including its assets.
"Having had a close professional relationship with Reston Limousine for over 25 years, I knew that a partnership with Kristina and Tony would allow Capitol Coachworks to realize its highest potential," Webb said.
"We look forward to continuing the same level of exceptional customer service that Capitol Coachworks has been known for since David started the business in 2003," said Bouweiri, CEO of Reston Limousine.
"We're excited to offer DC-area transportation operators the opportunity to now utilize a woman-owned business in Prince George's County for their commercial vehicle maintenance and service needs," she added.
RLS Fleet Services has implemented changes including hiring a second shift of mechanics to expand operational hours into evening and weekends, filling a niche that better serves owner operators and smaller fleets in the DC metro market.
Bouweiri and Simon also plan to expand maintenance to full fleet management services including bus wash and detailing, and pickup and drop-off services. "With all the changes we have implemented, we fully expect the service division will double its revenue in 12 months," Bouweiri said.
Capitol Coachworks will be adding Reston Limousine to its list of fleet maintenance clients and will be servicing the operator's DC and Maryland fleets at its facility in Capitol Heights.
"This acquisition frees up our Sterling facility to take on more maintenance work from other companies and become a profit center for the company," said Reston Limousine COO Simon. "We also expect to immediately realize cost savings as our Maryland and DC fleets will no longer have to travel to Virginia for maintenance and inspection services – reducing our expenses on fuel, labor, vehicle wear and tear, and tolls."
Tom Herrick continues as service manager, leading the operations for the company. He has been in that position since 2016, and brings 15 years of experience in the industry to the job.
Johnny Sower, another longtime transportation professional, was hired as the sales and quality assurance manager in April. Sower got his start in the industry 18 years ago and served in management positions starting in 2005.
"Tom and Johnny have experience working in both the front and back offices of leading fleet companies, giving them invaluable perspective for Capitol Coachworks' clients," Simon said.
Visit capitolcoachworks.com or restonlimo.com for more information.
[CD0619]