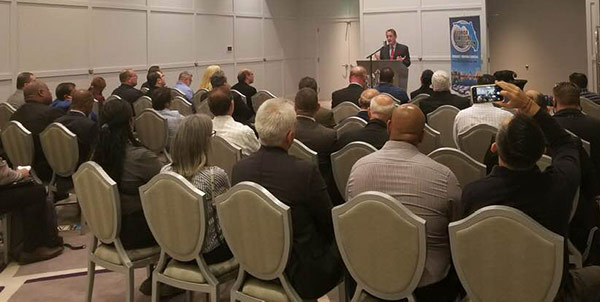 FLA President Rick Versace of A1A Airport & Limousine Service addresses the attendees of the June 18 meeting Miami — It was a packed house at the Florida Limousine Association's (FLA's) June 18 member meeting, which saw an afternoon of both local and industry-wide education.
FLA President Rick Versace of A1A Airport & Limousine Service is also an NLA board member, and spoke of not only the new partnership between the national association and Chauffeur Driven but also how "membership has its privileges." Versace detailed how the "best operators belong to a local association to keep up to date with what is going on in their local markets, as well as the National Limousine Association to keep abreast of national and international industry issues and events."
He elaborated on how belonging to an association that places a premium on safety and upholding high standards "is like the Good Housekeeping seal of approval," signaling to passengers and peers alike that your priorities are aligned—and the perks available to members, particularly association-exclusive affiliate and farm-out work, educational opportunities, and discounts on services and goods ranging from vehicle repairs to flowers.
More locally, members of the FLA are privy to FLA-Job Trade, a free tool available through WhatsApp that helps with the likes of recovering from service failures and booking additional work. FLA members and their staff are encouraged to sign up so that a message sent to the group reaches the widest audience possible to help operators work together.
With Super Bowl 2020 coming to Miami Gardens, it's never too late for operators to begin preparing for professional sports' biggest event and coordinating their efforts. Applications will become available as the event gets closer; temporary license dates are yet to be determined. Applications will be open to both unlicensed and licensed Miami-Dade County limousine/PMC license holders. Licensed companies will pay $100 per vehicle and unlicensed companies will pay $100 application fee and $100 per vehicle being licensed.
Companies that are unlicensed within Miami-Dade County will need to provide proof of licensing from their regulatory division. All companies will need to provide a COI showing vehicles being licensed and a copy of chauffeurs' licenses if they do not have a Miami-Dade County chauffeur registration.
The next FLA meeting will be July 30.
Visit floridalimousine.com for more information.
[CD0719]