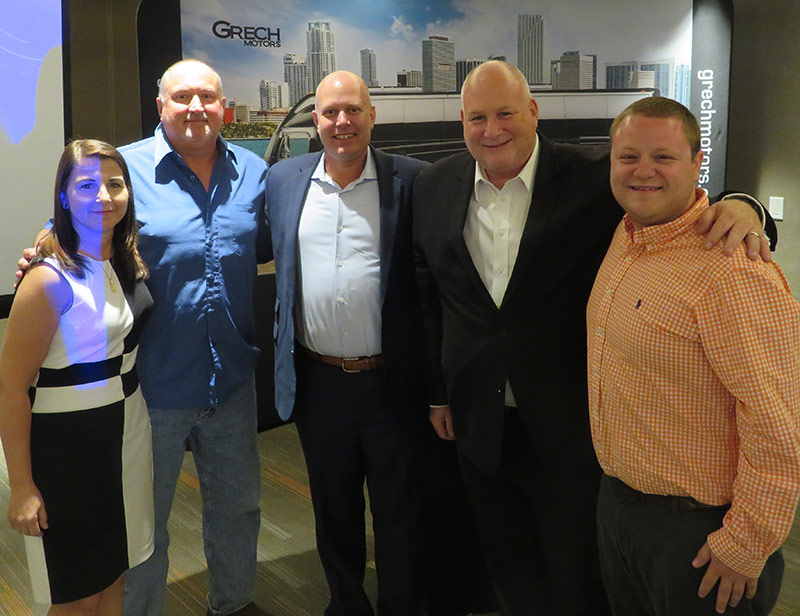 L to R: Mary Thompson and Jeff Conly of Vitesse Worldwide, CD Publisher Chris Weiss, and Barry Gross and Aaron Trich of Driver Provider Scottsdale, Ariz. — The Arizona Limousine Association (ALA) recently convened at the Talking Stick Resort & Casino for an innovative Summer Educational Summit on June 20-21. Approximately 45 members and guests attended the two-day meeting and educational retreat, including operators spanning the Copper State as well as speakers from across the country, including CD Publisher Chris Weiss. CD also served as A/V sponsor for the event.
"At our meeting in November, one of our Board members brought up the idea of doing a two-day combination seminar and seminar," says ALA President Jeff Conly of Vitesse Worldwide. "Our business around here tends to drop in mid-June, so we had a perfect window to work in the event into our schedule."
Day one of the summit began with a look at the state of the industry, followed by lunch courtesy of sponsor Amerifuel. Next came a presentation from Wells Fargo, which outlined the pros and cons of buying and leasing in the luxury ground transportation industry. ALA Board Member Jim Luff of Chosen Payments then offered attendees an overview of the costs and fees associated with credit card payments before a representative of Lancer Insurance spoke about the distracted driving and driver responsibility.
The day came to a close with a long-in-the-works visit from Matthew Contorelli, the director of government & legislative affairs in the Arizona governor's office.
"We've been trying to get someone from the government's office to talk to us for a long time, and they've managed to put us off for a few years," says Conly. "It was huge that Mr. Contorelli came out, and he actually set us up with a meeting with the governor's transportation coordinator in a few weeks."
Controrelli's appearance afforded the ALA members the opportunity to share their concerns regarding TNCs, specifically the IO model and the lack of an even playing field.
"We provided him with a number of stats showing how the TNCs have affected major companies that employ a lot of people in the state," says Conly. "We also making a bigger push for fingerprinting and stronger background checks that don't just rely on a driver's name. We also want TNCs in Arizona to have commercial vehicles so police know they're transporting people."
The second day of the ALA Summer Summit began with a visit from NLA President Garry Buffo of Pure Luxury, who spoke about the Association's history, the new partnership with CD, and their future plans. Next, Weiss provided an update on CD happenings with an emphasis on the coming Shows in Boston and Las Vegas. He then raffled a pass to October's CD Show in Boston, which was won by Marcin Pecak from Melmar Limo.
Industry consultant and CD columnist Ken Lucci kicked off Friday's educational program with a session entitled Growing Your Business.
"Ken was a referral from a few of our members who below to the Spinning Wheels peer group. His seminar was outstanding and well received by the attendees. We're hoping to have him come back out to do a two-day sales training for chauffeurs," raves Conly.
After a luncheon provided by sponsor Grech Motors and a short presentation by Grech's Larry Olivarez, the ALA welcomed The LMC Group's Kristen Carroll, who concluded the summit with The Profit Imperative, an engaging session that inspired the attendees to re-think their approach to their all-important bottom line.
"Jeff Conly and the ALA board did a wonderful job putting together meaningful and relevant content," says Carroll. "I was honored to have the opportunity to speak with this great group of operators, and I think we'll be seeing more and more great things from the ALA in the months and years to come."
Conly was pleased with the attendance and the response he received from ALA members about the Summit. The association plans to make it an annual event.
"This was a well-received event. The feedback I've gotten from the members has all been positive. We'll do it again next year for sure. Hopefully, we'll be able to attract operators from out of state, and maybe make it more of a weekend getaway."
In the meantime, the ALA's next event is their annual casino night fundraising in November. The date has yet TBD.
Visit azlimousineassociation.com for more information.
[CD0719]