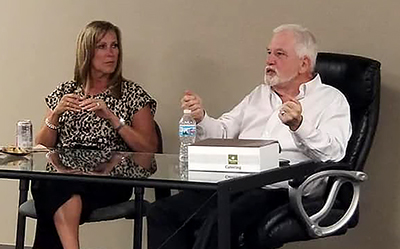 Windy City Limousine & Bus CEO George Jacobs and President Kathy Kahne talk to the recent attendees of their company's Learn & Share Workshop Broadview, Ill. — When the Windy City Limousine & Bus team welcomed roughly a dozen industry peers to their office last month, it was the conclusion of an initiative the company introduced at last year's CD Show.
Windy City has distributed scratch-off tickets in the 2018 show's swag bags that offered an array of prizes, and some lucky winners were invited to spend two days as honored guests immersed in a hands-on educational Learn & Share Workshop—the focus of which was determined by the attendees themselves, who submitted lists of topics they most wanted to learn about from the Windy City team.
"We left the agenda and list of topics up to the attendees and structured the information to everything they were wanting to hear more about," says Executive Vice President Tracy Raimer. "Our affiliate, dispatch, sales, chauffeur, and fleet departments all spoke to the group and encouraged interaction." She adds that George Jacobs and Kathy Kahne shared the Windy City story with everyone, while representatives from Berkshire Coach/Midwest Equipmentand MCI were also on hand to impart advice from their perspectives.
With random chance determining the roster of attendees, companies of all sizes and from a variety of markets were welcomed to the Chicago-area company—and left with a workshop's worth of brand-new ideas to bring back home.
"I want to sincerely thank you for having us," Kenway Hua of Soteria Transportation Group (which includes A Ambassador Limousine & Transportation, CityCar Services Worldwide, and Avanti Global Chauffeured Services) wrote to Raimer almost immediately after the event. "It means so much to me and to our team, who we have shared some of our experiences with since we have been back. Again, cannot thank you enough!"
"I want to thank you for hosting us at Windy City," adds Raj Dhillon of City Trans. "I cannot explain in words my gratitude for all of you guys. You have amazing team working with you. Everyone made us feel very welcomed and no doubt I learned a lot from all of your team. It was refreshing to see how your organization want to help other companies in the industry."
Raimer also credits the teamwork between operators and vendors for adding something extra to the experience, both through suppliers' own educational sessions and a vendor-sponsored dinner.
"We were fortunate to have the MCI team and Midwest Equipment team spend time educating operators on the importance of weighing the pros and cons when deciding to get into larger equipment," she says.
And she admits to benefiting from the experience, too.
"For all the years that I have known George, he has always said and lives by, 'For every operator who improves their business and becomes successful, our entire industry benefits.' The Windy City Learn & Share Workshop was exactly that," she says. "We learned so much from the operators who joined us. And anything that they could learn and pick up from us while they spent time with so many of our managers is just an improvement and benefit to our entire industry. George and Kathy truly welcomed all of these operators with open arms and encouraged them to acquire as many takeaways as they could."
Visit windycitylimos.com for more information.
[CD0819]