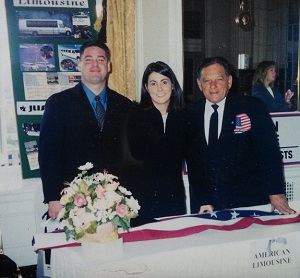 (L to R): Joe DiDomenico, Lisa DiDomenico, and Robert DiDomenico of American Limousine Syracuse N.Y. —American Limousine of Central New York is celebrating their 25 year anniversary this May.
The business started out of the family home in 1989 with one Town Car and one limousine. Robert and Shirley DiDomenico started their chauffeured ground transportation business in a rather auspicious manner, as Robert purchased his original limousine with thoughts of hauling supplies around for the business he was working in then: removing and installing carpets. Family friends suggested to use the limousine at night as a way to make some extra money.
Since that fortuitous recommendation, the business has grown steadily throughout the years. And now with their son, Joseph, at the helm, American Limousine has become the go-to company for corporate and social events in central/upstate New York. They've grown out of the family home, into their own dedicated facility and their diverse fleet has grown to over 30 vehicles, including state-of-the-art Krystal Coaches, a 16-passenger Lincoln, pearl white limousine and, the crown jewel of their fleet, a 10-passenger, 300MMR Rolls Royce limousine.
"American Limosuine has become the number one choice for service in central New York…and after 25 years in the industry, we are thankful and honored to celebrate our silver anniversary," says Joseph DiDomenico, president and CEO. "We will continue to take care of any customer because, when it comes down to it, customers are our number one priority."
American Limousine is a 24/7 operation, able to deal with early morning travelers and/or late-night airport arrivals. Their team consists of 30 certified, professional, and seasoned chauffeurs, four detailers, and two certified automotive technicians.
Visit americanlimousine.net  for more information.
5/14