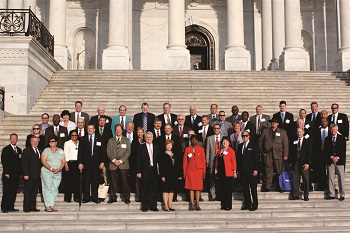 UMA members on the Capitol stepsAlexandria, Va.—The United Motorcoach Association (UMA) will hold its annual Capitol Hill Days on June 24 and 25 in Washington, DC. Owners and senior management from bus and motorcoach companies from around the nation will gather to meet with member of Congress to discuss the industry's most pressing legislative issues.
 The event begins on Tuesday, June 24 at 2pm with a legislative briefing for attendees, and guidelines on conducting meetings with Congressional members and staff. The evening of the 24th will feature a group dinner with entertainment provided by the renowned political satire theater group, The Capitol Steps.
 On Wednesday, June 25, attendees will hold prescheduled appointments with members of the House of Representatives from their districts and Senators from their states; often joining other UMA members for joint appointments.
UMA's key message points for Congress this year will be focused on policies likely to be addressed in re-authorization of the upcoming surface transportation bill.  Issues of importance to UMA members include: preservation of charter bus protections, return to zero federal fuel tax for over-the-road buses, increased opportunities for contracting with local transit agencies and a host of regulatory reforms that include due process for Imminent Hazard and Out-of-Service orders, and prohibition on third-party inspection requirements, local entity requirements for registrations of charter bus operators and en route inspections.
 "UMA has distinguished itself as a leader on Capitol Hill in the bus industry," says Brian Annett of Annett Bus Lines and UMA's chairman of the board. "Our government affairs team sees to it that lawmakers know how issues will impact small to medium sized bus operations.  However, as much work as they do on our behalf, it is our responsibility to show up and be heard on an individual basis with our individual elected officials."
 The motorcoach tour and travel industry contributes nearly $112.7 billion in total economic activity, and has one of the strongest safety records among all modes of transportation.
 Visit uma.org for more information.
5/14