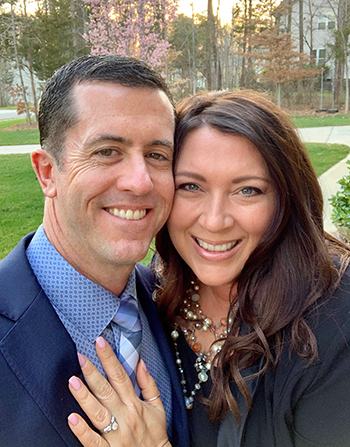 Peak Limousine President & CEO Shawn Glasgow and Vice President Faith Glasgow Charlotte, N.C. —The Peak Limousine family is pleased to announce its recent acquisition of Limo-Zen, which will help the Charlotte-based company expand its operational reach into a previously untapped North Carolina market in a resort mountain destination.
"The purchase of Limo-Zen will allow us to increase our Asheville footprint and expand into the Greenville, S.C., market," said Peak Limousine President & CEO Shawn Glasgow.
The deal was closed September 9 after what Peak Limousine Vice President Faith described as a "quick and painless process" that benefited from all parties being on good terms.
"Since getting into the Asheville market in 2017, we've been looking at what else was out there, and Limo-Zen was a company that we had not only become friendly with, but also knew that they have some great accounts," she explained. "They are good people who started their business in 2015, though it's more of a hobby for them rather than the livelihood it is for us. Their books were clean and, while we still did our due diligence, there was enough of a trust factor that it made for an easy transition."
The Glasgows describe their new venture into the Asheville, Greenville. Tryon market as a true destination in the foothills of the Blue Ridge Mountains that, despite its clear demand for a high-touch one-stop shop, is largely under-represented by larger operators. It is also a significant part of a long-term plan that will help Peak plant its flag in a North Carolina market that the Glasgows have been eager to break into.
"There are not many luxury providers in the area, and we know there's a need for it: This is a destination with high-quality hotels, so you've got the demand for a luxury service," Faith said. "It was a good time for us because expanding into Asheville and Greenville was part of our five-year plan; now that we've been in Asheville for two years, we've established enough of a base there that we felt it was time for the next progression of our plan, which was to reinforce our presence in the Asheville market while acquiring a business in the Greenville market too."
The region also offers niche appeal with its sought-after training and completive grounds for the likes of athletes ranging from internationally ranked cyclists to competitive equestrians.
"Because it's a mountainous region, serious bicyclists like George Hincapie come out here to get their legs and lungs ready," explained Shawn. "One of our new accounts is a hotel that caters to them while they're up here training in the mountains. Another aspect is that there's a half-a-billion-dollar facility here for horses and equestrian training, which was designed to host major events—which tend to attract high end, luxury travelers. So that's something that we're getting into while earning everyone's trust."
With the new company, Peak will welcome almost a dozen new employees between chauffeurs and office staff, as well as two websites and an impressive client database. The Glasgows already feel that the veteran LimoZen staff has proven to be a valuable addition, having offered considerable guidance throughout the early transition period that has included numerous face-to-face meetings with new accounts' key players.
And they are grateful for the two office employees they've acquired with LimoZen, who have helped facilitate an even smoother transition.
"We're so thankful these two employees have come on board because they are so knowledgeable about the accounts," Faith said. "A lot of the clients have gotten comfy and familiar with the staff, and since they come from luxury mountain neighborhoods, they expect the soft-touch service that they're used to."
Visit peaklimo.com for more information.
[CD0919]