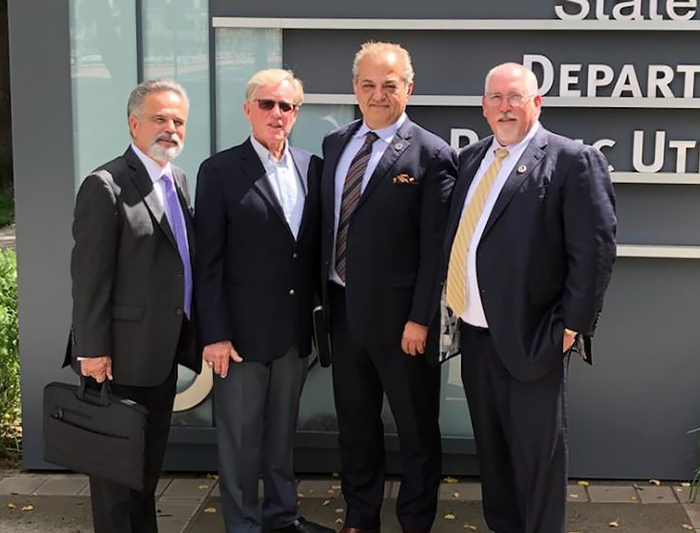 L to R: GCLA Director and Chairman of the Legislative Committee Mark Stewart of CLI Worldwide, lobbyist Gregg Cook, President Mo Garkani of The COTS Group, and Past President David Kinney of API Global Transportation Los Angeles —With some major topics on the agenda for the evening, the Greater California Livery Association (GCLA) welcomed roughly 120 attendees to its September 17 meeting, including CD Publisher Chris Weiss, who was one of the evening's speakers.
With the recent noteworthy passage of Assembly Bill 5 generating quite the buzz among luxury ground transportation operators from coast to coast, it's no surprise that the bill was on everyone's mind the evening of its passage right in the association's backyard—though GCLA Director and Chairman of the Legislative Committee Mark Stewart of CLI Worldwide says that "I don't think anyone thought the governor would sign it so quickly."
AB5, which aims to make sweeping reforms to the misclassification of so-called "gig economy" workers as independent contractors instead of being considered the employees they should have rightfully been considered in the first place, will piggyback on the "ABC Test" that determines what protections are owed to a worker based on three metrics. Employers must prove that a worker is free from their control, performing work beyond the parameters of regular business, and independently entrenched in the trade in question to ensure their IC status; otherwise, they are a bona-fide employee.
While the GCLA is understandably pleased to see its labors finally met with the start of a truly level playing field, Stewart knows this is not the time to rest on one's laurels.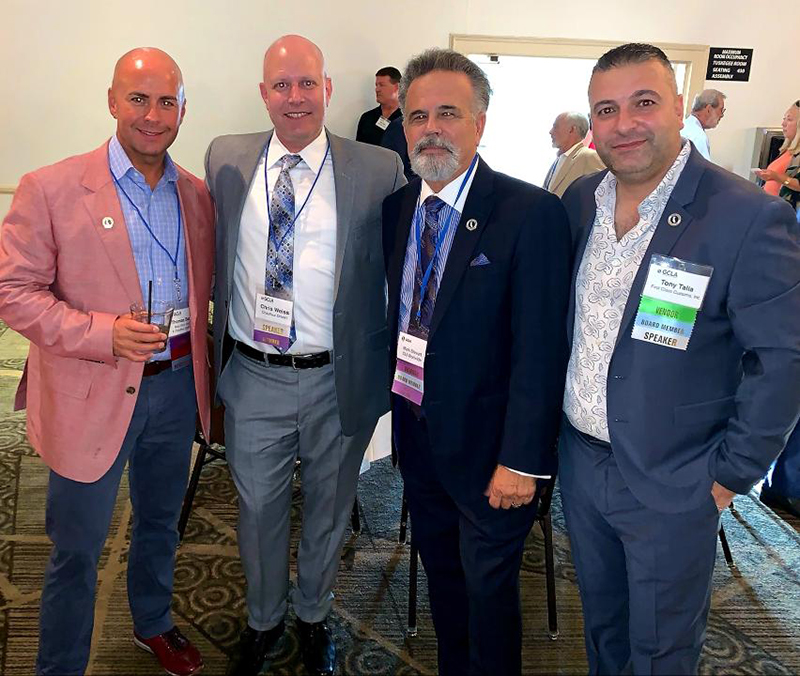 L to R: GCLA Director Thomas Buck of Beau Wine Tours, CD Publisher Chris Weiss, Mark Stewart, and Tony Talia of First Class Customs "The bill becomes effective January 1, so we feel like this is just the beginning," he said. "Uber especially, their legal officers have been pretty arrogantly and openly defiant in stating how they're not going to obey. So that's going to be the big issue. We figure that all the rideshare companies, including the food delivery services, are not going to obey the law—but they are aware of that amendment. There's a key amendment that came in at the 11th hour in that bill prior to it being approved, and that was the enforcement issue."
While the GCLA still has questions about what that enforcement is going to look like, it has been in talks with the California Public Utilities Commission (PUC) and will continue to be so, as members are heartened by the direction things are going.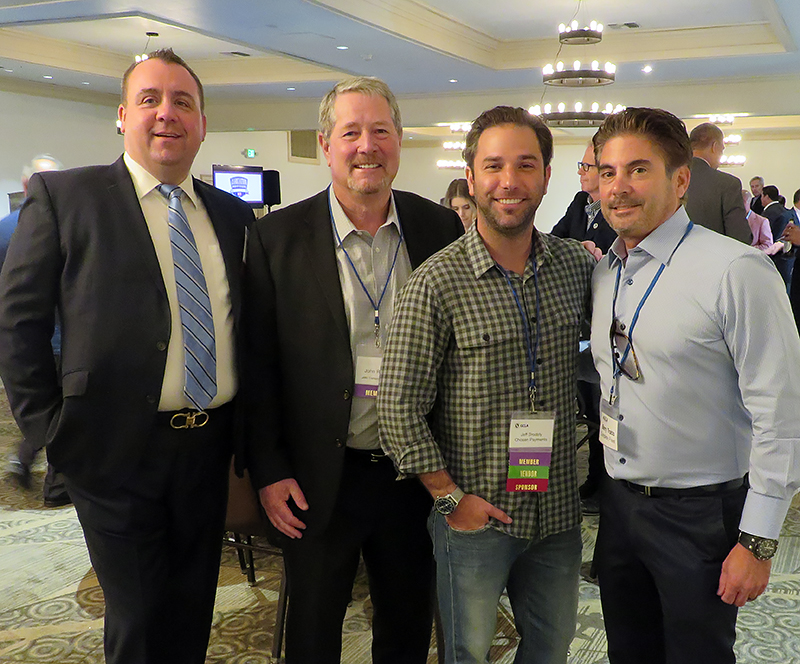 L to R: AJ Thurber of Grech Motors, John Raftery of Executive Limousine & Coach, Jeff Brodsly of Chosen Payments, and Barry Trabb of Complete Fleet Livery Sales In fact, the day Governor Gavin Newsom signed AB5 into law, Stewart was joined by other members of the GCLA legislative team—President Mo Garkani of The COTS Group, Past President David Kinney of API Global Transportation, and lobbyist Gregg Cook—in their first-ever meeting with PUC Executive Director Alice Steadman while "everyone from the PUC transportation team was on the phone" in a one-hour meeting that Stewart summarizes as being "very well-received, we were really impressed with the takeaway."
The meeting also included discussion of another considerable win, an amendment to AB1810 that finally made it illegal to smoke or vape cannabis in a commercial vehicle—which had previously been legal after Prop 64 passed, which legalized the drug in California.
"As far as I know, the governor hasn't signed that bill so he still has 30 days to do that," Stewart said. "But having that amendment placed onto 1810 is a big deal."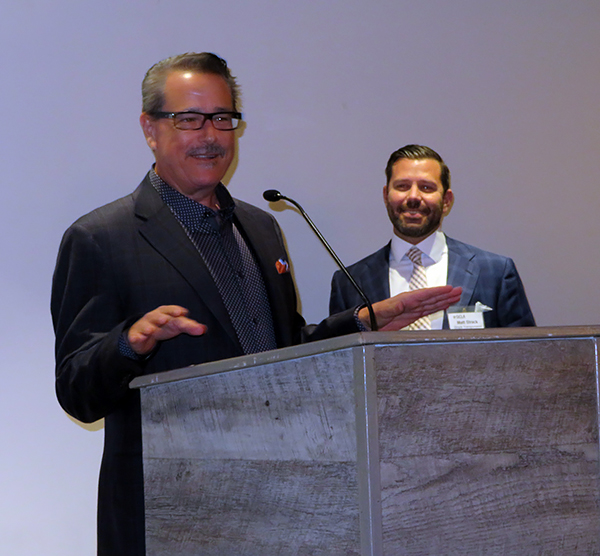 Speakers Bill Wheeler of Black Tie Transportation (left) and Matthew Strack of Strack Transportation In addition to a legislative landscape that finally reflects the association's dedicated lobbying efforts, the meeting itself hosted speakers who tackled an array of topics. Weiss spoke of industry trends that are establishing themselves as mainstays, which included the larger motorcoaches and buses that speaker Joe Guinn of Limo & Bus Compliance addressed in his own presentation about how staying with regulatory compliance will be changing for big-group-movers in the coming year.
Bill Wheeler of Black Tie Transportation and Matthew Strack of Strack Transportation offered "a semi-panel" about their journeys from being small operators to growing their companies to the larger presences they are now, which Stewart said "hit every topic non-stop" in just 15 minutes.
Visit gcla.org for more information.
[CD0919]