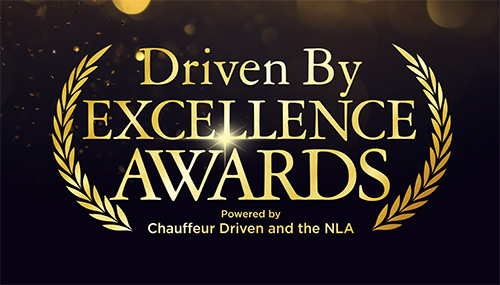 Marlton, N.J. — Since Chauffeur Driven's inception seven years ago, the one thing we're regularly asked is "when are you going to introduce awards at the show?" Well, you've asked for it, and now, you've got it.
Chauffeur Driven and the National Limousine Association are proud to announce the first-ever Driven By Excellence Awards to be presented at the 2020 Chauffeur Driven/NLA Show on Tuesday, February 25, at Mandalay Bay Resort & Casino in Las Vegas. Held in conjunction with the charity auction to benefit the Harold Berkman Memorial Fund, these awards will spotlight operators, organizations, and chauffeurs who continually embody and demonstrate the best values and tenets of the luxury ground transportation industry.
For our inaugural year, we'll be presenting six Driven By Excellence awards in the following categories:
Association of the Year - This award recognizes excellence at the local/regional association level. From advocacy to membership growth to education, the winning association's achievements from 2019 will be recognized.
Charity & Community Service - Within an extremely generous industry, this award recognizes an individual whose efforts to support community and charitable efforts go to the next level.
Customer Service Excellence - Every successful company relies on strong customer service. This award spotlights the best of the best.
Pinnacle of Safety - Does your company culture put safety first? This is your chance to show how you take safety to the next level.
Chauffeur of the Year - Does your company have an all-star chauffeur who consistently goes above and beyond for your clients and your business? Highlight this individual's contributions by nominating them for Chauffeur of the Year.
Next Gen/Emerging Leader - This industry is full of young minds who are enhancing their businesses with fresh perspectives and new ideas. This award is the perfect opportunity to share how you are influencing your company and the industry as an emerging leader from the next generation.
Whether your business has two cars or two hundred, everyone is eligible. Simply visit https://cdnlashow.com/show-info/driven-by-excellence-awards.html before January 8 to submit your nomination. Once the questionnaires have been received, a multi-tiered committee of experts from within and outside the industry will judge the entries based on a pre-determined series of criteria.
From safety to customer service to association leadership, these annual awards aim to recognize the best of the best in the chauffeured ground transportation industry. Don't miss your chance to be among the inaugural award-winning line-up. Don't forget: submit your nomination by January 8, 2020.
Visit cdnlashow.com for more information.
[CD1119]