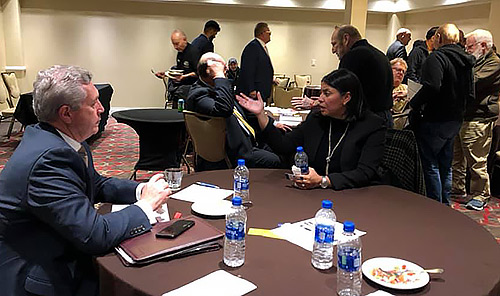 LITA Vice President Nancy Vargas of D2H Transportation and meeting speaker Mike Marroccoli of Limo Insurers Plainview, N.Y. — The Long Island Transportation Association (LITA) resumed its meeting schedule November 12 with an information-packed gathering that attracted attendees from all over the greater New York and New Jersey area.
LITA President Doug Schwartz of Executive Transportation kicked things off with a welcome and thank-you to those who made the trip out before introducing the night's educational agenda, which ranged from insurance insights to DOT updates to news about New York's ever-evolving state laws. As First Vice President of the NLA, he also spoke about what the association is doing to assist Empire State operators who are still grappling with
Mike Marroccoli of Limo Insurers and Joe Marrotta spoke about the current state of the insurance aspect of the industry and explained the ongoing hard market while also talking about ways to make a good impression on a carrier in order to save a few thousand dollars as a way to cut costs without sacrificing coverage or safety.
Dave Lipsky of Authority on Transportation also spoke about the new DOT changes he's seen in inspections. The current state of the NYDOT bus inspection program can be reviewed here.
Updates were also issues about the Nassau County Taxicab and Limousine Commission, the body governing ground transportation in the Long Island region. Attendees also participated in a conversation about ways to onboard new chauffeurs, with several operators offering up their experiences, successes, and pain points as learning experiences and advice for those who are struggling to streamline the process of welcoming new members to an established driving team.
LITA's next event will be the East Coast Holiday Party is co- hosting December 9 in Newark, N.J., with the neighboring Limousine Association of New Jersey and Philadelphia Regional Limousine Association.
Visit longislandta.com for more information.
[CD1119]