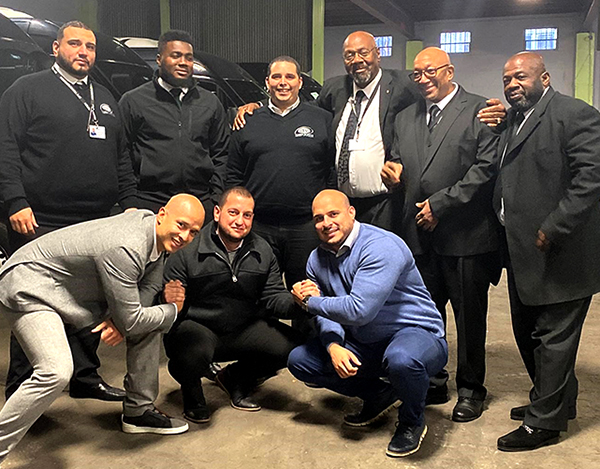 DPV President Daniel Perez (front, far left) with his team at their new NYC office Everett, Mass. — DPV Transportation has announced that they have expanded their operation by opening a branch in New York City. Founded in 2006, DPV has grown from a single van to a 75-vehicle operation with offices in four states.
"As a global capital of business, there is a lot of opportunity to tap into in this market," says DPV President Daniel Perez. "I am very excited to have our vehicles in New York City."
Perez is looking forward to bringing his extensive experience in shuttle and bus work to the Big Apple. He started DPV while a freshman in college. A professor took notice of the large passenger van Perez drove around the school and suggested he transport the college's athletic teams. Eventually, he received referrals for other teams, and eventually entered the corporate transport world. To combat the growing surge of TNCs in its space, DPV moved into the shuttle bus sphere, concentrating heavily on corporate events, employee shuttle services, and bus charters.
DPV's New York office has 24 employees with a fleet 14 of luxury Sprinter vans and executive minicoaches.
"In 2020, we're looking to continue our growth," says Perez. "We're looking to expand in new strategic markets while providing our clients with world-class service."
Visit dpvtransportation.com for more information.
[CD1219]