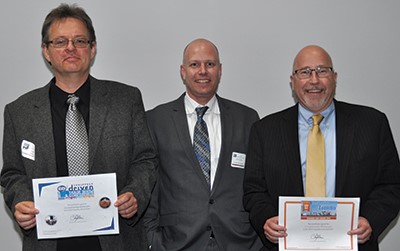 CD's Chris Weiss (center) with winners Joseph Glinka (left) and Scott Delheimer (right)Bensenville, Ill.—The annual meeting of Illinois Limousine Association (ILA) was held at the White Pines Golf Course in a northwestern suburb of the Windy City. The event was sponsored by Midwest Transportation and Battisti Customs.
ILA President Greg Eggan of O'Hare-Midway Limousine Service warmly welcomed members to the well-attended event, but it was soon down to the business at hand with several presenters and panels. Those of note were Randy Allen of James Limousine who spoke about technology for operators; Maria Guerra Lapacek, the Commissioner of Business Affairs and Consumer Protection for the City of Chicago, gave updates on what her department is currently doing, citywide, for those in the chauffeured ground transportation industry; and Chauffeur Driven Publisher Chris Weiss gave a well-received speech on the state of the industry, the rising economy, technology (i.e., Uber and the ridesharing apps), productivity tools, and business profit. 
Weiss also raffled off passes to the upcoming Chauffeur Driven shows; Joseph Glinka of Joseph's Limousine won the pass to the Atlantic City show this November, and Scott Delheimer of Class Act Limousine walked away with a pass for the Canadian Summit, which is scheduled for August in Toronto. In addition, Weiss was asked to speak after the event, behind closed doors, to ILA members on ways grow the association and expand its membership. And, speaking of membership, Chauffeur Driven is now proud members of the ILA.
"The ILA has welcomed with open arms the increased support from our current member vendors in addition to several new members that have recently joined, including the very welcome addition of Chauffeur Driven." says Tracy Reimer of Your Private Limo and vice president of ILA. "Several times throughout the day, I would hear from vendors, 'How can we be more supportive to the ILA?' It is evident by the attendance of members and vendors that uniting as an industry in order to face the current issues affecting us is imperative. Our industry as we have known it is changing, and we need to be in the forefront of this change in order to stay competitive and offer services that our travelers are requesting."
"2014 is an exciting year for the Illinois Limousine Association. We initiated a modified annual meeting format with the objective of bringing more educational and industry-relevant information of interest to our membership," says Paula DeBiasi of Chicago Coachworks and ILA board member. "Starting in June we will initiate a newly modified newsletter that will report on industry news as well as tips and techniques to help members optimize their business operations."
In addition, there were well over 20 exhibitors and vendors at the meeting with various vehicles and wares on display, including Nationwide Bus Sales, Napleton Auto Group, Tesla Motors, Illinois Bus Sales, and Grech Motors.
5/14