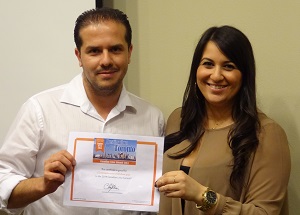 Moe Hosaini of Deluxe Limousine & Transportation and CD's Lauren D'AmbraHouston, Texas—The most recent meeting of the Houston Area Livery and Charter Association (HALCA) was held at the palatial Crowne Plaza hotel in downtown Houston.
The meeting saw a nice turnout of members, and they were joined by Chauffeur Driven Show Manager Lauren D'Ambra. She also raffled off passes to the upcoming CD shows in Atlantic City and Toronto, which were won, respectively, by Ayman Aljazzazi of HAS Limousine and Moe Hosaini of Deluxe Limousine & Transportation.
The looming specter of Uber dominated the meeting, as all three speakers—Davis Dillon, president of Carey Worldwide Chauffeured Services, Joe Jordan, owner of Jordan Limousines and editor of Limo Insider Report, and Erich Reindl, president/CEO of Avanti Transportation and president of HALCA—all spoke on the ways and means to combat the pervasive, rogue app's influence.
Dillon spoke at length on the legal methods that HALCA is employing to keep Uber out of Houston. Jordan, a well-known cage-rattler with his blistering Limo Insider reports on all things Uber, preached on the importance of attending the Houston City Council meetings in support of those representing the association on this important issue. Reindl rounded out the discussion by trying to get a feel of what members would be interested in contributing to a dedicated "HALCA app" that would be used to combat Uber (and the other ridesharing apps) in the greater Houston area.
The next HALCA meeting will be held on August 5.
Visit houstonlimos.info for more information.
5/14