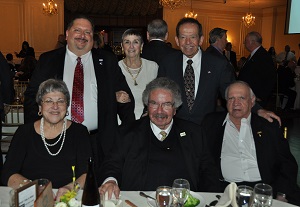 (L to R): Sandy Dizengoff; Ira Goldstien, COO of BCAC; Mrs. Elias Arout; Victor Dizengoff, executive director of BCAC; Elias Arout, TLC Commissioner; and Vincent Sapone, retired executive director of LOMTO New Hyde Park, N.Y. — The Black Car Assistance Corporation (BCAC) held its first Industry Appreciation Event this May to honor the men and women who serve in New York City's black car industry. All BCACs members were invited and nearly 400 attended the elegant evening affair held at the Inn at New Hyde Park, which featured a sit-down dinner, awards, and a silent auction. Chauffeur Driven Publisher Chris Weiss and Managing Editor Susan Rose also attended.
During the opening cocktail reception, guests were able to network with other black car operators as well as BCAC board members, including President Berj Haroutunian, COO Ira Goldstein, Secretary/Treasurer Roberta Pike, and Executive Director Victor Dizengoff. Commissioner of the New York City Taxi & Limousine Commission, Meera Joshi, and Ydanis Rodriguez, council member for the 10 th district (Manhattan), were on hand and spoke to attendees about their commitment to the industry. Joshi also presented two of the 19 awards given to drivers during the evening's festivities. Joshi was recently appointed as commissioner, following the election of New York Mayor Bill de Blasio. BCAC board members expressed optimism about the current political leadership and the open communication they enjoy about issues affecting black car operators.
Also honored were Diana Clemente of Big Apple Car (and BCAC board member) as Operator of the Year, Michael Psarros of UTOG Corporate Car as Operator of the Year, Jon Del Giorno of Pitta Bishop Del Giorno & Giblin as Business Person of the Year, and Gene Brody of Bay Ridge Federal Credit Union with a Lifetime Achievement Award.
BCAC was founded in 1991 to help unify the industry in supporting legislation that retained independent contractor status, a model that overwhelmingly dominated the black car industry. Since then, BCAC has gone on to assist in the creation of the New York Black Car Fund, which provides workers' compensation for those drivers. BCAC also fosters a working relationship with city officials and regulators.
Visit nybcac.org for more information.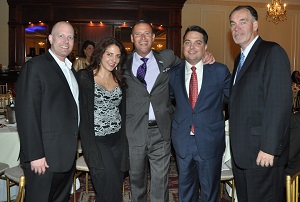 (L to R): Chris Weiss, publisher of Chauffeur Driven; Nora Marino, attorney; Sergio Sanchez, general manager of Henry Limousine; Matt Daus, president of COTA; and Tim Rose, CEO of Flyte Time Worldwide Transportation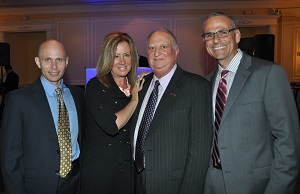 (L to R): Neil Weiss, publisher of Black Car News; Diana Clemente of Big Apple Car; Gene Brody of Bay Ridge Federal Credit Union, and Anthony Grigos, executive vice president of Bay Ridge FCU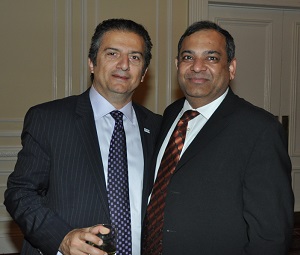 Berj Haroutunian, president of Vital Transportation and Apurva Patel, CEO of GroundWidgets