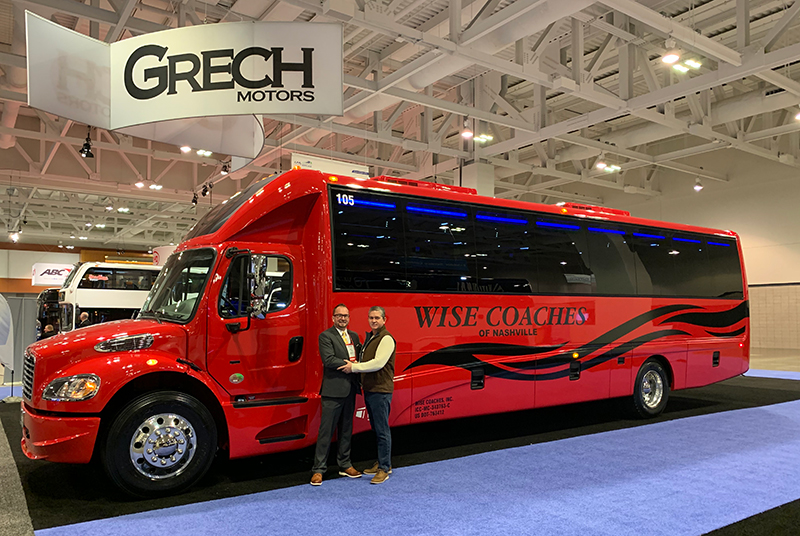 Ned Johnson of Grech (left) with Wise Coaches of Nashville President & CEO Alan Wise Hermitage, Tenn. — Wise Coaches of Nashville recently took delivery of four new Grech EG40 minicoaches into their fleet.
"Grech Motors and I are proud to add Wise Coaches of Nashville to our list of valued clients," says Grech Luxury Bus Sales Representative Ned Johnson. "The vehicles have been painted to match Wise's distinctive black and red branding featured on their fleet of full sized coaches. We look forward to having a long relationship with both companies." 
The EG40 is the Grech's flagship model minicoach. As the industry's first and only unibody Freightliner minicoach with full passthrough under floor storage, the EG40's chassis frame is heavily modified into a proprietary geometry that allows it to become an integrated part and a unibody design. The vehicle skeleton meets the load-carrying requirements of both the chassis and the bus body with a single blended framework, providing structural integrity, improved vehicle handling, and a quality ride for passengers. The EG40 offers seating capacity up to 41 passengers or 39 passengers with lavatory, and the 350-cubic foot of undercoach storage is equal to if not exceeds what is found in most full size motorcoaches.
Wise Coaches of Nashville was founded by President & CEO Alan Wise in September 1997 with two motorcoaches. Currently, the company offers a full service of vehicles, including 56-passenger motorcoaches, 40-passenger deluxe motorcoaches, 30/38 passenger coaches, 25-passenger mini-coaches, 14-passenger shuttles, and school buses for scholastic group travel.
Visit wisecoachesofnashville.com and grechmotors.com for more information.
[CD0220]