Marlton, N.J. — By way of a special arrangement with Mandalay Bay Resort & Casino, Chauffeur Driven (CD) and the National Limousine Association (NLA) are excited to announce that we are able to extend the exclusive $168/night room block for the CD/NLA Show until Wednesday, February 5. This is your last chance to save money and secure a room at our stunning host property. Don't get shut out… after Wednesday, the rate will rise!
As hard as it is to believe, the show is less than three weeks away. If you're getting antsy, and can't wait for the industry show of the season, why not download our new app, sponsored by North Point Global Transportation Services. Search CD/NLA Show in your favorite app store to download your gateway to all of our show's exhibitors, attendees, speakers, events, floor plans, social media, and so much more—in other words, everything you need to navigate the CD/NLA Show. Here's what's included in the 2020 app: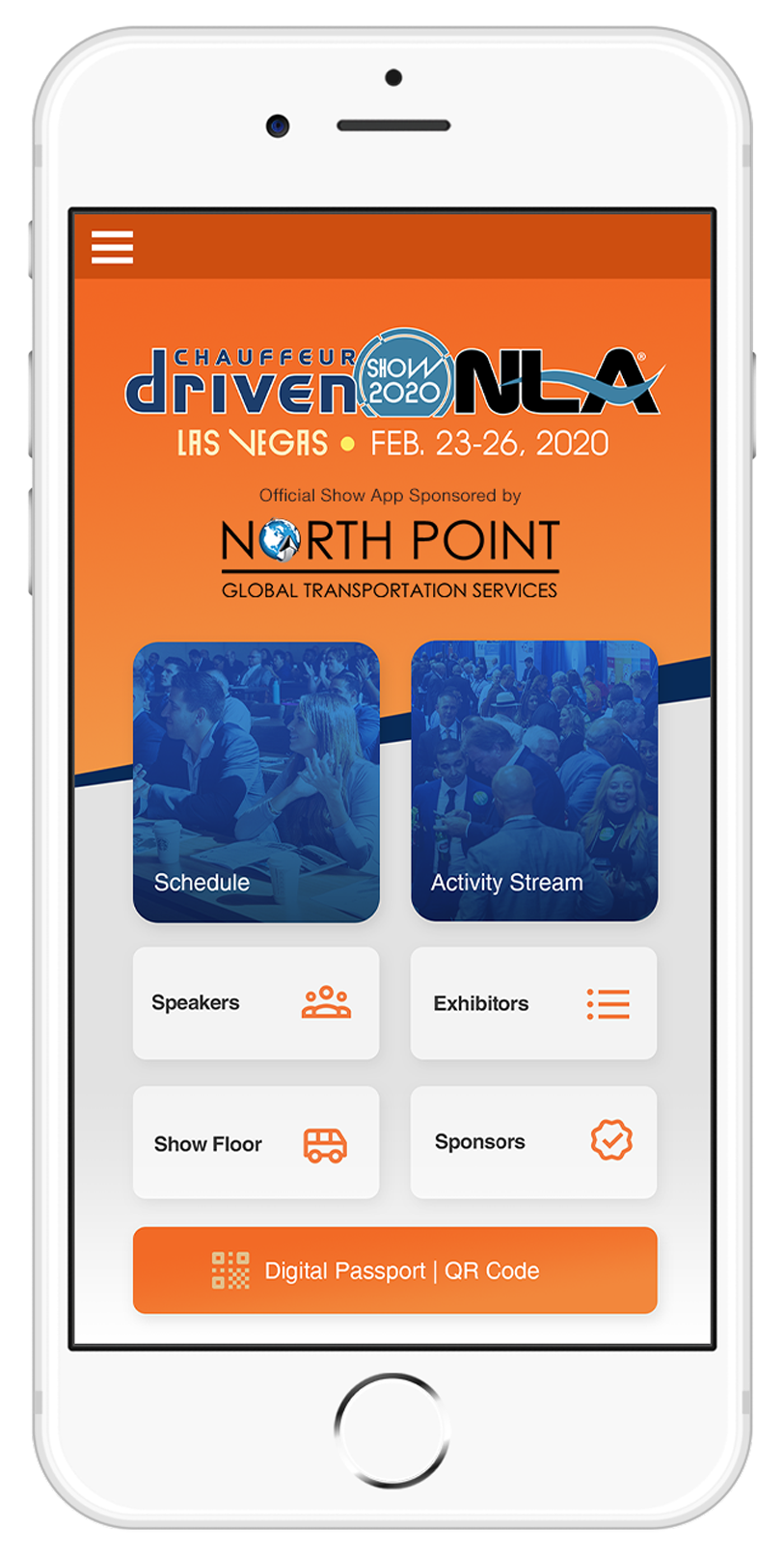 Create a Personal Agenda: You can schedule personal appointments with other app users, whether it's having coffee with an affiliate or dinner with a vendor. Don't forget that you can also customize your show agenda by saving events that you don't want to miss and receive reminders.

Exclusive Coupons and Deals: Be in the know with our exclusive Show-only savings that allow you to take home the products or purchase the services that you need at deep discounts! Click on the Coupons tab in the app to see the exhibitors who have a special offer to make it a bit easier on your wallet. These hot deals are only available on our app, and expire with the close of the Show, so be sure to check them out.
Show Floor Digital Passport: It's back! We debuted our Digital Passport at our Boston show in October 2019 and you loved it, so we've made it better for 2020. How it works: Many of our exhibitors will have a QR code displayed somewhere in their booth that you can scan (through the app) to collect points. The more booths you visit, the more points you get. Also, we've increased the ways you can earn points. You can earn them by stopping for a sales pitch, joining an association, or just being in the right place at the right time on our expansive show floor. Your points translate into chances to win an exciting grand prize valued at $3850, which includes two-night complimentary stay at the MGM Grand in a stay well executive suite, two complimentary VIP seat tickets to Kà by Cirque du Soleil, two 50-minute custom pressure massages at The Spa at MGM Grand, dinner for two at one of the following MGM Grand Restaurants—Craftsteak, Ambra or Morimoto $360 Value, $1000 Amex gift card, and two full show passes and 2 Awards Dinner and Charity Event Tickets to the 2021 CD/NLA Vegas Show. Runner up will receive full show passes to the 2020 CD/NLA Orlando Show. We will announce the winner on the Show floor Wednesday afternoon—winner must be present!
CD and the NLA are pleased to announce that the Charity Committee has selected two worthy charities to receive $10,000 donations from the Harold Berkman Memorial Fund at the Awards Dinner & Charity Event on Tuesday evening, February 25. We're thrilled that Wish4OurHeroes—a three-time partner at CD's annual Night of Charity at our fall show—will once again be the recipient of generosity from our industry. For those not familiar with the non-profit, Wish4OurHeroes is dedicated to providing help to active-duty military members, in order to make their deployments a little easier, and to improve the quality of their family lives while home or during deployment. The charity provides much needed resources ranging from transportation medical expenses to appliances and basic groceries. Also receiving $10,000 at the gala is Love146, a non-profit human rights organization that works toward the abolition of child trafficking and exploitation through survivor care, prevention education, professional training, grassroots empowerment, and contributing a growing body of research. The organization also created a curriculum called Not A #Number to teach youth how to protect themselves from human trafficking and exploitation through information, critical thinking, and skill development. We're honored to have representatives from these amazing charities join us at the dinner. And don't forget, this event also includes our first Driven By Excellence awards ceremony, which honors operators, organizations, and individuals who represent the best of the industry. You won't want to miss it. Tickets for the Awards Dinner & Charity Event are just $50 in advance ($100 at the door).
Visit cdnlashow.com for more information.
[CD0220]