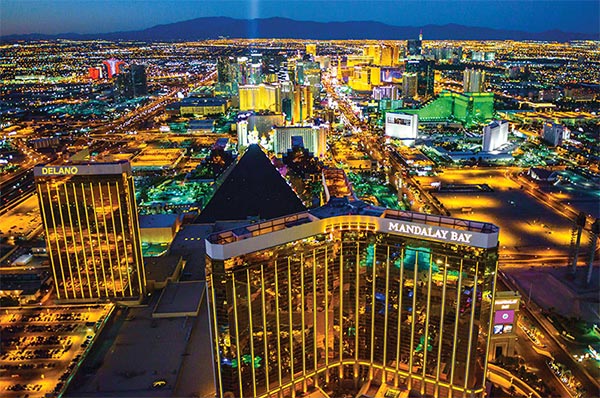 Marlton, N.J. — We're just days away from the first CD/NLA Show in Las Vegas, but that doesn't mean there isn't time to still register. Last minute attendees are still welcome to join us at the Mandalay Bay on February 23-26 for what is sure to be the industry event of the season. We have four days jam packed with education, networking, after-hours events, and the biggest show floor in Vegas.
With close to 150 exhibitors over 120,000-square-foot hall, we guarantee that our show floor will offer something for everyone. Starting on Monday afternoon, You'll have the chance to browse all of the products, services, technology, and metal available on display from vendors around the world. What's more, CD's Fast Lane sessions will bring drilled-down education to the floor, and the NLA Lounge will give you a chance to kick back and re-charge your batteries (literally and figuratively). On Monday and Tuesday, Grech Motors is sponsoring two open bar events for all attendees. First, head to the Grech bar for happy hour on Monday from 6-7pm, and on Tuesday, we'll offer open bar during the show floor's hours from 1:30pm - 4:30pm. And, if that's not enough, lunch will be available on the show floor on Tuesday and Wednesday, courtesy of Titus Leasing and Prevost, respectively.
And while you're making deals or mingling on the show floor, be sure to have your app open to the Digital Passport. Many of our exhibitors will have a QR code displayed somewhere in their booth that you can scan (through the app) to collect points. The more booths you visit, the more points you get. Also, we've increased the ways you can earn points. You can earn them by stopping for a sales pitch, joining an association, or just being in the right place at the right time on the floor. Your points translate into chances to win an exciting grand prize valued at $3850, which includes two-night complimentary stay at the MGM Grand in a stay well executive suite, two complimentary VIP seat tickets to Kà by Cirque du Soleil, two 50-minute custom pressure massages at The Spa at MGM Grand, dinner for two at one of the following MGM Grand Restaurants—Craftsteak, Ambra or Morimoto $360 Value, $1000 Amex gift card, and two full show passes and 2 Awards Dinner and Charity Event Tickets to the 2021 CD/NLA Vegas Show. Runner up will receive full show passes to the 2020 CD/NLA Orlando Show. We will announce the winner on the Show floor Wednesday afternoon—winner must be present!
There's also still time to take advantage of the pre-registration discount for the Awards Dinner & Charity Event being held on Tuesday, February 25, at 8pm. Advanced tickets for the Awards Dinner & Charity event are available for $50.00 per person (a table of 10 for $450) until Thursday, February 20. Tickets will be available at the CD/NLA Show for $75.00 at registration or at the door immediately prior to the event. Register online at: cdnlashow.com/show-info/driven-by-excellence-awards.html.
Chauffeur Driven and the National Limousine Association are excited to announce the finalists for the Driven By Excellence Awards, which makes its debut at this year's show in Vegas. The nominees in each category are:
Charity & Community Service
Jeff Brodsly, Chosen Payments
Shawn Brown, Showtime Transportation
Joe Reinhardt, Carolina Limousine
Paul Thompson, Santa Fe Valet – Accent New Mexico
Chauffeur of the Year
Mitchell Carter, AWG Ambassador
Albert Gilkey, JED Transportation
Tony Threets, Pegasus Global
Customer Service Excellence
Beau Wine Tours
Chosen Payments
Devine's Chauffeur Services
Next Gen/Emerging Leader
Jeff Brodsly, Chosen Payments
Robyn Goldenberg, Strategy Leaders
Harry Dhillon, Ecko Transportation
Pinnacle of Safety
Reston Limousine
ETS Luxury Driving
Mosaic Global Transportation
In addition to the awards above, at the dinner, we will announce the recipient of Association of the Year, which recognizes the state or regional organization that has that has displayed excellence above all others. This is a fantastic event to celebrate your peers and raise money for the NLA's Harold Berkman Memorial Fund.
Visit cdnlashow.com for more information.
[CD0220]