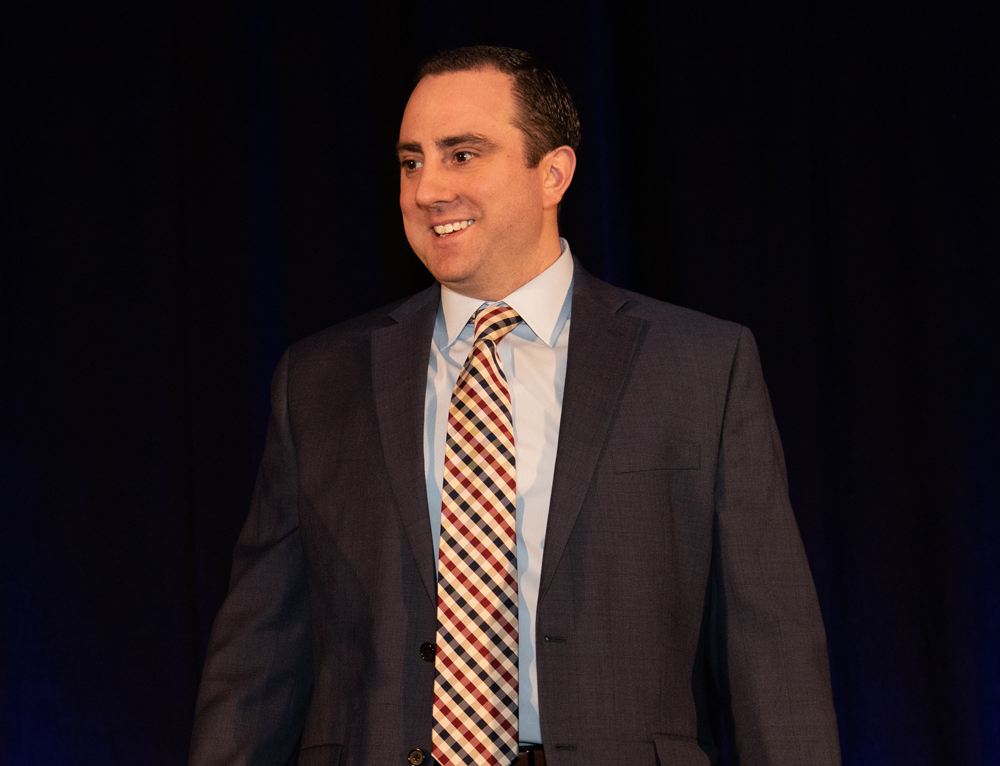 NLA Executive Director Kyle Hammerschmidt Las Vegas —The National Limousine Association (NLA) hosted its Annual Membership Meeting on Monday, February 24, 2020 at the first-ever CD/NLA Show at Mandalay Bay. Members and non-members alike packed the room to hear the latest news from the industry's largest association.

The event was filled with great energy as the NLA celebrated its 35th anniversary and new show partnership with Chauffeur Driven. NLA President Gary Buffo of Pure Luxury Transportation, who stepped down after seven years in the role, thanked the association's sponsors and members for supporting the NLA during a year of transition, particularly the NLA's Diamond Sponsors Ford-Lincoln Limousine & Livery and Grech Motors, as well as the Membership Meeting sponsors Chosen Payments and National Interstate Insurance.

As the NLA does at every Annual Membership Meeting, the 2020-2021 Board of Directors was formally introduced as well as the 2020 Board Officers who were elected at the board meeting the previous day:

• President: Robert Alexander of RMA Worldwide
• 1st Vice President: Douglas Schwartz of Executive Ground Transportation
• 2nd Vice President: Tracy Raimer of Windy City Limousine & Bus
• Treasurer: Rick Versace of A1A Airport & Limousine Service
• Secretary: Brett Barenholtz of Above All Transportation/Boston Car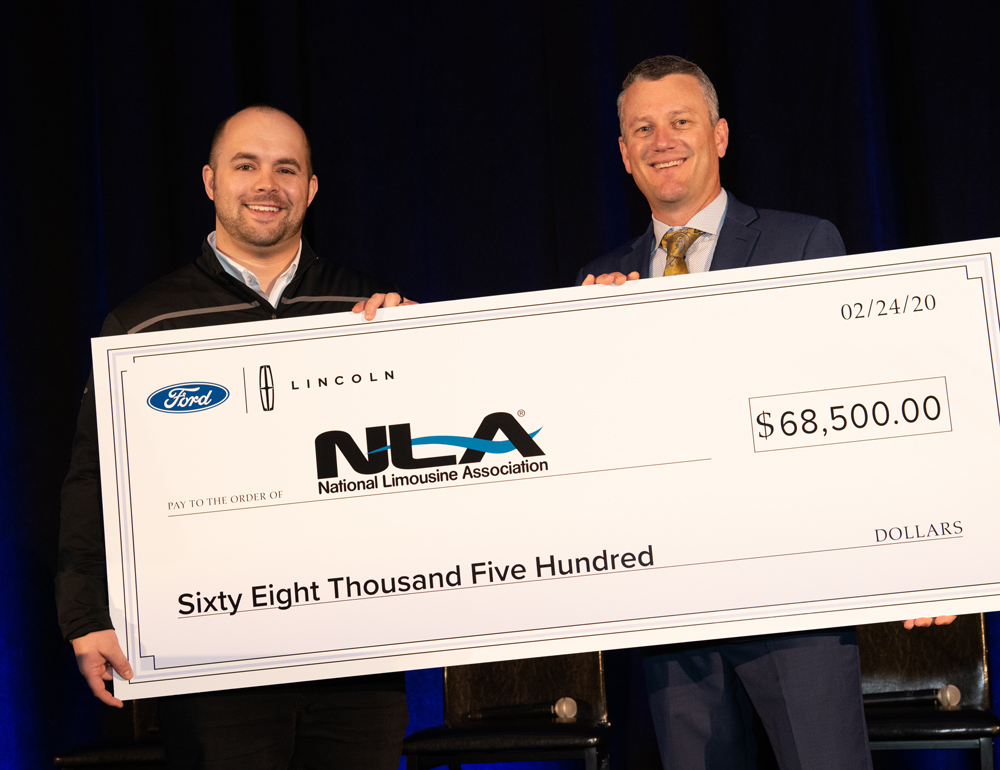 Dillon Doran of Ford-Lincoln (left) and Gary Buffo of Pure Luxury Transportation "I feel very fortunate to be chosen as NLA president, and it's an honor and privilege I take very seriously," says Alexander of his election. "I've been in the NLA board for a long time and I felt we were at a pivot point. I wanted to be able to continue to make a difference and carry on the legacy that Gary Buffo started. I didn't want to ever look back and say, 'I wish I could have, but didn't.' I felt an obligation to serve, for sure, and wanted to continue provide an influence to the industry."

The meeting kicked off with representatives from Ford-Lincoln and Grech Motors Ford Motors presenting the NLA with rebate checks. Dillon Doran of Ford-Lincoln generously presented a check worth $68,500, followed by Ed Grech and AJ Thurber of Grech Motors, who donated a staggering $92,500 rebate to the association.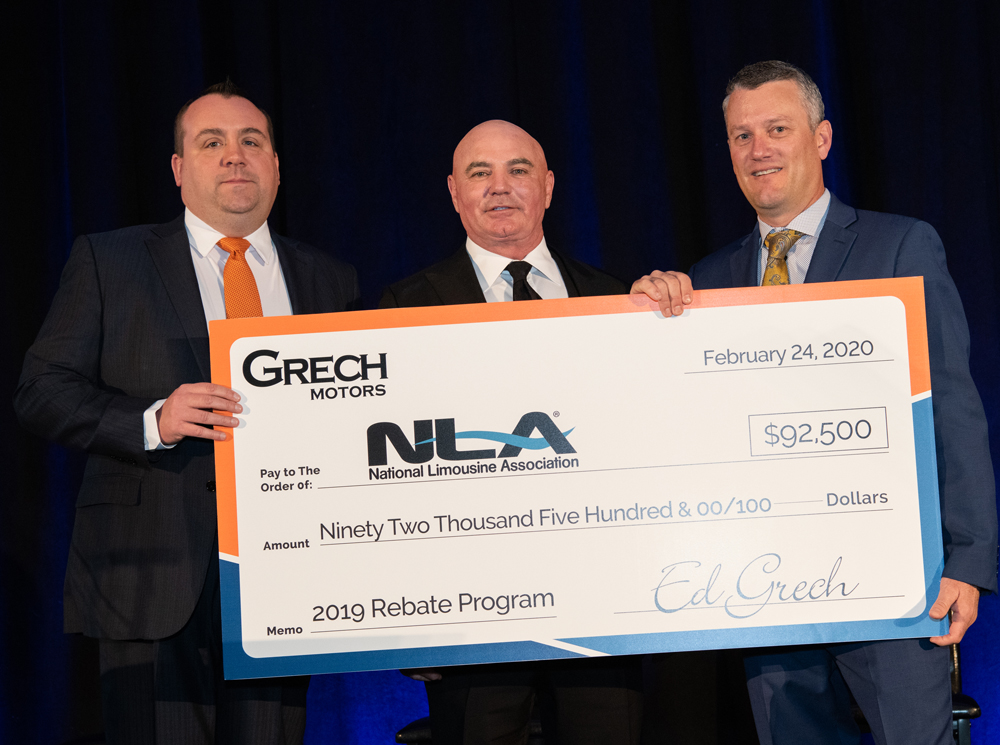 L to R: AJ Thurber and Ed Grech of Grech Motors with Gary Buffo Next, newly elected Alexander (formerly NLA treasurer) presented a thorough review of the NLA's financials over the past several years, emphasizing transparency of all fiscal records to the members. Alexander thanked his family, staff, and the NLA Board for supporting him in this new role and assured the membership that he is dedicated to continuing the great work and progress of Buffo.

The event also recognized the NLA's 10 2020 Scholarship Winners who were all first-time show attendees and submitted impressive applications to receive scholarships bestowed by the NLA's Scholarship Committee.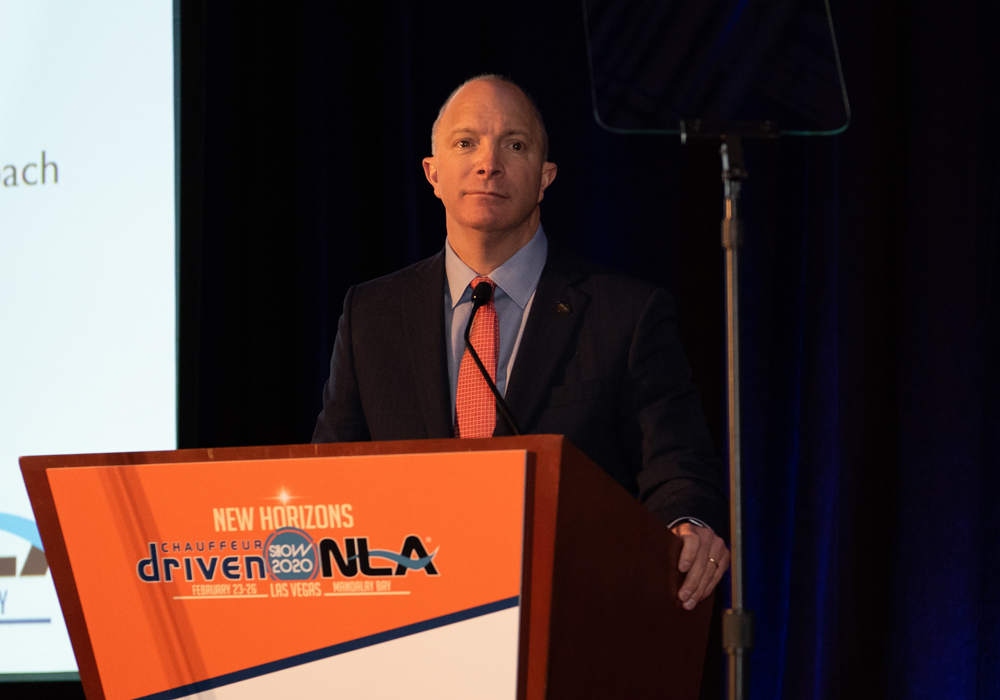 NLA President Robert Alexander of RMA Worldwide Tracy Raimer and Jason Sharenow, co-chairs of the CD/NLA Show Education Committee, updated attendees on the show's impressive and valuable educational lineup. Following that update, Alexander shared the efforts of the CD/NLA Charity Committee, including donations to be made to Love146 and Wish for Our Heroes at the show's Awards Dinner & Charity Event the following evening.

Public Relations Committee Co-Chairs Jason Kaplan of The Driver Provider and Rick Versace sat down with Matthew Berritt and David Harrison of EVINS Communications to dive deeper into the NLA's upcoming PR initiatives and accomplishments from 2019.

Todd Webster of the NLA's lobbying firm, Cornerstone Government Affairs provided a legislative update including what's happening in Washington, D.C. and what to expect given the several possible outcomes of the upcoming presidential election.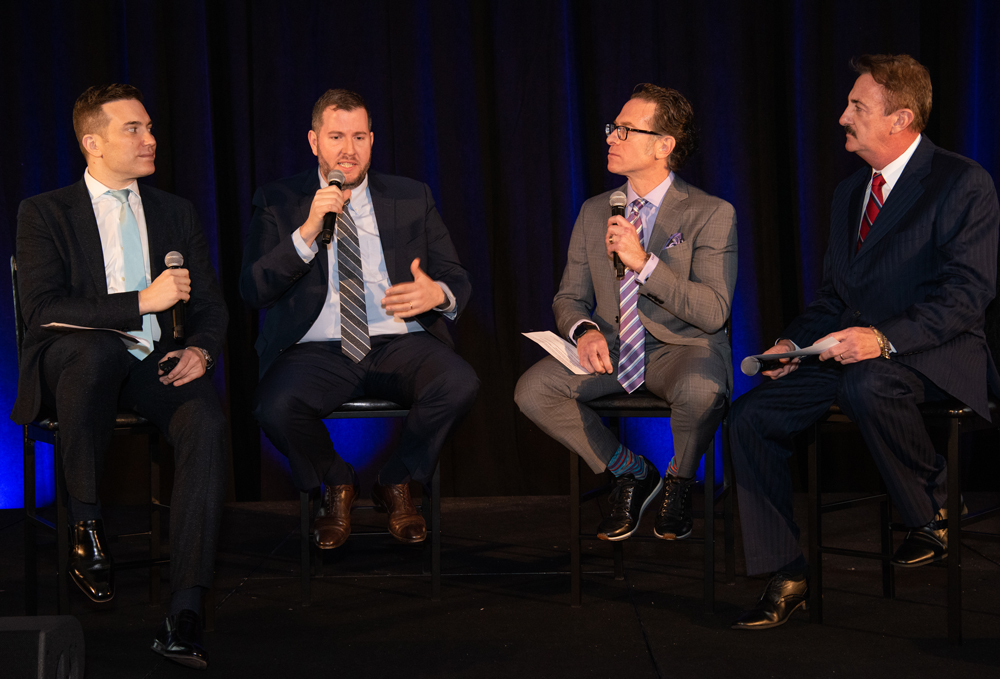 L to R: Matthew Berritt and David Harrison of EVINS Communications with NLA Public Relations Committee Co-Chairs Jason Kaplan of The Driver Provider and Rick Versace of A1A Airport & Limousine ServiceBuffo thanked three outgoing members of the NLA Board who have dedicated their time to the NLA and the industry—Michael Campbell of Grace Limousine, Erich Reindl of Avanti Transportation, and four-time Past President Scott Solombrino, now of the Global Business Travel Association. NLA Executive Director Kyle Hammerschmidt then presented Buffo with a plaque to commemorate his record seven-year term as NLA president.

Buffo thanked the Board, both past and present, as well as the NLA's various committees, staff, and members at large for their support during his tenure and congratulated his good friend of 28 years, Alexander, on his new role.

The meeting concluded with a reminder of important upcoming NLA events including No Operator Left Behind Day (May 12), Day on the Hill (June 9-10), and the next CD/NLA Show in Orlando (October 11-14). 

Visit limo.org for more information.

[CD0320]