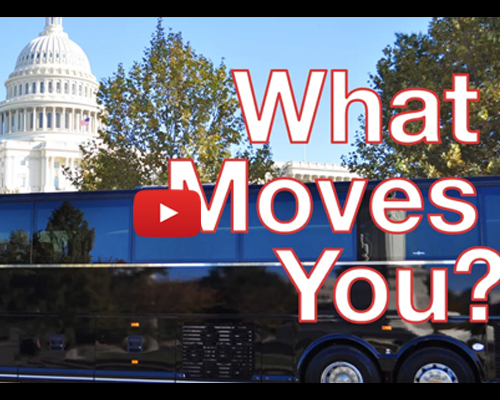 Coach manufacturer ABC Companies shared a powerful video that captured the impact that the bus industry has on everyday Americans—from military to schools and everything in between. In the video, President Roman Cornell details the devastating effects that the pandemic has had on the bus industry and he pleads with anyone watching to share with members of Congress so that operators will be recognized in the next round of emergency funding in Congress.
"On behalf of the men and women of the motorcoach industry, we need your help," Cornell says in the video. "With most of us being family-owned businesses, not one dollar of the trillions being spent on the coronavirus was designated for our industry. We aren't large organizations like airlines, hotels, or city bus authorities. No, we are your neighbors, we are your friends, we are your family going out of business at record numbers per day."
In an email to the industry from the company:
As we weather the storm of this economy, we must come together to make our industry's voice heard. Attached is a video designed to share with friends, family, and most importantly, government representatives.

Our goals are simple:
Remind everyone that motorcoaches move us all
The economy needs us to return to health
We need government support to survive
The Opportunity:
Looking forward, there is another objective we can all get behind. This pandemic provides a one-time opportunity to build awareness for our industry so we can emerge even stronger. We have been silently improving the traveling experience for millions of passengers, with amenities, comfort, and convenience that easily surpasses airline and train travel, yet we are still often overlooked. Now is our time to ask for support and get the credit our industry deserves.

The Ask:
Share, like, and forward this video to anyone with an email address using #dontmissourbus
Forward photos of your passengers, from champions to visitors and voters to marketing@abc-companies.com [so] we can share our great industry 
Visit abc-companies.com for more information. The video link is here. 
[04.03.20]